President Lincoln was a true visionary when he signed the Homestead Act of 1862, and so were the pioneers that heeded the call to head west and claim 270 million acres of land. Can you even imagine? Well, Loren Blair and John Hay sure could. They were the original homesteaders of a plot of land in the Elk River Valley that would come to be known as Vista Verde Guest Ranch, a luxury dude ranch and winter resort.  The ranch sits on roughly 600 acres, surrounded by the 1.1 million-acre Routt National Forest, a mere 7,720 feet above sea level.
With deep Colorado roots dating back to 1919 when the couple received the deed to the land, the guest ranch honors the heritage of the wild west culture while offering a luxury resort experience throughout the year. "By walking the line between resort and guest ranch, we still maintain the feel of an old working ranch with a focus on authentic relationships, connecting with people, and soothing the soul through dirt, sunshine and connecting with animals," says Stephanie Wilson, Director of Hospitality, "yet we elevate the experience with the upscale amenities guests expect today."
Over the years, guests from all over the world have come to unplug and fully connect with each other and nature. With extensive kids' programs, culinary adventures, spa experiences and all the outdoor activities like hiking, mountain biking, fly fishing, horseback riding, yoga, skiing, sleigh rides and more—there is literally something for everyone, every day of the year.
Regardless of the season, you'll notice how the entire ranch is integrated with nature. The facilities compliment the stunning landscape and extensive access to the National Forest. From the hallmark post and beam construction of the Great Room to the spacious indoor riding arena, to the 12 cabins named after local mountains, lakes and rivers—they have maintained the authentic rustic feel of a working ranch, while bringing the comforts and visual appeals of a luxury resort.
But the best amenity of all is the opportunity to leave work and responsibilities behind, to be truly present to each other and to nature.  Sari Earl of Atlanta, GA can attest to that. "After twelve years of family trips to VVR, we can't wait to go back. Reconnecting as a family and with the  staff is something we all cherish. Sharing meals together, taking cooking classes with Chef Cholly, backcountry skiing, snow-mobiling, talking about our day, stargazing at night: the simple rituals of daily life that get lost in the shuffle at home are really celebrated here."
Vista Verde Guest Ranch proves that it's not always about how far you go to getaway, but it's about embracing the present and reconnecting with each other that makes the journey worth it.
Reservations: 800.526.7433; vistaverde.com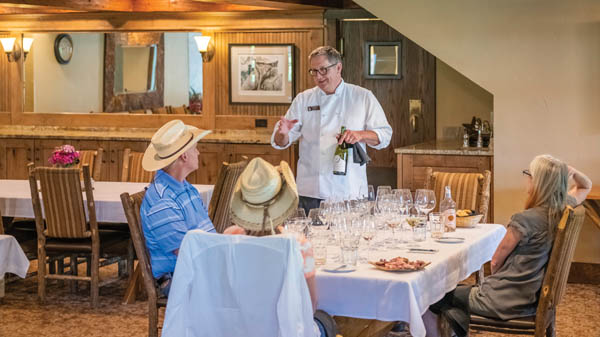 Stay & Play Highlights
Horse Tails—Vista Verde is home to over 100 horses that eat roughly 360 tons of hay every winter and dine on fresh grass all summer long. With all those horses, that means they go through over 1,300 horseshoes each summer.
Wish Upon a Star—Vista Verde is one of only 3 ranches in the U.S. to be awarded the AAA Four Diamond Rating. Talk about an out of this world experience! 
Culinary Cowboy—Chef Cholly's made-to-order meals are legendary.  Try his honey wheat pancakes with caramelized apples for breakfast and don't miss his three-course candlelit dinners. Plus he has over 150 wines that have been recognized by Wine Spectator with the Award of Excellence for several years—talk about a gourmet getaway!
Spring Break Bound—Celebrate the end of winter as the snow melts and days grow longer just like a true Colorado Cowboy.  It's the perfect time to watch Mother Nature do her thing and get ready for spring flowers.