By Lisa Truesdale
Kentwood Real Estate's president and CEO, GRETCHEN ROSENBERG, is as passionate about housing equity as she is about her career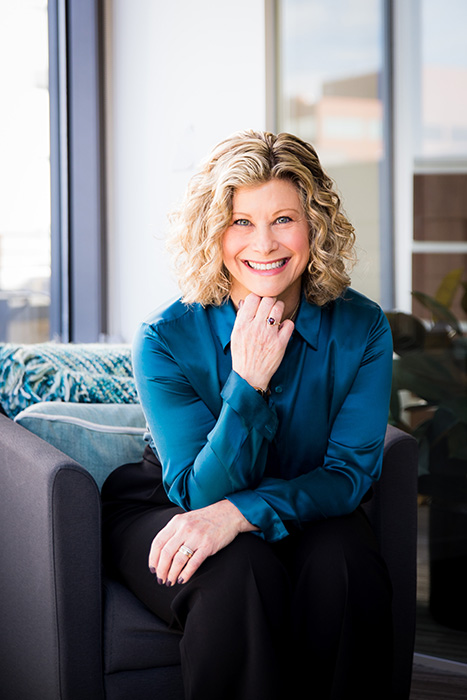 An MBA and several years of marketing experience are a perfect segue into real estate. It worked well for Gretchen Rosenberg, who worked her way up to become president and CEO of Kentwood Real Estate, Berkshire Hathaway's HomeServices of America exclusive Colorado affiliate. The real estate powerhouse graduated from the University of Denver with a public affairs and international studies degree before getting her master's degree. Then, she worked at her in-laws' local advertising agency before getting her real estate license. She was a founding agent at the Kentwood Cherry Creek office two years after becoming a licensed Broker in Colorado, and she acted as the managing broker at that office for more than 11 years.
Under Rosenberg's leadership, her agents consistently win national awards for top-producing agent, sales volume, excellence and more. And Kentwood is consistently ranked among the top companies in the U.S. for agent productivity. Rosenberg oversees five offices (Downtown Denver, Cherry Creek, Denver Tech Center, Northern Colorado and the recently opened Boulder brokerage) with more than 240 brokers. They assist home buyers and sellers throughout metro Denver, the Front Range, and northern Colorado. The company also focuses on all areas of commercial real estate, including sales,
leasing, office, retail, industrial and land. Kentwood recently announced it would partner with the
Waldorf Astoria Residences Denver development team that will begin construction next year in
Cherry Creek North.
Leading Through Giving
Despite such a huge roster of responsibilities, Rosenberg is passionate about homeownership equity, and she was honored Berkshire Hathaway HomeServices selected her to help create the HomeServices Foundation for Housing Equity.
"The foundation helps those who have been left out of generational wealth building and the stable neighborhoods that homeownership creates," she explains. "We're committed to enhancing community lending, providing educational resources around homeownership and funding programs that match our mission."
Rosenberg has been volunteering for as long as she can remember. Growing up in Southern California, she watched her mom teach sewing to immigrant women so they could make clothes for their families or start small businesses. As a 20-something fresh out of college at the University of Denver, she taught at the Clayton School in Denver (now Clayton Early Learning), helping single moms earn their GEDs.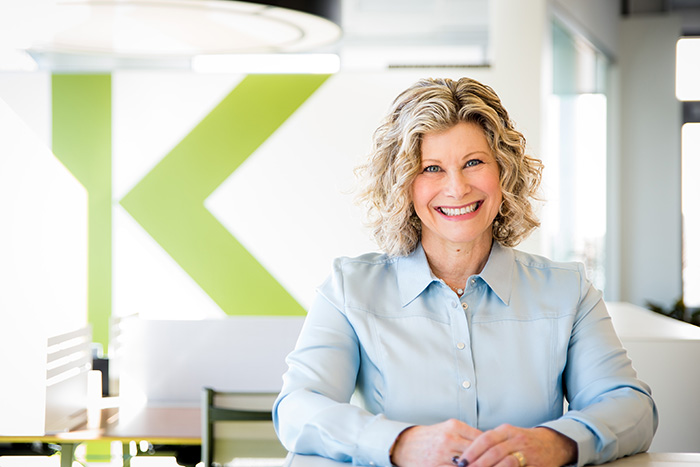 Even as she raised a son, earned an MBA and continued advancing her career to today's pinnacle, Rosenberg was helping others. She's supported dozens of local and national organizations—real estate related and otherwise. She just ended a six-year term on the board of HomeAid Colorado, a nonprofit focused on building housing to assist those experiencing or at risk of homelessness. "I only stepped down because I was term-limited," she says. "After I sit out for a year, I can serve again." She was also recently invited to join the board of the Javonte Williams Foundation, a nonprofit created by the Denver Broncos player to provide essential resources to youth in foster care and to foster families.
Creating a Culture of Caring
Rosenberg is also on the board of directors for the Kentwood Cares Foundation. The nonprofit supports Kentwood employees and several external organizations; they raised funds and assisted 15 families in need after the tragic Marshall Fire. She also has a list of more than 150 other organizations her brokers support: "They're all civic-minded and embedded in the community."
Kentwood brokers are as individual in the markets they serve as they are in the nonprofits they support, she says. They're also as passionate about real estate as their CEO is. Although words like "prestigious," "elite" and "luxury" describe the company, that doesn't mean they have only high-end listings. "We handle all price ranges," Rosenberg explains. "The word 'luxury' is really for us. It's about how we treat our clientele; everyone gets the same Kentwood treatment, the same fancy signs, the same professional photos, and the same high-end marketing.
Rosenberg is proud that the entire Kentwood community has a deeply held belief that everyone deserves the opportunity for homeownership, and she encourages everyone to pay it forward to whatever extent they can: "Even if you can't donate money, give of your time. There are so many out there who need assistance, so whatever you can do will help."
Kentwood Real Estate
kentwood.com

AWARDS
Gretchen Rosenberg has been honored for her outstanding leadership many times over.
Denver Business Journal's 2022 Most Admired CEO Award Program, honoree
HousingWire's National 2020
Vanguard Award
Titan 100 Colorado's Top C-Suite Award
Denver Business Journal's 2020 Most Outstanding Women in Business Award, finalist
Broker Manager of the Year in 2012,
Denver Metro Association of Realtors
Realtor of the Year in 2009 by the Denver Board of Realtors

SERVICE
Rosenberg has shared her wealth of residential real estate knowledge by serving on the following boards
and committees.
Denver Board of Realtors: Board of Directors, Grievance Committee, International Committee,
Roundtable Awards Committee.
National Association of Realtors: Board of Directors, Board Jurisdiction Committee and Communications Committee, President's Liaison to India (2015), guest presenter at their annual real estate conference in India (2006, 2011, 2015)
Colorado Association of Realtors:
Board of Directors

She has also supported a variety of other organizations.
ACE Scholarships
The American Cancer Society
The Autism Society
Children's Hospital Colorado Foundation
Colorado Public Radio
The Denver Dumb Friends League
Foodbank of the Rockies
HomeAid Colorado
Meals on Wheels
St. Jude Children's Hospital
UNICEF
The Women's Foundation of Colorado
Women for Women International

SPEAKING
Rosenberg has been a featured speaker at some of the industry's most high-profile
and exclusive events.
Luxury Portfolio SUMMIT 2020
Denver Metro Association of Realtors' WIRED (Women in Real Estate Denver)
DenX, BusinessDen's event for women.

MEMBERSHIPS
Rosenberg supports local organizations through membership.
Asian Real Estate Association of America
Colorado Association of Hispanic Real Estate Professionals
National Association of Hispanic Real Estate Professionals Denver Chapter
National Association of Gay & Lesbian
Real Estate Professionals
National Association of Real Estate Brokers