We long for comforting spaces and now, possibly more than ever, crave the finer details that make our homes feel uniquely "us." These trends in lighting, color and textiles speak to our need to bring the outside in, remind us of travel and create the comfort that will allow us to ride out the pandemic.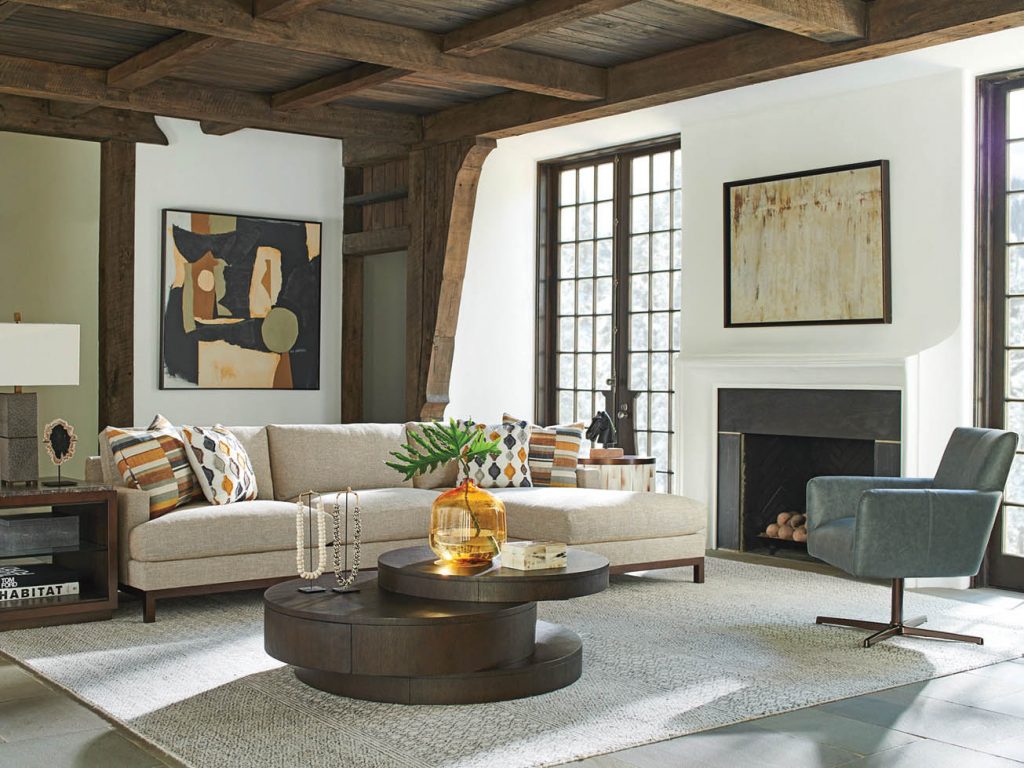 Trend: Mountain Modern is a forever style
Clean architectural lines with rich textural finishes
The key to creating a sophisticated mountain style is layering patterns in warm colors with sharp lines. These armchairs merge pattern play with sleek style while the artwork creates contrast with its flowing, natural lines.
"I love the fusion of mountain and modern styling because it delivers a strong design statement while retaining the casual vibe that conveys a sense of comfort and sophistication."
–Brent Simon,
Colorado Style Home Furnishings
2540 E County Line Rd, Littleton
303.741.4240; coloradostyle.com
Trend: Hygge (pronounced h(y)ooga)
Lissom leathers and shearling textiles
Comfort is key as we spend more and more time in our homes. The Danish and Norwegians have this style down pat. Think warm fireplace, shearling slippers and supple leather translated into furnishings. It's all about modern lines married with the coziest of textiles.
"As we all spend more time at home [instead of traveling], we have seen our clients select more vibrant, patterned, woven and embellished fabrics. Each of these fabrics has a story to tell, bringing depth, happiness and sophistication to every area of the home."
–Caitlin Mancini,
Hoff Miller
595 S Broadway, Denver
303.698.0800; hoffmiller.com

Trend:
Colors and patterns
Bold colors and patterns evoke different times and places
Create a bold bohemian style with bursts of colorful textiles tempered with a backdrop of black and white. These daring patterns evoke a sense of wanderlust—the colors and patterns you'd find in far-flung, exotic locales.
Paying homage to Native American culture, these patterns and rough-and-tumble textures ground us in spirituality and connection to the earth.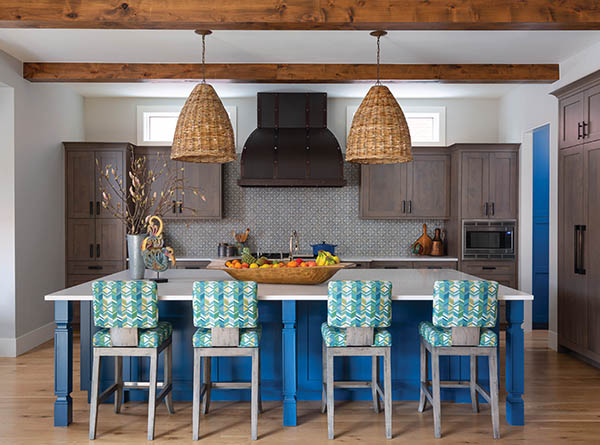 Trend:
Subtle surprises in lighting
Basket shades in the kitchen; two-toned fixtures
Introducing a soft, natural texture into a kitchen brings an unexpected element to a normally "hard" space. Basket shades come in a variety of sizes, textures and price points and make the perfect addition to an island, the dining room or a kitchen nook.
A light fixture in a dark tone adds a bit of understated glam and a surprising pop when the inside of the shades are gold.
"In kitchens, it's all about hard cabinets, metal appliances and the range hood. Basket shades soften a kitchen story. The bigger and the more interesting the shape, the better."
–Katie Schroeder,
Atelier Interior Design
2840 Fairfax St, Denver,
303.455.1644; atelierid.com