Holly Baker's blog, A Baker's House, serves as a relatable reminder that sugared baked goods have a knack for bringing people together. "I've always loved to bake—which really means I love eating sweets—but I started my blog back in 2011 as a way to share recipes with my mom," says the Greenwood Village resident. As the baker (who often creates gluten-free treats), Baker continues, putting the world away to focus on recipe steps can feel therapeutic. Moments when ingredients are limited shouldn't hinder the curative, community-building fun. Baker's solution: toothsome, adjustable recipes featuring staple items. "My kids and I look at raiding the pantry a lot like watching an episode of Food Network's Chopped," she says. "Have fun with it," celebrate with it and even use the time to get the kids excited about science.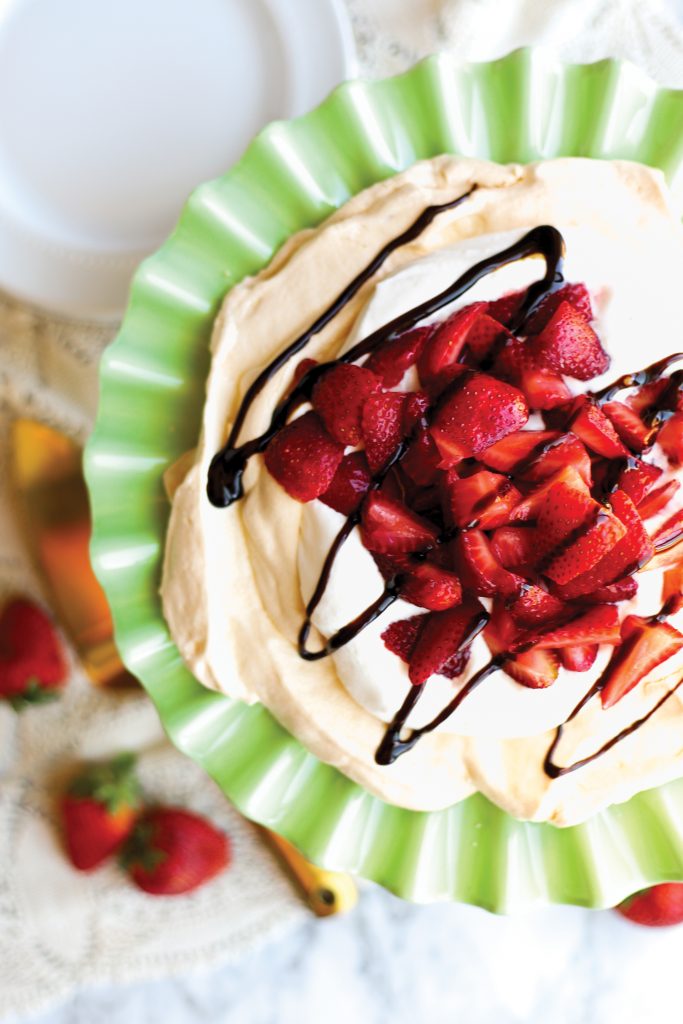 FOR MOTHER'S DAY (AND OTHER SPECIAL OCCASIONS)
PAVLOVA WITH STRAWBERRIES
Gluten free; serves 12

INGREDIENTS
4 egg whites, room temperature
(save yolks for another purpose)
⅛ teaspoon cream of tartar
¾ cup plus 1 tablespoon granulated sugar (separate into ½ cup, ¼ cup and 1 tablespoon measurements)
2 pints strawberries, washed, hulled and sliced
1 cup heavy cream

METHOD
Preheat the oven to 250 degrees F. Draw a 9-inch circle on parchment, turn parchment over and place on a baking sheet. Sprinkle cream of tartar over the egg whites and beat to soft peaks. Slowly drizzle ½ cup sugar into the egg whites. Continue to beat to stiff peaks.

Spread egg-white mixture within the circle outlined on the parchment. Bake for 45 minutes, then turn off the oven. Leave the meringue in the oven (without opening the oven door) for one hour before removing to cool completely.

Toss strawberries with ¼ cup sugar in a bowl and let sit for 30 minutes. Whip the heavy cream with 1 tablespoon sugar to soft peaks. Assemble the Pavlova: Top the cooled meringue with whipped cream and strawberries. The meringue should be crisp on the outside and soft on the inside.
Don't have strawberries?
Use any type of berry, says Baker: "Fresh berries are preferred, but frozen work well if that is what's on hand right now. Let frozen berries defrost and drain, then add on top of the Pavlova. Or cook frozen berries with sugar in a saucepan to turn them into a jam-like sauce. No fresh or frozen berries? Heat a few tablespoons of jam in the microwave or a saucepan and drizzle over the meringue. Get creative with other ingredients you have at home: Apple slices cooked with a small bit of sugar would be lovely. Add a drizzle of bottled caramel sauce too!"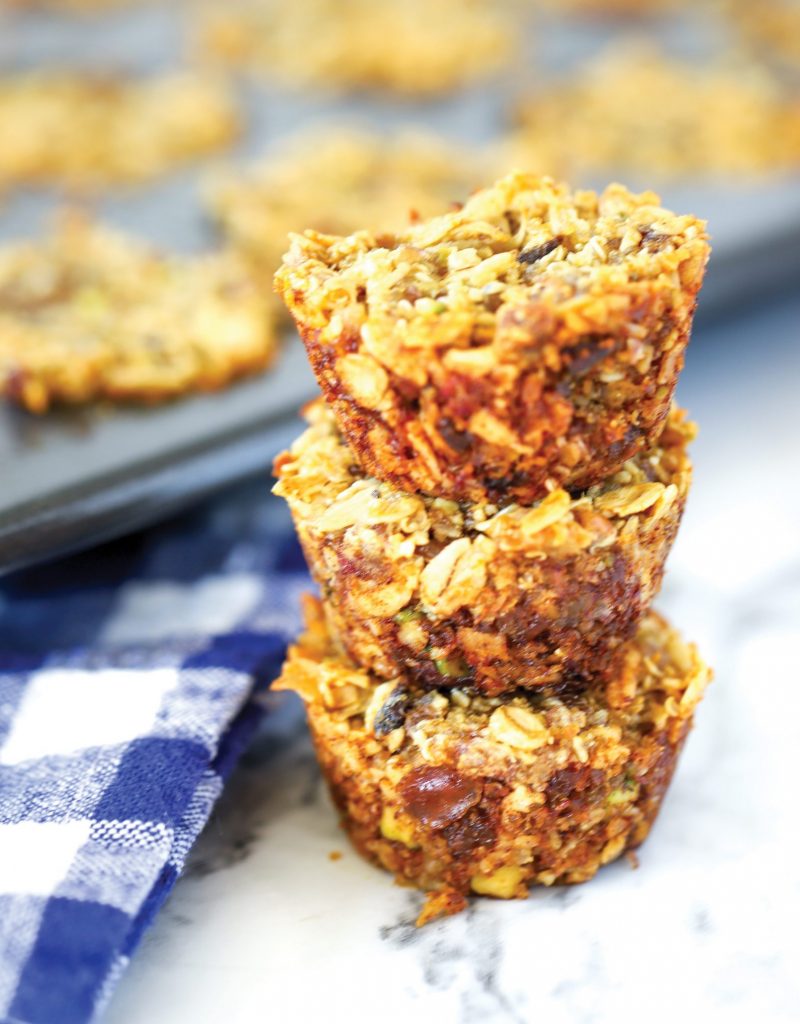 FOR AN ANYTIME "ENERGY BITE"
HOMEMADE AUSSIE BITES
Gluten free; makes 24

INGREDIENTS
2 cups gluten-free oats (separated into 1 cup portions)
1 cup cooked quinoa
¼ cup dried apricots
¼ cup dried cherries
½ cup pitted dates
¼ cup raisins
¼ cup honey
¼ cup pistachios
½ cup coconut flakes
3 tablespoons unsalted butter, melted
1 teaspoon baking soda

METHOD
Preheat oven to 350 degrees F. Spray a mini-muffin tin with baking spray, if necessary for your tin. Use a food processor to process 1 cup of the oats to a flour-like consistency. Pour flour-like oats into a medium bowl with remaining cup of oats and quinoa. Stir to combine.

Add apricots, cherries, dates and raisins to the food processor (there's no need to clean the appliance after the oats). Pulse to break fruits into tiny pieces. Pour the oat and quinoa mixture back into the food processor. Add honey, pistachios, coconut flakes, melted butter and baking soda and pulse until the mixture comes together. It will likely form a ball.
Place about 1 tablespoon of the mix into each mini-muffin space. Press down to fill the muffin cavities. Bake for 12-14 minutes or until the edges start to brown. Let cool in the pan completely before removing.
Missing an ingredient?
"Homemade Aussie Bites are a great recipe to customize. The combination of ingredients isn't fussy—just use what you have. Don't have dried cherries? Use more raisins. Lacking oats? Use granola cereal. What if you don't like quinoa? Simply leave it out or include a puffed rice cereal instead. You can change the ingredients to satisfy dietary preferences as well."