FAROLITOS ADD A TOUCH OF MAGIC to this already-charming southwestern town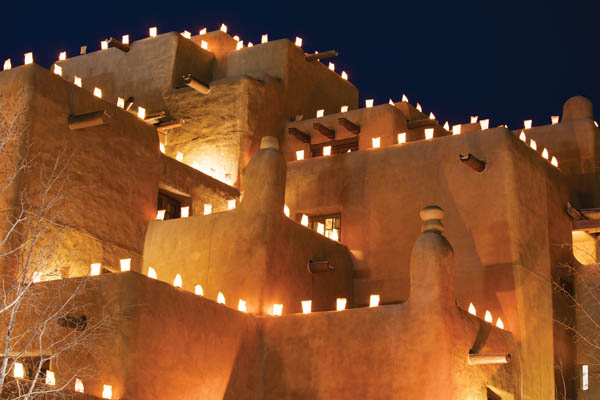 IF YOU'RE LONGING for a holiday getaway, head south to Santa Fe for a spectacular light display at the Christmas Eve Canyon Road Farolito Walk. This tradition is as quaint as the town itself, and it's a bucket list must-see.
But what is a farolito? You probably know them as luminarias (or luminaires), but that moniker comes with a heavy weight of history in the small town of Santa Fe. Iconic Canyon Road, home to more than one hundred galleries, boutiques and restaurants in its short half-mile stretch, shines on Christmas Eve with both farolitos and luminarias. So, what's the difference?
The word "farolito" translates to "little lantern" in Spanish, and it's the preferred term for these homemade paper bag and tealight candle decorations. Luminarias, on the other hand, are fragrant piñon bonfires, and you'll find them lighting your way down the festive street as well. And there's no better place to see them than in Santa Fe.
HISTORY OF FAROLITOS AND LUMINARIAS
There's a 431-year-old debate raging in New Mexico regarding the name. According to a December 3, 1590, journal entry by Spanish explorer Gaspar Costaño de Sosa, he referred to small bonfires his companions lit as a guide back to camp as luminarias. However, north of La Bajada Hill in New Mexico, folks fervently refer to them as farolitos.
Often used in Hispanic culture, both represent religious significance. Catholic settlers used small bonfires during the final night of Las Posadas—the symbolic representation of when Mary and Joseph were seeking shelter in Bethlehem before Jesus was born—to guide the spirit of the baby Jesus to their homes on Christmas Eve.
FAROLITOS ON CANYON ROAD
The businesses along Canyon Road take farolitos to a new level with the Canyon Road Farolito Walk, one of the town's most beloved holiday traditions. Stroll among thousands of these lanterns casting their soft glow throughout the gardens, courtyards and sidewalks of this historic area. You'll also spot them lining walls of the century-old adobe buildings gracing this celebrated scene.
The holiday walk will tantalize all your senses with the earthy smell of the piñon luminarias, holiday songs from street musicians and the sweet taste of traditional New Mexican biscochitos (crisp butter cookies flavored with sugar, cinnamon and anise) as well as hot chocolate and spiced cider.
You'll want to visit Canyon Road early to take in all the galleries and shopping because many businesses close on Christmas Eve, although some remain open to provide a place to warm up and offer some last-minute shopping. Don't forget to venture off the main road and visit pocket neighborhoods, as Santa Feans are diligent in their personal displays of these beautiful holiday lights.
MAKE YOUR OWN LIGHTS
Make your own farolitos for a new family holiday tradition. You can buy paper bags, votive candles (or tealights) and sand at a local craft store. Fill each bag with several inches of sand and press the candle in the center so the flame does not touch the paper. To avoid the risk of fire, you can also use flameless, battery-operated candles.