By Paula M. Bodah
A COLORFUL DOWNTOWN CONDO is a perfect reflection of its exuberant owner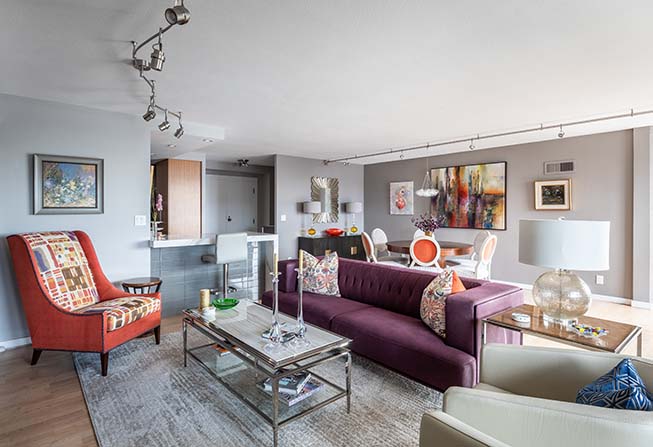 THE CHAIR STOPPED her in her tracks. Elizabeth Cooke had dropped by Howard Lorton Furniture & Design to get some ideas for outfitting her new downtown Denver condo. "They've been there for four generations," she says about the venerable showroom. "I thought I'd stop in and check it out."
Elizabeth, a Denver-area native who had spent years working in New York City as a psychotherapist before returning to her hometown to start a business specializing in gourmet cannabis confections, envisioned a sophisticated space, maybe even a touch glamorous, but with a sense of fun, too.
Browsing was the plan until she spotted that chair, a playful beauty from Hancock & Moore with persimmon-hued leather on the back and sides, purple welting and a geometric-print fabric on the seat. Designer Rob Osgard, who has worked at Howard Lorton for nearly three decades, saw her eying the piece. "I wasn't really wanting to be sold to," Elizabeth recalls, "but he gave me a historical tour of the building. We started at the top floor, and by the time we got to the bottom, I had picked out almost everything. We had a blast."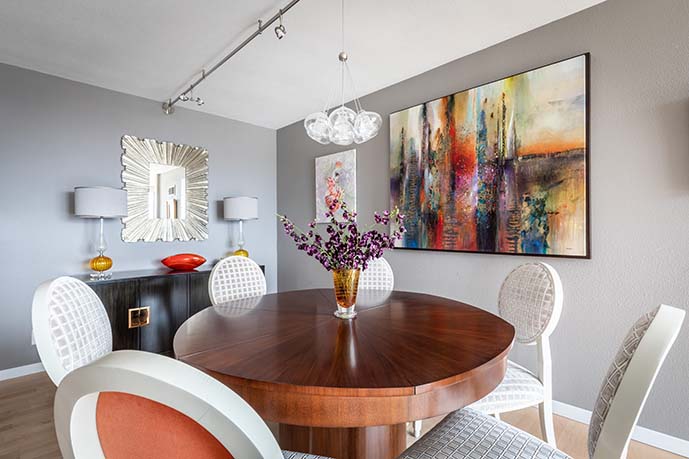 Osgard was delighted by Elizabeth's love of color and her quick agreement that an audacious purple sueded-leather sofa from the Italian company Gamma made a perfect partner for the chair. "Her personality is very bold," he says. "We started with that chair and the sofa and worked everything else around them."
In a stroke of luck, the previous owners had refurbished the condo, giving the kitchen a contemporary makeover with gray glass subway tile, and they painted all the condo's walls in shades of silver. It was a setting with just the understated glamour needed to stand up to the color and character in Elizabeth's furniture and accessories. "Something has to be a backdrop so that the things that are splashy can shine," Osgard notes.
A wool- and synthetic-silk rug with texture and a hint of sheen—the aptly named Picturesque Opal rug from Stanton—anchors the seating area, where two barrel chairs in soft cream leather join the colorful sofa and chair. "The carpet is really beautiful," Elizabeth says. "It's like a cloudy heaven. When people see it, they go, 'ahhh.'"
A chrome coffee table with a marble top flecked with gold and silver is a tiny bit pushy, but not over the top," Osgard says. "A house should have a little more character when you have a client with so much character."
Storage space is often at a premium in condos, so Osgard wisely suggested the Jupe dining table, a round piece with six self-storing leaves. "There's not a nail in that table," Elizabeth marvels. "It's like a small feat of engineering." She enjoys entertaining, and the open floor plan lends itself to easy mingling, so she'll often open the table and use it to lay out the food buffet-style. "My next party is going to be a Friday night disco party," she says.
A sextet of Louis XVI-style chairs adds glam to the dining area, upholstered in winterwhite cut velvet with back insets in the same orangey hue as the living room chair. So too, does the rectangular sunburst mirror that gleams above the dark wood sideboard. Osgard drew everything together with one final touch: an abstract painting that pulls in all the room's colors. Most of the home's other paintings are by one of Elizabeth's favorite artists, Denver-based Robert Certo.
A broad hallway—once an open balcony now enclosed with floor-to-ceiling windows—serves as a bonus sitting area between the living room and the private areas, which include Elizbeth's bedroom suite, a guest room, a home office and the laundry room. Here, a pair of octagonal ottomans in silver leather keep company with lounge chairs clad in silver faux animal-print fabric. Toss pillows with a whimsical jungle print add color. "I'm grateful that this space got enclosed because now I can really use it," Elizabeth says. "I sit here looking west over Denver and the entire Front Range, including Pike's Peak."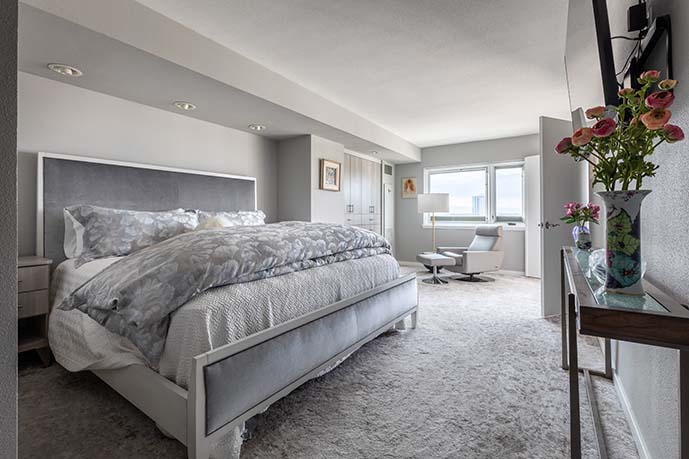 Her bedroom is a true sanctuary, with walls in the same silvery grays as the rest of the home and furniture and accessories that adhere to that same serene palette. The bed, nestled into a niche of its own, is all plush with its gray velvet headboard and footboard and bedding from Denver's The Brass Bed. Underneath, a custom rug—silver, of course—adds texture and sheen to the space, while a butter-soft leather recliner makes the perfect spot for a catnap. "The chair molds to your spine so you can go into zero gravity mode," Elizabeth says. "It's so peaceful in this room; you come in, and you're quieted
right away."
If a home should make a statement about its inhabitant, this one speaks volumes about the woman who lives here. "It's kind of whimsical," Elizabeth says. "But it's serious, too. Like me. I'm pretty serious, but I like to have a lot of fun."
Fun is what she and Osgard had working together, and the end of the project wasn't the end of the enjoyment. That top-to-bottom showroom tour, it turns out, was the beginning of both a satisfying business relationship and a fast friendship.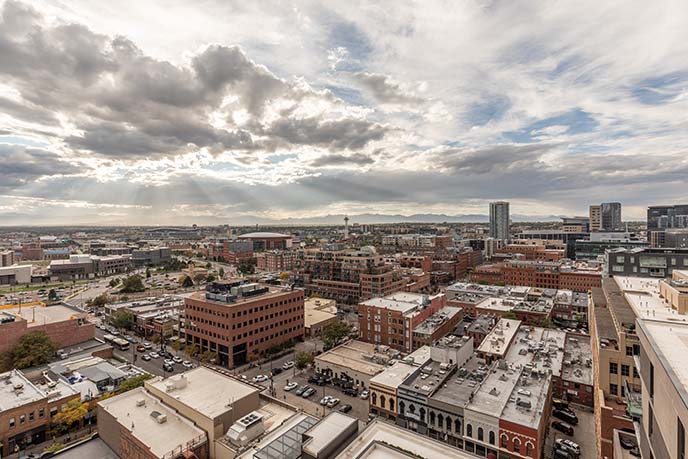 HOWARD LORTON FURNITURE & DESIGN
12 E. 12th Ave., Denver
303.831.1212
howardlorton.com