By Kim McHugh
Don't miss these DELICIOUS OPTIONS for winter weekend dining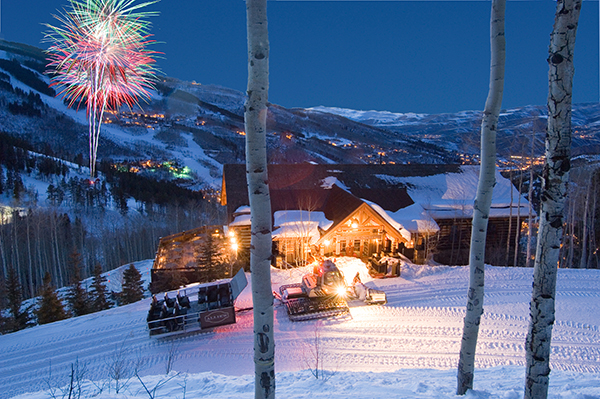 TO SAY THAT COLORADO'S MOUNTAIN RESORTS have excellent restaurants is to say Giada De Laurentiis is a pretty good chef. With so many wonderful options, we've chosen a sampler to whet your appetite when looking for a truly unique dining experience in the High Country. Sought for their ambience (think crackling fireplace), breathtaking views and white tablecloth–level service, each restaurant invites you to pull up a chair and enjoy. Entrees such as red snapper with andouille risotto, braised rabbit pappardelle with shaved pecorino, teriyaki-glazed cauliflower steak, kafir-lime seared diver scallops and chilibraised beef short ribs only begin to describe the culinary delights that await.
Allie's Cabin—Named for Beaver Creek's first female resident, Allie Townsend, who settled in the area in the 1800s with her husband George, this "cabin in the woods" is a charming place for dinner. After a short ride in an open-air sleigh from the Beaver Creek Chophouse, you enter and descend to the great room with a towering, two-sided stone fireplace and seating for 60. Executive chef Jonathon Alonso wows guests with Northern Italian cuisine. His seasonally inspired menu features treats like seafood fettuccine, Dungeness crab, delicata squash gnocchi and braised lamb shank with polenta. A dessert of tiramisu, poached pear or pistachio coppetta puts an exclamation point on your evening!
Allie's Cabin | 970-754-5545 | beavercreek.com
Keystone Ranch—A Distinguished Restaurants of North America winner, ranked by the Zagat Survey as a top Colorado restaurant, this venue also enjoys a AAA Four-Diamond rating. Originally a 1930s-era homestead to some of the area's earliest settlers, the historic structure morphed into an esteemed steakhouse in recent decades. Executive chef Kevin Simley is maestro to a staff that serves memorable meals built around a seasonal menu. Whether you choose the wagyu flat iron steak, brown butter–basted Norwegian salmon, 18-hour braised beef short rib or pasture-raised lamb chops, your tastebuds will thank you, especially if you complement your selection with truffle macaroni and cheese, a twice-baked potato with creme fraiche or roasted brussels sprouts with grana padano.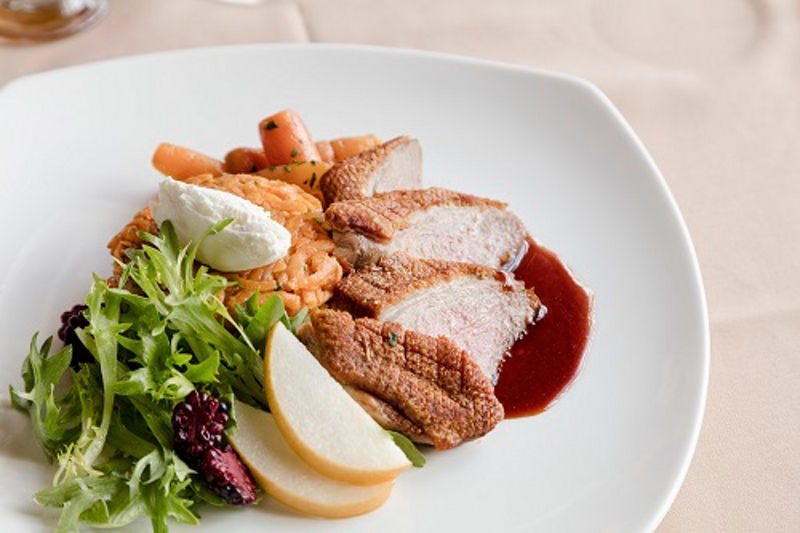 Keystone Ranch | 970-496-4161 | keystoneresort.com

The Ski Tip Lodge—Originally an 1860s stagecoach stop and home to Keystone Resort's founders, Max and Edna Dercum, it is now a Wine Spectator award–winning restaurant and bed-and-breakfast inn. Named by OpenTable.com in its Top 100 Best Restaurants in North America survey, the eatery satisfies guests with a rotating four course, prix-fixe dinner menu that incorporates fresh, seasonal ingredients. Prepared by executive chef Bryston Palmer and his team, menu items have featured starters like Moroccan venison stew, tomato bisque or shrimp hush puppies, followed by entrees such as roasted Iowa quail with bacon stuffing and barley pilaf, espresso-braised short rib with boursin dauphinoise, and herb-marinated pork tenderloin with herbed spaetzle. Finish the night with the signature apple strudel!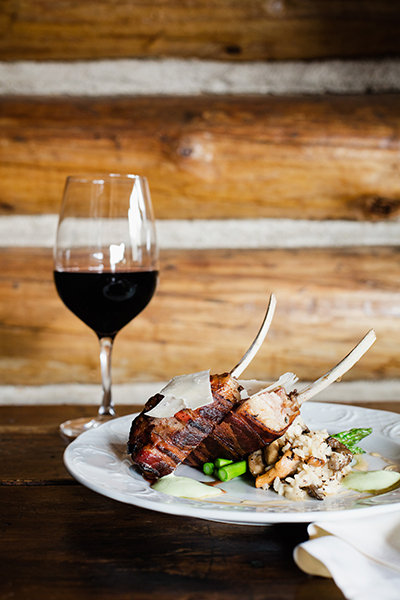 The Ski Tip Lodge | 970-496-4950 | keystoneresort.com

The 10th—Overlooking the Gore Range, this is one of Vail's hottest lunch destinations. Skiers and snowboarders enjoy ski-in, ski-out convenience, while non-skiers make their way via Gondola One at Mid-Vail. A salute to the World War II veterans of the decorated 10th Mountain Division—including several of Vail's founders—the restaurant takes fine dining to a new altitude with executive chef Sean Heller's menu tempting guests with starters like burrata flatbread, a cheese and charcuterie board and "Hot Mess" beer cheese. Also vying for your culinary attention are elk chili with goat cheese crema, grilled shrimp niçoise, carrot and red lentil soup, pork ragu pappardelle, butternut squash and hatch chile risotto, and herb-roasted chicken pot pie.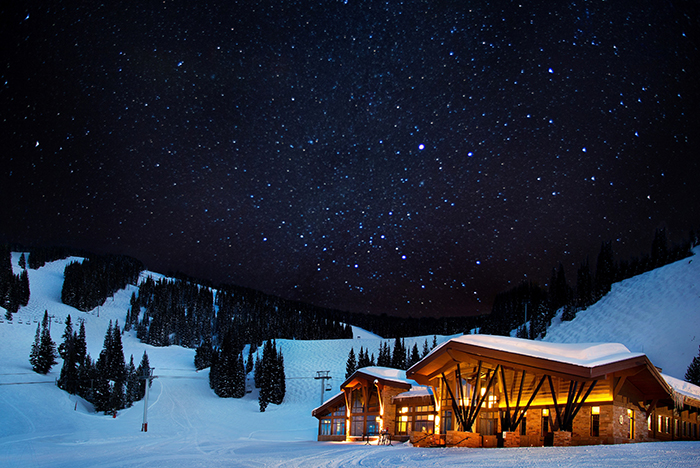 The 10th | 970-754-1010 | vail.com

Zach's Cabin—Picture starting your evening being transported under the winter sky from The Ritz-Carlton by an open-air sleigh to this Ralph Lauren-esque cabin high above Bachelor Gulch. While warming up inside, you can peruse the menu, orchestrated by executive chef Alex Slagle, who prepares his Alsatian-influenced cuisine using the freshest seasonal ingredients. Begin with appetizers like veggie
fondue, pumpkin soup, foie gras tart or bison tartare, and then move to entrees such as cedar-roasted trout with caramelized Brussels sprouts, beef tenderloin with mushroom strudel and skate-wing schnitzel with citrus roasted beets. Awarded the Wine Spectator Best of Award of Excellence for 15 years running, Zach's invites guests to complete their dinner with delightful desserts.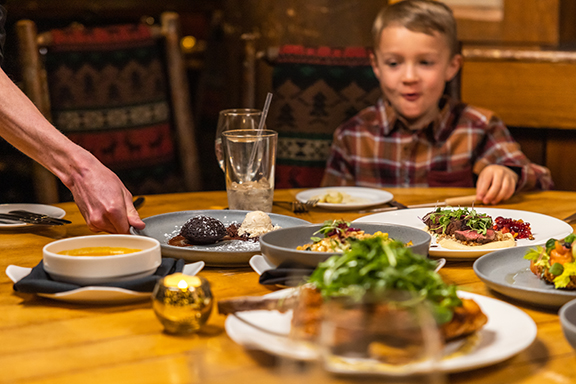 Zach's Cabin | 970-754-6575 | beavercreek.com
BEYOND THE FRONT RANGE
ALLRED'S (lunch, dinner) | 970-728-7474 | tellurideskiresort.com
ALPINO VINO (lunch, dinner) | 970-728-7474 | tellurideskiresort.com
CLOUD NINE ALPINE BISTRO (lunch, dinner) | 800-525-6200 | aspensnowmass.com
LYNN BRITT CABIN (lunch) | 970-923-8715 | aspensnowmass.com
DANTE'S (lunch) | 970-247-9000 | purgatory.ski
HAZIE'S (lunch) | 970-871-5150 | steamboat.com
RAGNAR'S (lunch) | 970-871-5150 | steamboat.com
Editor's Note: Reservations are strongly encouraged for these restaurants. When consuming alcohol, remember that the higher the elevation, the more potent the effect (e.g., one glass of wine at sea level may feel like two or three glasses at 8,500 feet or higher).
Ask if there is a child's menu and associated pricing; some venues are available for private parties.