Photos by Chad Chisholm, Custom Creations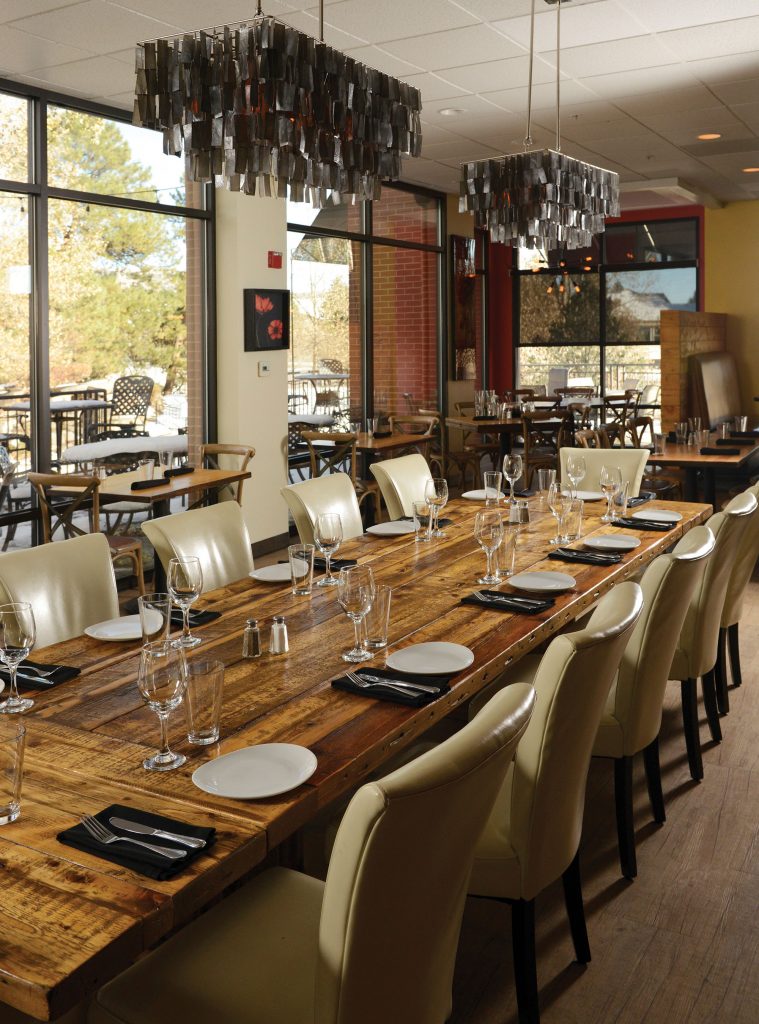 Restaurants are underrepresented in the heart of The Village at Castle Pines, but the lack of competition isn't what has made Danielle's Scratch Kitchen a second home for residents. The locals' answer to lunch, happy hour and dinner out is a pleasurable destination with desirable food, lovely scenery, unforced hospitality and cocktail and wine syllabi that are comparable to that of other restaurants with far more name recognition. Forgive us, Castle Pines, for sharing the secret.
THE TEAM
Owners Dan Pisarra and his son, Vincent, have together clocked more than 75 years in the restaurant industry. Originally from New York, they moved to Colorado in 1991 and opened and operated several delis before unleashing Danielle's in 2015 with the "simple idea," says Vincent, "that great food and great service make great friends."
In addition to running the restaurant, Dan creates the recipes and designs the menu. "We strive to be a five-star dining experience with competitive prices and a welcoming environment," explains Vincent (above). Proof of that topflight care can be found in the restaurant's firm dedication to its "scratch" claim: "We make our own pastas, hand-cut our steaks and fish, stretch our own cheese and every one of our sauces is a pan-reduction made to order," Vincent says. And that's not all: You won't find a freezer or microwave anywhere in the restaurant.
THE AMBIANCE
Despite a late-day commitment, we chucked our afternoon plans and happily lingered for several hours in a cushy, oversize booth. The cosmopolitan, high-ceilinged space, walled with windows, is the kind of place that's conducive to a long and lazy rendezvous.
An elegant community table sits front-andcenter in the dining room, while the animated bar and rollicking patio are ideal pitstops for a post-work cocktail.
A mural depicting a thicket of aspen trees greets guests at the entrance. And you'll want to pause to admire the wine cabinet stocked with bottles from around the globe.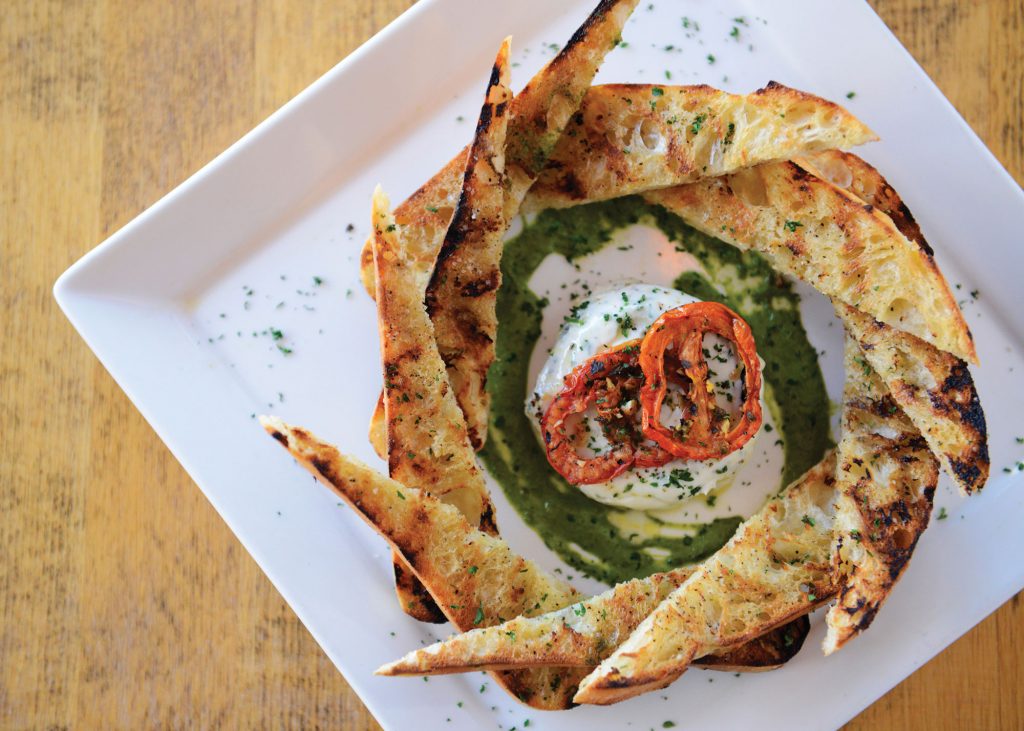 THE FOOD
While the dishes zigzag across countries, Dan and Vincent are Italian and much of the menu is a nod to the boot. The burrata ($15) is shelled with mozzarella curd and gorged with ricotta, which isn't exactly orthodox—stracciatella cheese is the traditional filling. But the subtle sweetness and marked richness of the ricotta, coupled with sidekicks of pesto and dried tomatoes, makes for a delicious schmear on grill-marked ciabatta.
A fig and arugula salad ($15 for lunch, $17 for dinner) dressed with Champagne vinaigrette and punctuated with goat cheese, port wine-poached figs and sheets of prosciutto provides a valid reason to eat leaves. While the bone-free Southern fried chicken ($16, $24) is a formidable counterpoint to salad envy with its crusted exterior submerged under a countrified gravy spiked with bourbon. So, too, is the Southwest Burger ($16, $18). The patty (a blend of chuck, short rib and brisket) is layered with chipotle-flecked Gouda, roasted jalapeño cream cheese, salsa and a swipe of chipotle mayonnaise, the sum of its flavor-jolted parts barely contained in a soft bun.
Like us, you're going to want to sip a Smoke and Coal Manhattan ($11) no matter your order. The special cocktail is made with Eagle Rare Kentucky Straight bourbon, sweet vermouth and bitters and served in a glass that's smoked on a bourbon plank.
WE'RE COMING BACK FOR
Happy hour, which runs daily from 2 to 6 p.m. and struts a slew of discounted appetizers, plus $5 well drinks, draft beers and wines, including a Riesling and a rosé. An $8 Manhattan? We'll drink to that.
EAT HERE
Danielle's Scratch Kitchen
The Village at Castle Pines
303.524.9788