When we think of at-home skincare, whether it's eating well, taking care of our skin or working out, there are a lot of options out there. As an Aesthetician, my clients ask me daily about how they can keep their skin looking healthy at home. There are many at-home devices for skin care, but the one I use and highly recommend is the NuFACE Trinity facial toning device. It uses microcurrent lifts, tones the skin and helps to extend the results of a professional treatment. It's extremely easy to use and compliments any skincare regimen.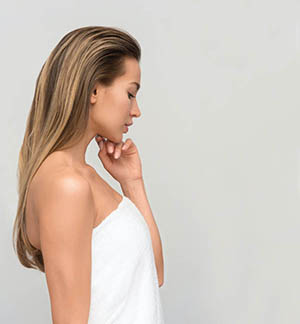 For a great monthly refresh, Sanitas Skincare makes an AHA Resurfacing Peel Kit. This at-home peel kit is an amazing way to fill the gaps in professional treatments when you can't get in to see your Aesthetician. This kit includes detailed instructions to ensure proper application to leave you with glowing skin!
I recently added CBD skincare to my evening regimen, which helps to ease stressed skin and inflammation. I like The Youthful Glow: Facial Oil from Plant Love Naturals; it is full of antioxidants that calm the skin while argan oil nourishes and hydrates. The highlight of this skin care line is the inclusion of an ingredient called Terpenes. Terpenes have therapeutic benefits that promote healing and restore the skin. It is a lovely complement to any evening skincare regimen.
If you're thinking about adding supplements to your self-care routine, taking probiotics may help with digestion. Good bacteria does wonders for gut health. I have found the products offered by TULA Skincare to be very effective. The Daily Probiotic & Skin Health Complex has a probiotic blend of 10 billion CFUs, Vitamin C for antioxidant protection and three different strains of probiotics to help aid digestive health, improve skin hydration and smoothness and lastly, improve metabolism and help to prevent bloating.
Since we are spending more time at home, we are also spending more time staring at screens. Blue light can be damaging not only to our eyes, but studies are now showing it can escalate the effects of aging. Blue light is shorter in length than ultraviolet light (UV), and it has been proven that UV light causes skin cancer and ages the skin. We're so accustomed to seeing blue light that the effects seem harmless. This doesn't imply that blue light causes skin cancer but it has been linked to aging the skin. There are different levels on blue light that actually help the skin, like blue light therapy for acne and inflammation. The blue light we see on our screens is different. If sunscreen is part of your daily regimen, you're already ahead of the game. Zinc oxide and titanium dioxide provide some blocking of blue light; Vitamin C also helps. Switching devices to night mode changes the type of light they emit and doesn't disrupt our sleep rhythms. Beauty rest is a real thing. Staying comfortable and healthy in our homes should be a priority. Finding ways to settle into the new life staying home more should be fun!