I'll always have Paris. At least, I'm there whenever I taste an exceptional ripe cheese, a buttery croissant and a café viennois at a little French café. The flavors jet me back to a long-ago family taste tour through the Left and Right Banks.
Places like Paris still seem a little far away, although the time we'll be able travel again is getting closer. In the meantime, just because we can't go away does not mean that our taste buds have to stay put.
A world of local family-owned eateries offers food, drink and interactive dining moments that can eject you from your Taco Tuesday rut. Make it a project to drive a few miles to taste something completely different every week. As you eat, look at a map and discuss whether you'd like to learn a new language and visit that country.
Consider the following destinations: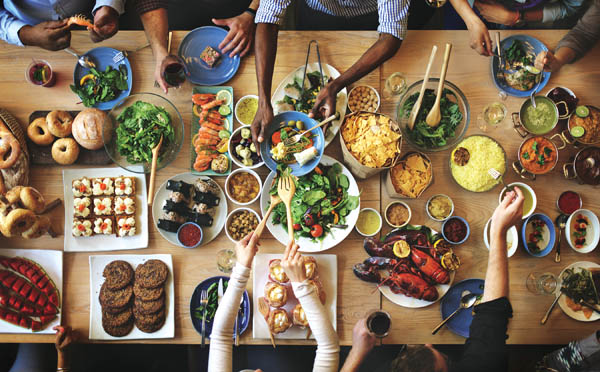 Ethiopia
At the Portico, you forget about utensils and use pieces of injera flatbread to grab bites from a communal platter. Mildly spiced Ethiopian entrées include buttery beef, lamb and chicken stews and a host of veggie side dishes and salads. This is one of the great communal dining experiences.
Portico Eritrean and Ethiopian Restaurant
1050 S. Havana St., Aurora
303.343.1390; porticoethiopianrestaurant.com
Iran
Fast casual Shondiz makes Persian fare accessible, including kabobs and lamb and beef doner sandwiches. The must-taste dinner favorite is fesenjoon, the authentic Iranian stew with bone-in chicken and a tangy walnut-pomegranate sauce, always sided with saffron rice and stuffed dolmas.
Shondiz
8000 E. Quincy Ave.,1000, Denver
720.541.7742; shondiz.com
Greece
Sample Mediterranean joie de vivre with showstopping saganaki, grilled cheese served flaming at the table, and shots of ouzo. Seafood is a specialty here including lemony char-broiled octopus and swordfish. There's always room for honey-soaked, nutty, buttery baklava.
Yanni's
5425 Landmark Place, Greenwood Village
303.692.0404; yannisdenver.com
France
La Merise dishes the greatest hits of the French bistros, ranging from escargot in garlic-herb butter and duck foie gras to warm ahi Niçoise salad and red wine-braised beef bourguignon. One simple pleasure is a glass of Sauternes and a French cheese plate.
La Merise
2700 E. 3rd Ave., Cherry Creek North
720.596.4360; lamerisedenver.com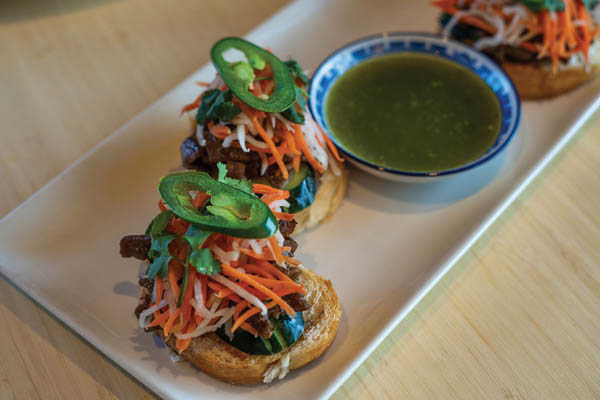 Vietnam
The owners of this popular Englewood eatery celebrate their Vietnamese, Chinese and American roots with a totally fun menu. What's not to love about zesty green papaya salad, Vietnamese meatloaf, Kansas State Fair eggrolls and banh mi bites? Kids can choose a small pho with veggie or beef broth, noodles and beef, tofu or shrimp. For the grownups: Boozy Thai Tea.
Zomo Asian & American Eats
3457 S. Broadway, Englewood,
720.739.8882; zomoeats.com
China
Forget the sesame chicken and discover authentic Chinese fare at this tiny café. Taste Denver's best potstickers, soup dumplings and wontons in spicy peanut sauce with a malty Lao Wang Lager.
Lao Wang Noodle House
945 S. Federal Blvd, Denver,
303.975.2497; laowangnoodlehouse.com
India & Nepal
Vegan and gluten-free families should trek to Shangri La. First up are vegetable momo, delectable Nepali steamed dumplings. Joy is grabbing chunks of paneer cheese from the creamy spinach saag with potato-stuffed alu paratha bread. Charcoal-grilled eggplant takes a Bollywood star turn in baigan bharta with ginger and garlic.
Shangri La
5969 S. University Boulevard, Cherry Hills
303.955.8014; shangriladenver.com
The Coasts
No matter which where you grew up, the 30-year-old Cherry Crest dishes fresh seafood classics, whether it's the Mid-Atlantic (lump crab cakes), Midwest (broiled Great Lakes walleye), Northeast (New England clam chowder, whole Maine lobster) or Northwest (grilled king salmon).
Cherry Crest Seafood Restaurant & Market
5909 S. University Blvd, Cherry Hills,
303.798.2600; cherrycrestseafoodrestaurant.com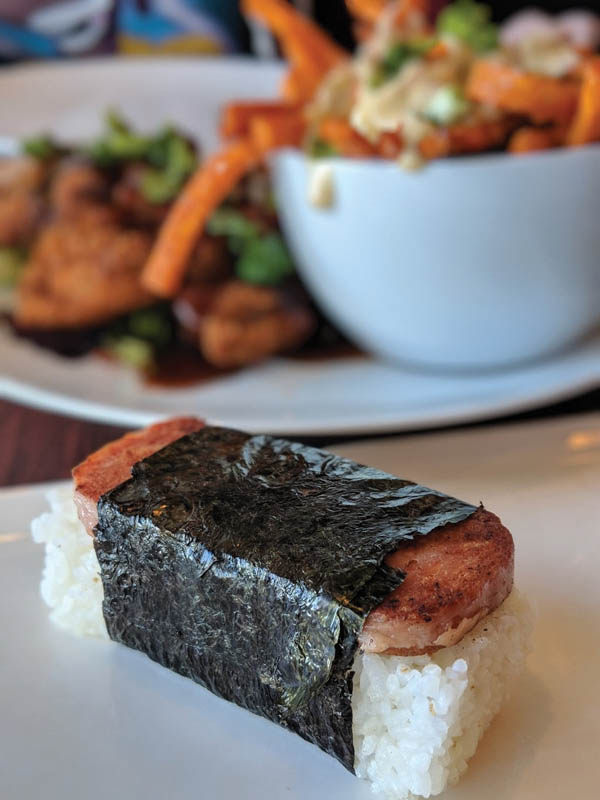 Hawaii
Authentic Hawaiian surfboards welcome you to this Pacific escape. Commence with raw ahi poke salad and iconic musubi: seaweed-wrapped grilled SPAM and rice. Big plates of kalua pork, chicken katsu and macadamia-crusted mahi are sided with mac salad and fried rice.
Ohana Grille
2240 Mercantile St., Castle Rock,
720.458.0920, ohanagrille.com
Old West
Tired of the same old, same old? Change up your proteins tonight at the Buckhorn Exchange, an eatery that looks like a natural history museum. Have an adventuresome bite of juicy Rocky Mountain "oysters," fried alligator tail, yak, elk or rattlesnake. To be perfectly honest, none of them really taste like chicken.
Buckhorn Exchange
1000 Osage St., Denver,
303.534.9505; buckhorn.com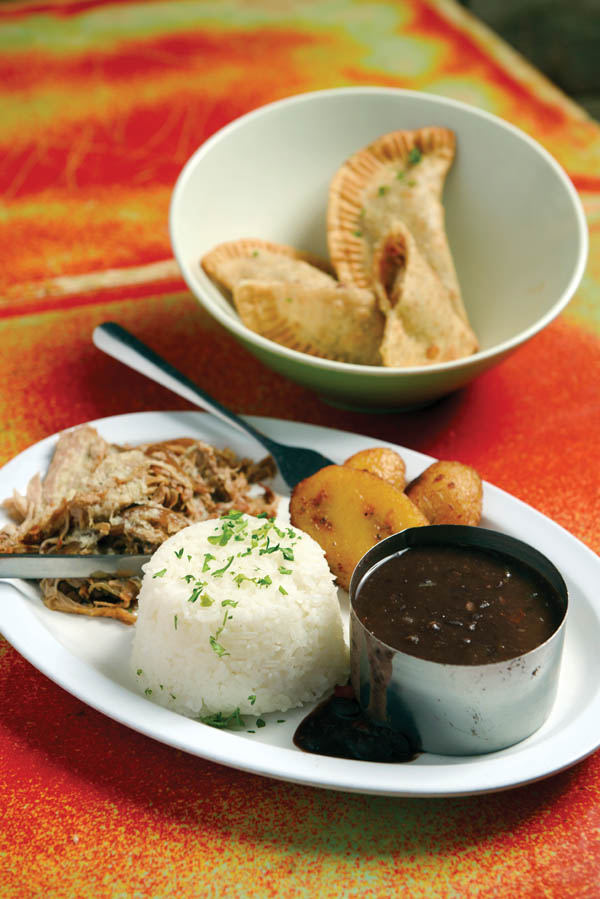 Miami and Cuba
Imagine a humid, languid summer evening in Miami and the quintessential sandwich, a Cubano boasting roast pork, ham, Swiss cheese, pickles and mustard on Cuban bread pressed until the contents meld. Cuba Cuba represents the cuisine well with platters of lechon asado, tender roast pork in garlicky mojo with white rice, black beans, plantains and a ham croqueta. Toss it back with a mojito or a caipirinha or an iced sweet Cuban coffee.
Cuba Cuba Sandwicheria
5322 DTC Boulevard, Greenwood Village,
303.741.4634; cubacubadtc.com
More Take-Me-Away Dining Options
Japan: Kiki's – Japanese Casual Dining,
2440 S. Colorado Blvd., Denver,
303.504.4043, kikisjapaneserestaurant.com
Korea: Bop and Cogi Korean Grill,
10639 E. Briarwood Ave., Centennial,
303.799.1139; bopgogi.com
Native America: Tocabe, An American Indian Eatery,
8181 E. Arapahoe Road C, Greenwood Village,
720.485.6738, tocabe.com
Argentina: Maria Empanada,
1298 S. Broadway, Denver,
303.934.2221; mariaempanada.com
Germany: Gaby's German Eatery,
245 S. Harlan St., Lakewood,
720.329.8188; gabysgermaneatery.com