FRESH Looks for the links, cocktail hour and everywhere in between.
It comes as no surprise that stance and alignment are key in golf, but often just as critical for the more fashion-forward player is the clothing aspect. With an array of designers to choose from, putting a look together might seem like an easy task, but we have some tips on the spring/summer trends that you'll want in on. Sustainability is still the focus and now you can add fashion meets performance, comfort, technology and tradition to the list.
The word "trend" might make one think of styles that come and go, but we see it as an opportunity to find the right silhouette, color, pattern, and material that make for a long-lasting aesthetic. You'll see that mixing and matching patterns and textures quickly offers a dashing and polished look.
This season brings pastels, skirts and dresses for women, and striking color pallets and athleisure for men. Add a pop of color when mixing and matching with black or white to instantly stand out. The addition of a unique larger scale print is an extra bonus. And don't forget those layers to aid during fluctuating temperatures.
Galvin Green DUNN jacket in black, $150; Footjoy Lisle geo print polo in white/grey/charcoal, $72; RLX Ralph Lauren Spyglass classic fit short in navy, $99; Adidas ZG21 men's golf shoe, $180; all at PGA TOUR Superstore, 9451 E Arapahoe Rd, 720.266.2400, pgatoursuperstore.com
ON HER: Tail Alex cascading floral print jacket, $93; Jamie Sadock mimosa collection sleeveless crunch quarter zip top, $90; Swing Control stripe dot walking short, $98; Footjoy traditions women's golf shoe, $100; all at PGA TOUR Superstore, 720.266.2400, pgatoursuperstore.com
ON HIM: RLX Ralph Lauren printed lightweight airflow polo shirt sunrise red square dot, $98.50; William Murray beer keepers shorts, $90; Adidas ZG21 men's golf shoe, $180; all at PGA TOUR Superstore, 720.266.2400, pgatoursuperstore.com
ON HER: Pebble Beach dress in navy with floral, $65 at The Shop at Pebble Beach Resorts, shop.pebblebeach.com; Lilly Pulitzer beach comber pullover in zanibar blue, $98; at Lilly Pulitzer, lillypulitzer.com; Footjoy traditions women's golf shoe, $100 at PGA TOUR Superstore, 720.266.2400, pgatoursuperstore.com
ON HIM: Puma AP 19th hole woven button down, $90 at Dick's Sporting Goods, Park Meadows, 8401 Park Meadows Center Dr, 720.479.0600, dickssportinggoods.com; RLX Ralph Lauren primaloft fleece hybrid vest in blue/french navy, $148; Adidas ultimate 365 classic pants in crew navy, $80; Adidas ZG21 men's golf shoe, $180; all at PGA TOUR Superstore, 720.266.2400, pgatoursuperstore.com
ON HER: Tail fun in the sun collection: petals print quarter zip pull over, $79; Belyn Key grommet sleeveless top in onyx, $116; Jofit ocean breeze collection: knife pleat 16″ golf skort, $90 at PGA TOUR Superstore, 720.266.2400, pgatoursuperstore.com; Sam Edelman Poppy sneaker in white, $99.95, at Nordstrom, Park Meadows, 8465 Park Meadows Center Dr, 303.799.3400, nordstrom.com; JS Atlantic sunglasses, $299, at Garbarini, Cherry Creek North, 239 Detroit St, 303.333.8686, garbarinishop.com
ON HIM: Puma AP 19th hole woven button down, $90 at Dick's Sporting Goods, 720.479.0600, dickssportinggoods.com; Adidas ultimate 365 classic pants in crew navy, $80 at PGA TOUR Superstore, 720.266.2400, pgatoursuperstore.com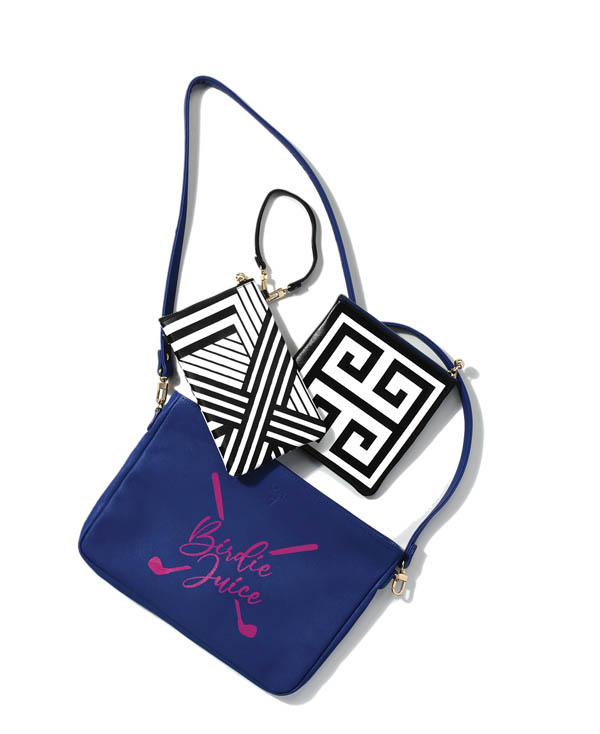 BRING IT ON!
Balls, tees, shoes, phone, Birdie Juice … OTG247 has a bag for that! These functional, fashionable carryalls are waterproof, made from vegan leather and designed to keep you organized on or off the course. From $48 at otg247.com