What do you give someone who is going through a transitional, tough time to let them know you care? Two years ago, Courtney Mamuscia did not have the answer. And that was a problem.
She had seen friends go through divorces, lose their parents, struggle to get pregnant, and felt like she came up empty-handed when she went searching for something meaningful, uplifting and helpful to pass on in times of crises.
Around the dinner table one night with some friends, she came to the conclusion that this dilemma should be a dilemma no more.
A right "alchemy of goodies"—a mix of gifts that she hopes will feel like a virtual hug—is her solution. In October 2018, Mamuscia launched JuJu Be Gone, a company that specializes in intentional gift boxes equipped with everything needed to rejuvenate the energy around you.
The lighthearted packages include items that fall into two main camps: spiritual and spirited.
Nearly every box comes with a smudge bundle—a kit of sage, palo santo and a customscented candle, selenite crystal, feather and matches with instructions on how to complete the cleansing ritual. "Smudging is an important thing to do once a month or once a quarter to refresh the energy around you," says Lisa Conner, the creativity curator.
It sounds New Age-y. But the two insist that with their witty, irreverent approach (which is easy to appreciate after taking time to read through the included note cards), the ritual is instead a modern wellness element. "It's just about bringing positivity into peoples' lives and removing stagnant energy," Conner continues.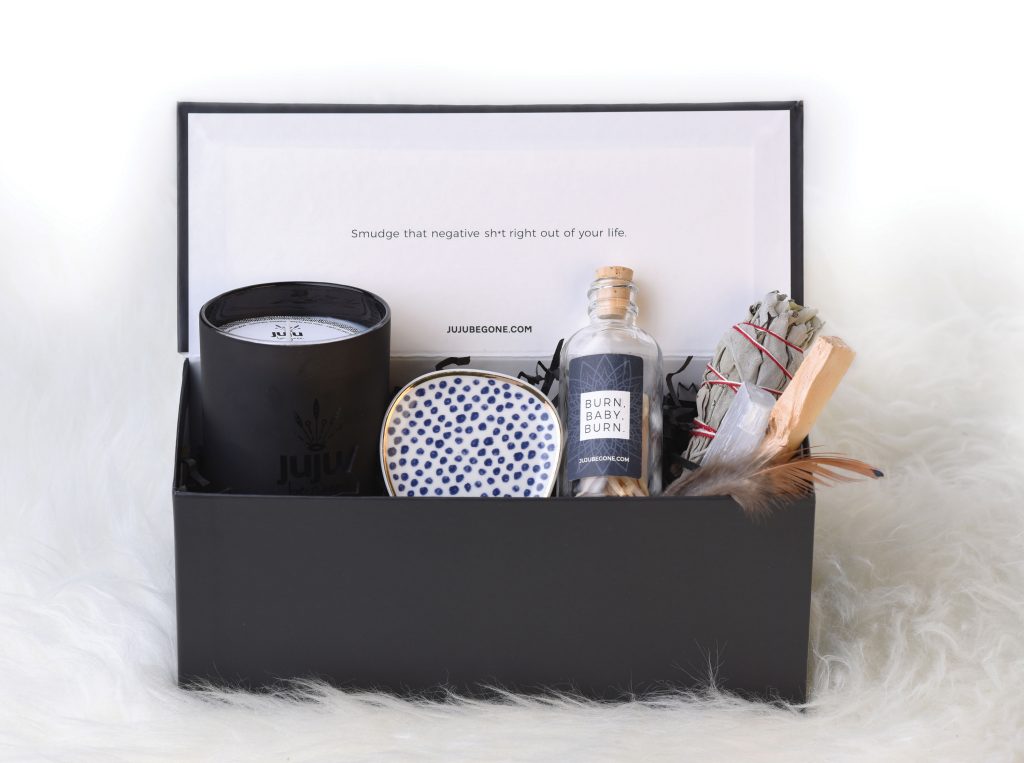 The other clever goodies in the package will likely be the star of the show for some giftees. Conner, who also handles branding and design from their Lone Tree headquarters (aka her home), connects with artisans far and wide to get treasures like a customscented candle named Glendora; hefty bars of handcrafted chocolate; a Good Karma spritz that's a blend of rosewater and peppermint essential oil; affirmation cards that promise no "self-helpy-ness"; Bounce Back: Breakup, a deck of challenges to get those who are newly single back on their feet; a Bathroom Guest Book for the powder room; bold kitchen towels; and more. "Finding these is a massive game of hide and seek," she says.
Juju Be Gone has 18 gift sets and counting, ranging in life moments from a new year of school to breakups to general self-care to moving into a new home (specifically put together for "people you like a lot, people you like a ton, people you like even more or people who prefer a little less sass") and more.
Mamuscia and Conner recommend welcoming the new year with the New Beginnings box. It includes a smudge bundle, affirmation cards, an intention-setting journal, a CBD-infused drink, bath salts and the Good Karma spray.
JuJu Be Gone, too, keeps the positive vibes flowing by donating a percentage of proceeds to charities recommended by customers. In the past, they've donated to The Breasties, One Colorado and Every Mother Counts; they plan to continue introducing new nonprofits.
At the end of the day, the two just hope to give people a reason to smile—like their dear friend whose car was continuously dinged and hit for a short period of time. She called Conner to say, "I'm smudging my car . . . and I'm thinking of you," all while laughing over her momentary bad luck.
A BRIEF HISTORY OF SMUDGING
The ritual of burning sacred medicinal plants (like sweetgrass, cedar, sage, tobacco or palo santo) started with Indigenous people from many parts of the world. Though each culture has its own method of performing the ritual, some elements are shared. Most ceremonies include a culturally significant vessel to carry the smoke-producing herbs, which is then wafted over the person or room that is being cleansed using either a feather or a hand.
BOX OFFICE
Juju Be Gone
Lone Tree and Denver