Veteran holiday revelers know the drill: When it comes to gift shopping in December, the devil is in the details. Stocking stuffers, hostess gifts and the small goodies that accompany major items are the pieces that can leave a day at the shops feeling like that of the devilish proverb's origin—largely unresolved. Allow us to fill in those gaps with our first-ever gift guide, sorted by interest. Expect an influx of thank-you notes.
The Equestrian
Room to house and admire stallions, geldings and mares is the reason this friend or family member moved to this side of town.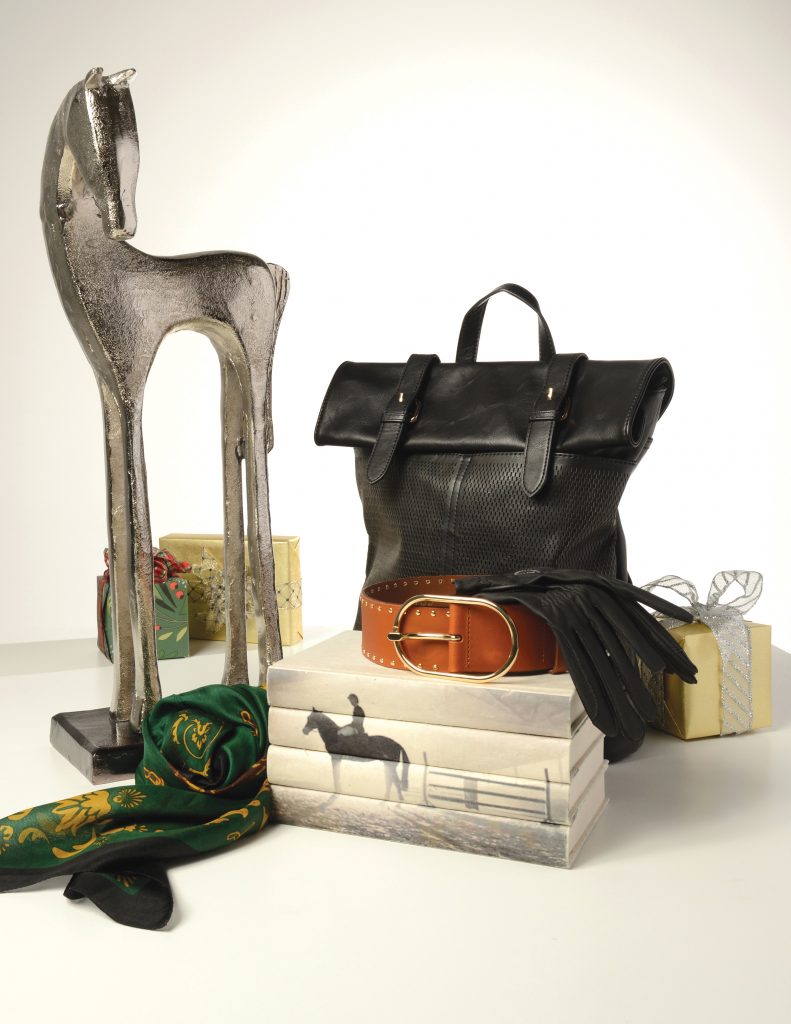 Cyan Design Trotter sculpture, $299, and Equestrian Rider set of Scooter: The Biography of Phil Rizzuto by Carlo DeVito, $170, both at lulu's furniture and decor, Kent Place, 303.756.2222; Tibby backpack, $74, at Conservatrice, Littleton, 303.733.2391; Roeckl gloves with rhinestone detail, contact store for pricing, at The Perfect Fit Saddlery; Frame Grand Oval belt, $220, and Eden silk scarf, $126, both at Rebel, Greenwood Village, 720.283.1004
The Homebody
They are happiest spending time in their own kingdom.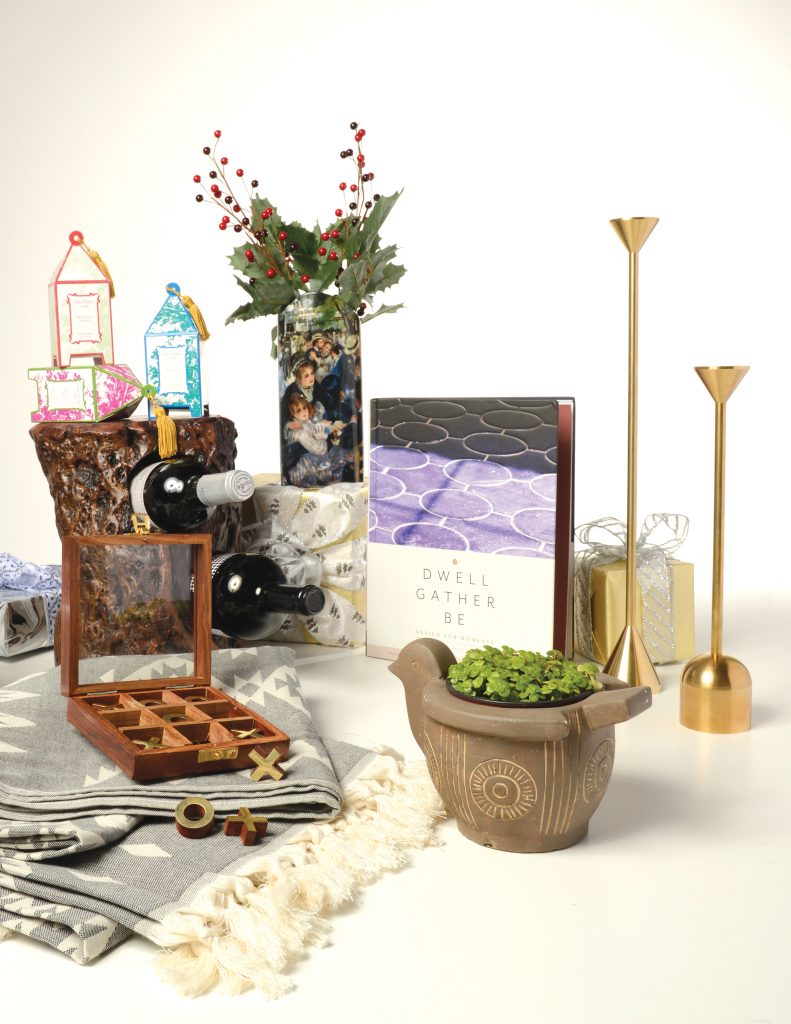 Seda France Pagoda candles in Hyacinth, Malaysian Bamboo and Rhubarb Pear, $18 each; and stone bird planter, $18, all at Conservatrice; Handcarved wood wine holder, $89; and one-of-a-kind tic-tac-toe set, $36, at Curate: A Local Mercantile, Centennial, 303.770.7030; Skouras Moscofilero 2018 white wine, $18, and Redentore Refosco red wine, $22, both at Bouzy Wine and Spirits, Greenwood Village, 303.798.4357; Kilim blanket, $79.95; Dwell, Gather, Be: Design for Moments by Alexandra Gove, $35; and brass dome and cone candle holders, starting at $110, all at Hygge Life; Dartington Crystal Renoir Moulin de la Galette vase, $65, at T is for Table, Centennial, 303.347.9988
The Bookworm
There is no better time to curl up with a good read (or wonder at a just-found rare edition) than in the dead of winter.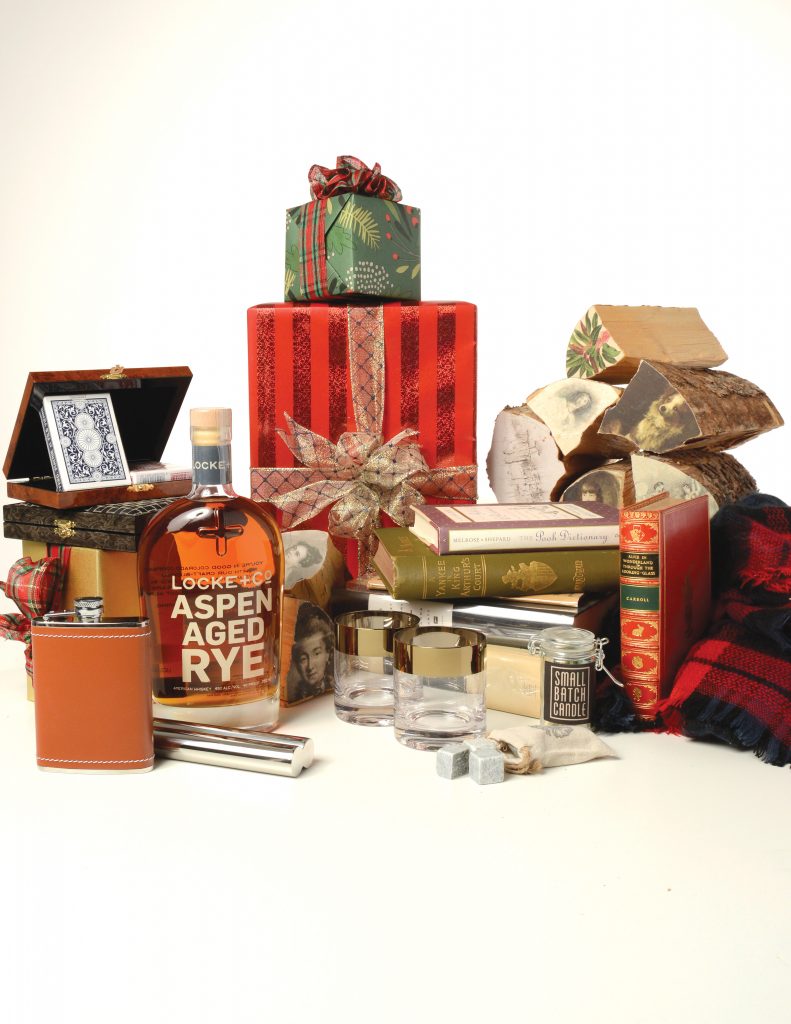 Chestnut and charcoal poker boxes, $68 each; flask (with measuring cups and funnel) gift set, $98; Viski Harrison cigar case, $38; Viski Irving rocks glasses, $32 for set of 2; and Viski Glacier Rocks cubes, $18, all at T is for Table; Locke + Co. Aspen aged rye, $70, at Bouzy Wine and Spirits; The Pooh Dictionary: The Complete Guide to the Words of Pooh & All the Animals in the Forest by A.R. Melrose with decorations by Ernest H. Shepard (first edition); A Yankee in King Arthur's Court by Mark Twain (1880 edition); Alexander Hamilton by Ron Chernow (signed 2004 copy); The Secret History by Donna Tartt (signed 1992 copy); From Snow to Snow by Robert Frost (signed 1944 copy); and Alice in Wonderland: Through the Looking Glass by Lewis Carroll, with illustrations by Sir John Tenniel (1865 edition, 1973 reprint), contact store for pricing, all at The Hermitage Bookshop, Cherry Creek North, 303.388.6811; decorative logs, starting at $16, at Conservatrice; Small Batch Candle matches, $4, and Sass blanket scarf, $19.99, at Curate: A Local Mercantile
The Stylist
She's not a professional wardrobe consultant, but she should be.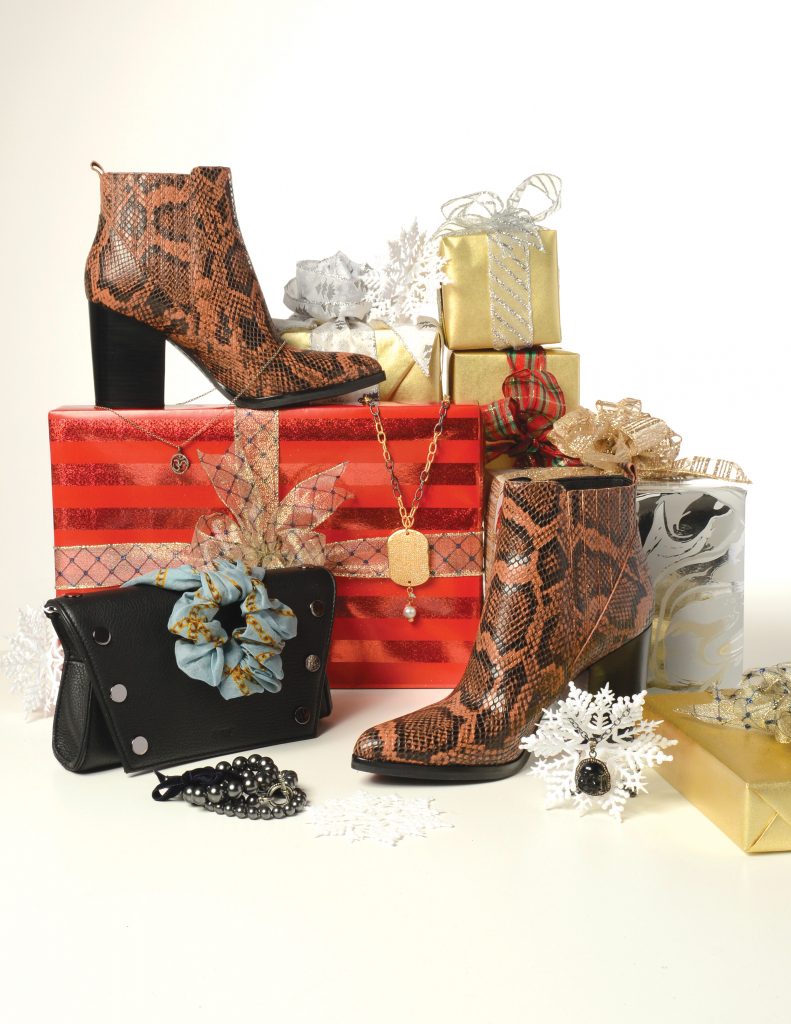 Marc Fisher LTD Alva snake print bootie, $224; Om diamond necklace, $600; hair tie, $45; Hammitt Roger clutch, $315; Chan Luu black pearl bracelet, $115; gold pavé necklace with drop pearl, $360; and Buddha-face stone and diamond necklace, $800, all at Rebel
The Outdoorsperson
Nearly every Colorado trail, fourteener and ski hill is on these adventure seekers' must-visit list.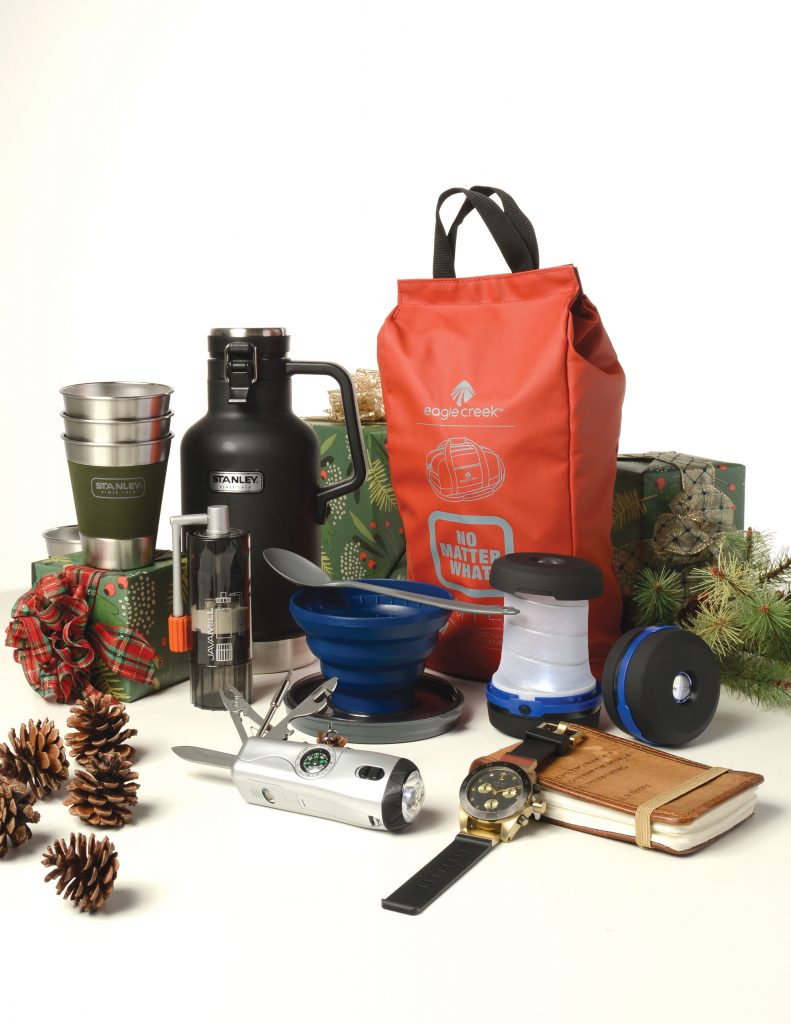 Stainless-steel growler and tumbler pack, $49.99, and electric D301 quartz chronographic watch, $129.99, both at Sierra, Greenwood Village and other area locations, 800.713.4534; Outside Inside Gifts gourmet pour-over java set, $39.95; Eagle Creek No Matter What duffel bag in Red Clay, $80; Cyber Tool Torch multi-tool, $24.95; and flashlight lanterns, $9.95 each, all at Paradise Baggage Company, Englewood, 303.320.4646; leather pocket travel journal, $26.95, at Curate: A Local Mercantile
The Foodie
You're not always sure what, exactly, they are preparing, but the end result is usually delicious.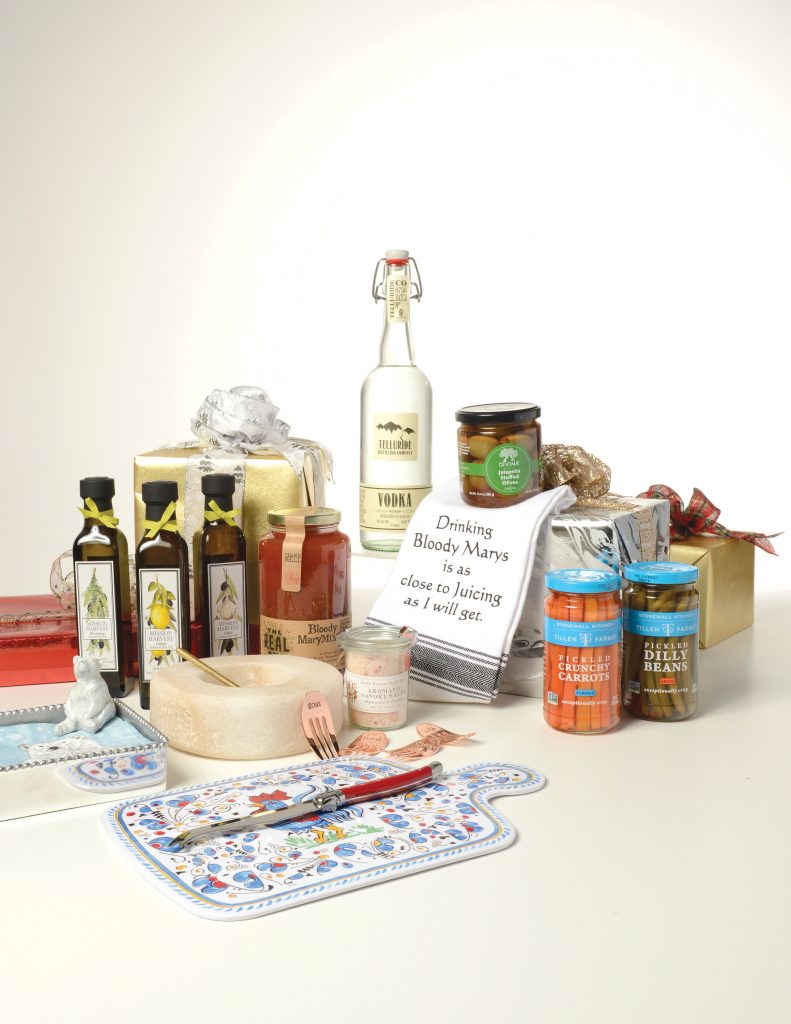 Napkin box and polar bear weight set, $48; garlic, lemon and rosemary infused olive oils, $17 each; Le Cadeaux cheese board and knife set, $32; Bella Cucina Peperoncini and Pimenton Savory Salts, $14; and Bloody Mary kitchen towel, $12, all at T is for Table; salt cellar, starting at $69.95, and brass spoon, $17.50, both at Hygge Life; Mud Pie copper cheese markers, $18, at Curate: A Local Mercantile; The Real Dill Bloody Mary Mix, $13.99; Divina jalapeño stuffed olives, $7.99; Tillen Farms by Stonewall Kitchen Pickled Crunchy Carrots, $8.99, and Tillen Farms by Stonewall Kitchen Pickled Dilly Beans, $8.99, all at Tony's Meats and Market, Centennial, 303.770.7024, Castle Pines, 303.814.3888, Littleton, 720.377.3680; Telluride Distilling Company vodka, $22, at Bouzy Wine and Spirits
The Frequent Flyer
The traveler can perform the preflight safety speech verbatim, just for fun.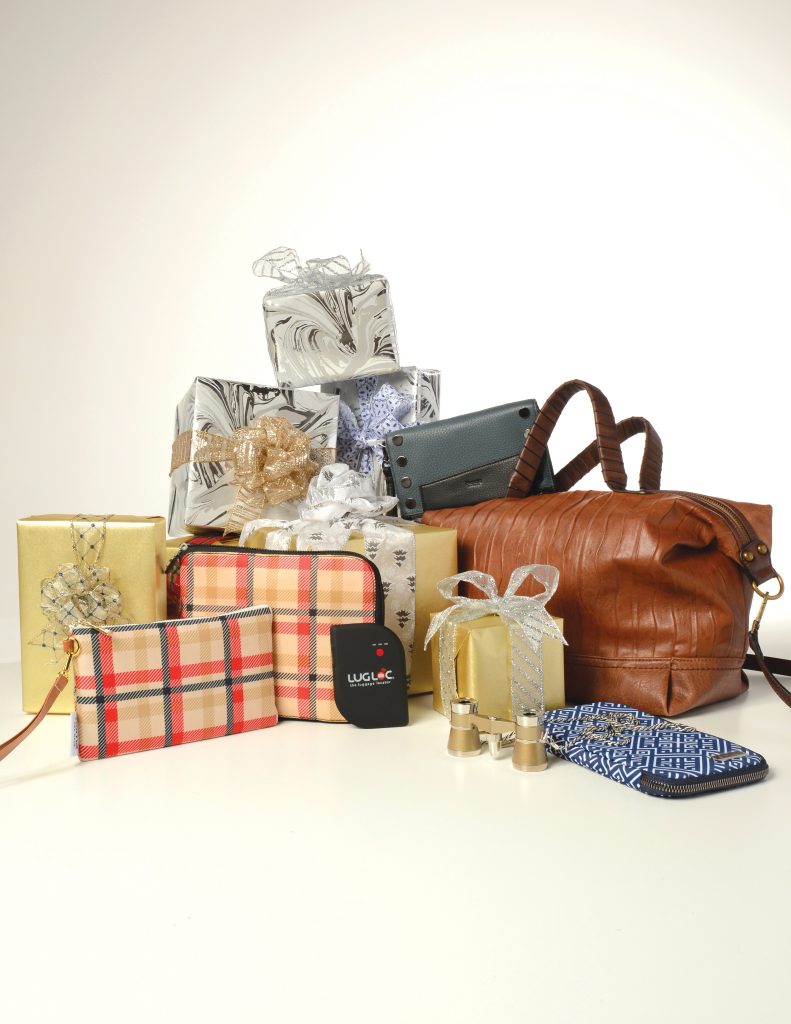 RuMe phone clutch in Lumberjack, $21.95, and C-Fold bag in Lumberjack, $32.95, both at RuMe, Centennial, 866.921.0475; LugLoc luggage locator, $69.95; lighted opera glasses in Champagne, $45; and Travelon family passport wallet, $21, all at Paradise Baggage Company; Hammitt 35 North wristlet, $245, at Rebel; Weekend in Barcelona bag, $79, at Conservatrice