By John Lehndorff
Denver hospitality experts share their secrets for making HOME COCKTAIL PARTIES JOLLY for guests … and the host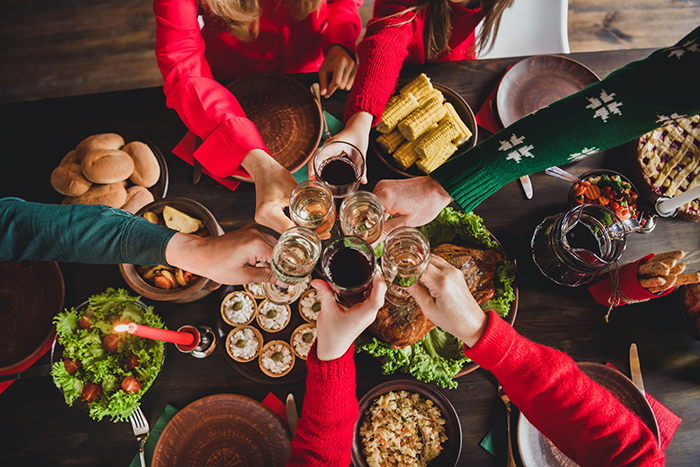 Photo By Shutterstock.com/ Roman samborskyi
Break out the garish Yule sweaters and classic little black dresses for this year's holiday cocktail parties. To help make your at-home holiday bash fun for your guests—and you, too—AvidLifestyle asked two Denver hospitality veterans to share their party-giving secrets. Between them, Michelle Kim and Darryl Shoemake have planned and hosted hundreds of holiday parties during their careers.
Kim is the director of beverage and bar management at Lone Tree's Sierra restaurant, and Shoemake is president of Jack's on Pearl in Denver. Both stressed that the secret to enjoying your own party is serious planning.
"Have everything already done a day ahead. Put out the glassware and napkins," Kim says. It means thinking through the logistics of trash cans, drink garnishes and ice cubes.
Your cocktail-serving station location matters. Kim says that no matter what, guests end up in the kitchen, so don't try to change people's patterns by setting up your cocktail station in the living room. "Every single time everyone goes to the kitchen. Now, that's where I set up the food and beverages," Kim says. Of course, if you have a dedicated bar, use that space.
Most guests don't want to make decisions, they just want to sip, so don't set up a full bar. "When I host, I have one special cocktail planned. I make a batch ahead of time and put it into clear bottles," she says.
Be sure to pick a cocktail with broad appeal. "Our most popular winter cocktail is a smoked pecan Manhattan," Shoemake says. "It's like sipping a spirited pecan pie. The biggest challenge is calculating how many drinks to have on hand. I've found that it works out to an average of two and a half cocktails per person."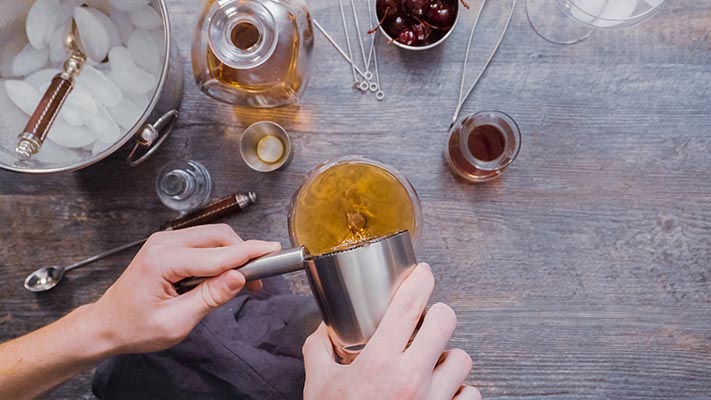 Don't worry about serving some stunning Cabernet—not many will notice. They will be too busy talking. Instead, Shoemake says, pour good but affordable wines. "We serve J. Lohr Estates Seven Oaks cabernet sauvignon and J. Lohr chardonnay. They deliver flavor like 30-dollar bottles," he says. Kim suggests making it easy by filling glass carafes with red wine. For white wines, fill a big mason jar with a little spout in the fridge with glasses nearby.
Many guests may be drinking less, or not at all. The mocktails you serve should be at least as interesting as the cocktails, including garnishes, and usually can be prepared the night before the party, Kim says.
As you plan a great gathering, try to focus on the essentials. Shoemake says, "The biggest thing is not trying to do things while people are there because then you're not being a good host."
Sierra and Jack's shared some signature cocktail recipes to help you make a splash with guests.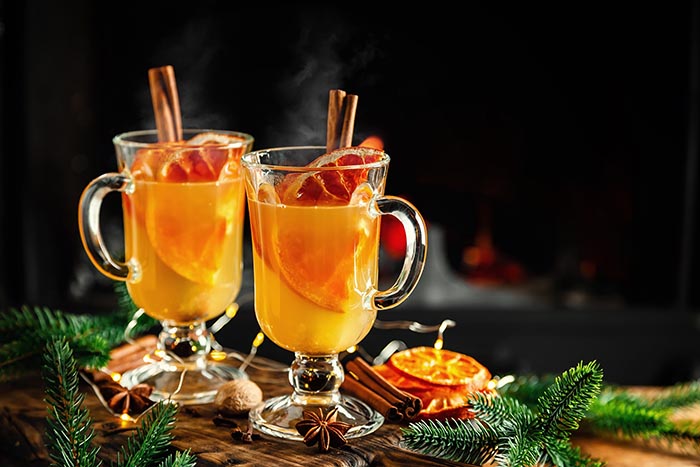 Sierra's Naughty and Nice Hot Toddy
4 ounces hot water
1 bag cinnamon-spiced tea
2 ounces Casamigos Reposado tequila
1 ounce Cointreau
½ ounce fresh-squeezed orange juice
1 teaspoon agave syrup
2 dashes Angostura bitters
How to build the hot toddy:
In a snifter or mug, add very hot water and spiced tea bag and steep covered for two minutes. Remove the tea bag and then add tequila, Cointreau, orange juice, agave and bitters and stir until agave is diluted. Garnish with half an orange wedge dipped in cinnamon. The orange cinnamon garnish can be added
into the hot toddy for extra flavor.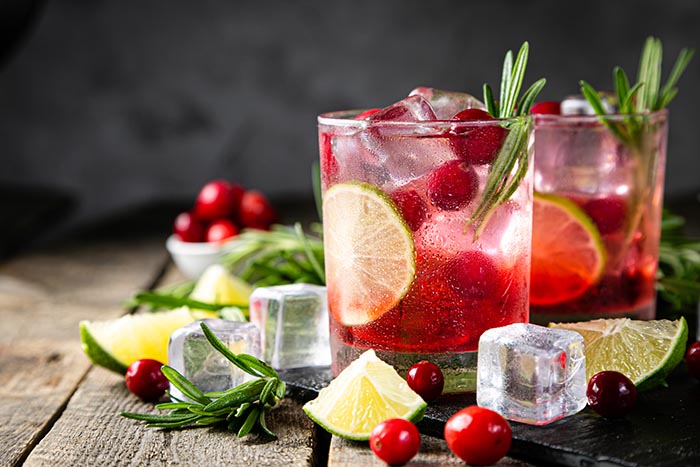 Sierra's Rosemary Cosmopolitan
2 ounces vodka
1 ounce Cointreau
½ ounce rosemary simple syrup (see recipe below)
½ ounce cranberry juice½ ounce lime juice
How to build the cocktail:
In a shaker, combine vodka, Cointreau, rosemary simple syrup, cranberry juice, lime juice and ice. Shake vigorously for 15 seconds. Strain into a chilled martini glass or coupe. Garnish with a sprig of rosemary and a Luxardo cherry, or a cranberry.
To make rosemary simple syrup: Make or buy simple syrup and heat two cups to a simmer. Add fresh rosemary sprigs and simmer for about 20 minutes. Remove from heat, cool and strain into a bottle. This delicious rosemary simple syrup can also be used in teas and mocktails.

Sierra
10680 Cabela Dr.
Lone Tree
303.662.8800
sierrarestaurant.com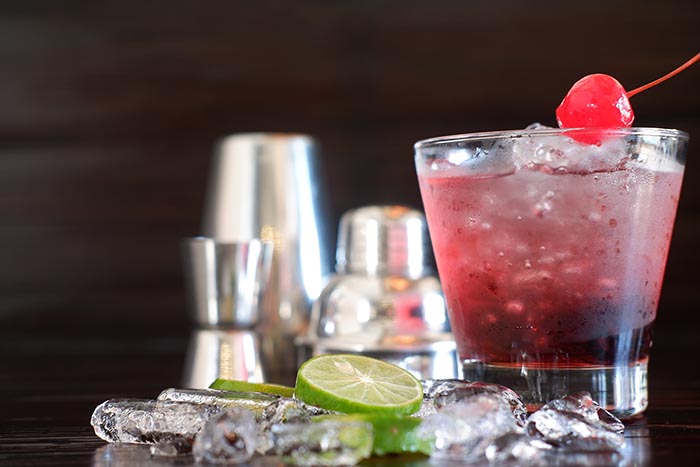 Jack's on Pearl Blackberry Smash Mocktail
6 to 8 fresh blackberries
½ teaspoon fresh lime juice
1 tablespoon honey or agave
10 ounces Sprite
crushed ice
Place blackberries into a shaker glass and muddle. Add lime juice, honey (or agave) and Sprite. Fill shaker with ice, shake well and pour into 16-ounce glass. Garnish with a blackberry.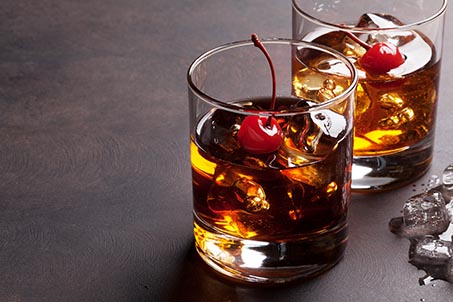 Jack's on Pearl Kenessee Pecan Manhattan
2 ounces Sweetens Cove Kenessee blended bourbon
½ ounce Sweetens Cove genuine southern
pecan syrup
3 dashes black walnut bitters
Mix the ingredients and pour over ice in an old fashioned glass. Garnish with maraschino cherry.

Jack's on Pearl
1475 S. Pearl St.
Denver
720.868.5800
jacksonpearldenver.com