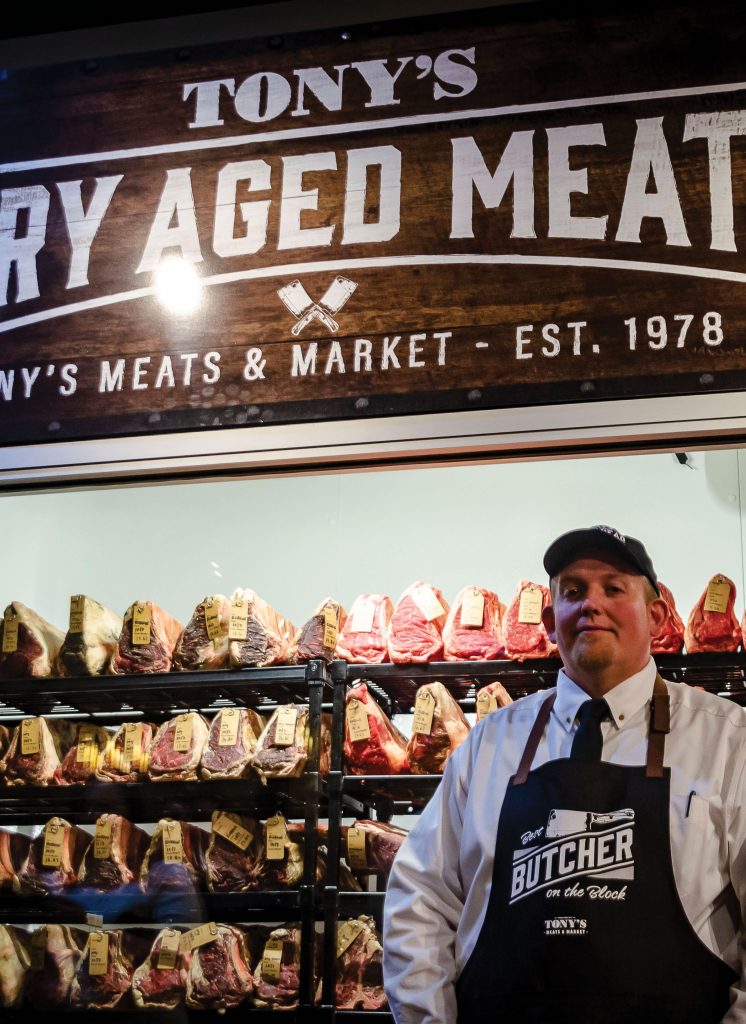 Unmasked nuttiness, a profound scent that mimics a sharp blue cheese, noticeable sweetness, unmistakable richness: "There's just nothing quite like the taste and characteristics of a dry-aged steak," says Stefan Kosmicki (pictured above). The meat, seafood and produce buyer of Tony's Meats and Market should know.
Last year, Kosmicki spent nearly eight months designing and conceiving a customized dry-aging room at the Castle Pines store, utilizing his 19 years of experience working at the metro area's three Tony's locations to build the specialty grocer's first meat locker. There, cuts of beef, complete with bones and fat caps, are aged uncovered in a humidity-, temperature- and air-controlled glassed room solely dedicated to dry-aging meat.
In this dry-aging process, fresh meat is exposed to air so that it becomes dehydrated and loses a portion of its weight, which concentrates the meat, tenderizes the texture and unearths an intense flavor. Kosmicki likens the practice to the maturation of wine: "Like aging a great bottle, dry-aging beef is a slow evolution that allows the flavors to develop into a complex bite. It also requires time, expertise and a pristine environment."
The Tony's locker develops that savory matrix over a minimum of 21 days. The slabs are all bone-in USDA Prime or Choice primal cuts, which weigh at least 18 pounds and mostly yield ribeye steaks and New York strips. But "the sky is the limit," clarifies the beef baron. "If customers want us to age something specifically to their taste, we can source it and talk about the process."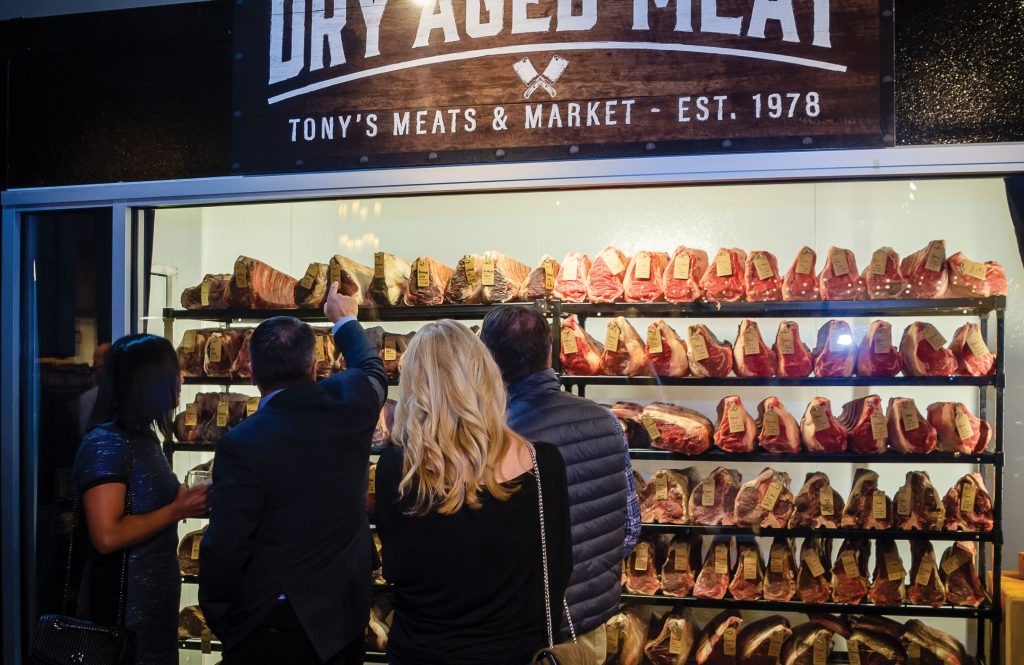 And the technique is where the visual magic unfolds. "While we've been dry-aging beef behind the scenes for more than 40 years, the new dry-aging room is a great way for us to educate regulars about meat science, have a conversation about the aging process and showcase the beauty of the meats in all their glory," says Kosmicki.
One of the most appealing perks of the display is that steak connoisseurs get the pick of the crop. "Someone walks in to look in the case, falls in love with a piece of meat, claims it as their own and, during the next three weeks, they can drop by to see the aging as it unfolds," Kosmicki says. Another fringe benefit: Because the slabs lose up to 15 to 20 percent of their "green weight" (the original mass of the fresh cut) during those weeks, partakers get a discount. "While you have to buy the whole primal—it's an upfront investment—we give a kickback to compensate for the weight loss. The case is our answer to buying high-end beef in bulk," he explains.
Once you've staked your claim, the meatcounter crew jumps into action. "We'll trim off the extra fat, cut up the steaks, recommend recipes and cooking instructions and wrap whatever you buy in double-thick butcher paper, which allows for six-to-nine months of freezer time," Kosmicki says.
If the dry-aging room at the Castle Pines locale is successful—and all signs suggest that it is—Kosmicki predicts the two other Tony's shops will soon implement dry-aging rooms of their own. "We're getting a lot of buzz, and we're definitely looking to grow the program," he confirms.
And if you're looking to woo your sweetheart on Valentine's Day, a dry-aged steak—its flesh a come-hither tinge of passion—is the equivalent of a meat poem. "It's perfect for a Valentine's Day dinner and just about every other occasion, too," Kosmicki assures us. An ode to richly marbled New York strips, coming right up.
CUT AND DRIED
Tony's Meats & Market
The Village at Castle Pines
303.814.3888