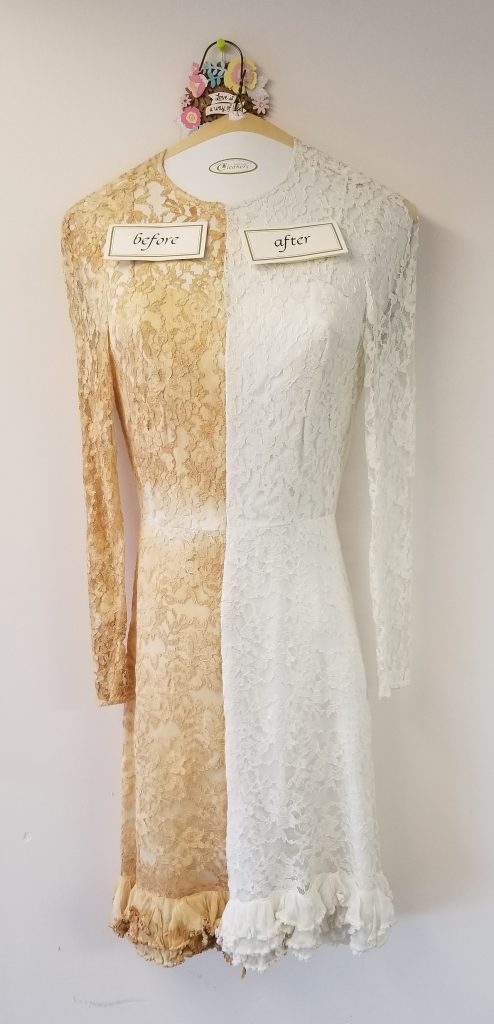 Sunny Jung of Gold Label Cleaners and Restoration Labs is a master at turning back the clock—when it comes to vintage fashion and family heirlooms, that is.
Known for an organic, environmentally-friendly cleaning process, Jung's boutique fabricare facility specializes in restoring antique textiles (in addition to being known as a top-rated dry cleaner)—the company claims to be Colorado's only certified garment-care professional and certified wedding gown specialist.
Throughout the shop's 30 years, Jung has seen countless vintage wedding gowns, communion dresses, christening gowns, tablecloths, napkins and even old linens that date back to the 1800s return to owners' closets as renewed as an aged piece can get. "The restoration process is all about returning old clothing back to its original color," she says. "Our long-term care process focuses on restoring that color by carefully washing items with a natural soap formula and teaching people how to store vintage items properly."
Before you make a trip with your prized objet d'art, however, there are things—rules, advice, tools of the trade—to know. Jung takes us down the list.
CHECK YOUR STORAGE TECHNIQUE
The manner in which vintage clothing is stored is just as important as how it is washed, says Jung. It is imperative to store antique items in the right environment so they don't fade again or, worse, deteriorate.
"If you're not going to wear a garment soon, you'll need to keep it away from direct sunlight, which disintegrates the fabric and causes discoloration," she explains. "After restoring antique items, I recommend placing them between acid-free tissue paper or cotton cloths, like muslin, that have been thoroughly washed in organic, fragrance-free soap. This keeps the items free of contaminants and prevents creasing, which is where disintegration starts."
EXPECT IMPROVEMENTS WITHIN REASON
"Items that are falling apart are the pieces that can't usually be restored. We take things wearing away at the seams on a case-by-case basis.
"To determine whether something can be fully restored, I look at its current condition. In most cases, the way things are stored is more important than the type of fabric I'm working with; though satin is probably the hardest fabric because it has that shine that we try to restore as well."
PLAN AHEAD
Set aside plenty of time if you need to have a vintage item restored for an upcoming event or antiques display. Jung says full restoration can take anywhere from two to three months. In some cases, it may take even longer. "It's rare that an item will look good after just one wash," Jung says, chuckling. "I wish it did, but most of the time, things need to be treated two or three times."
GO TO THE PROS
Gold Label Cleaners and Restoration Labs
Greenwood Village
303.948.2600