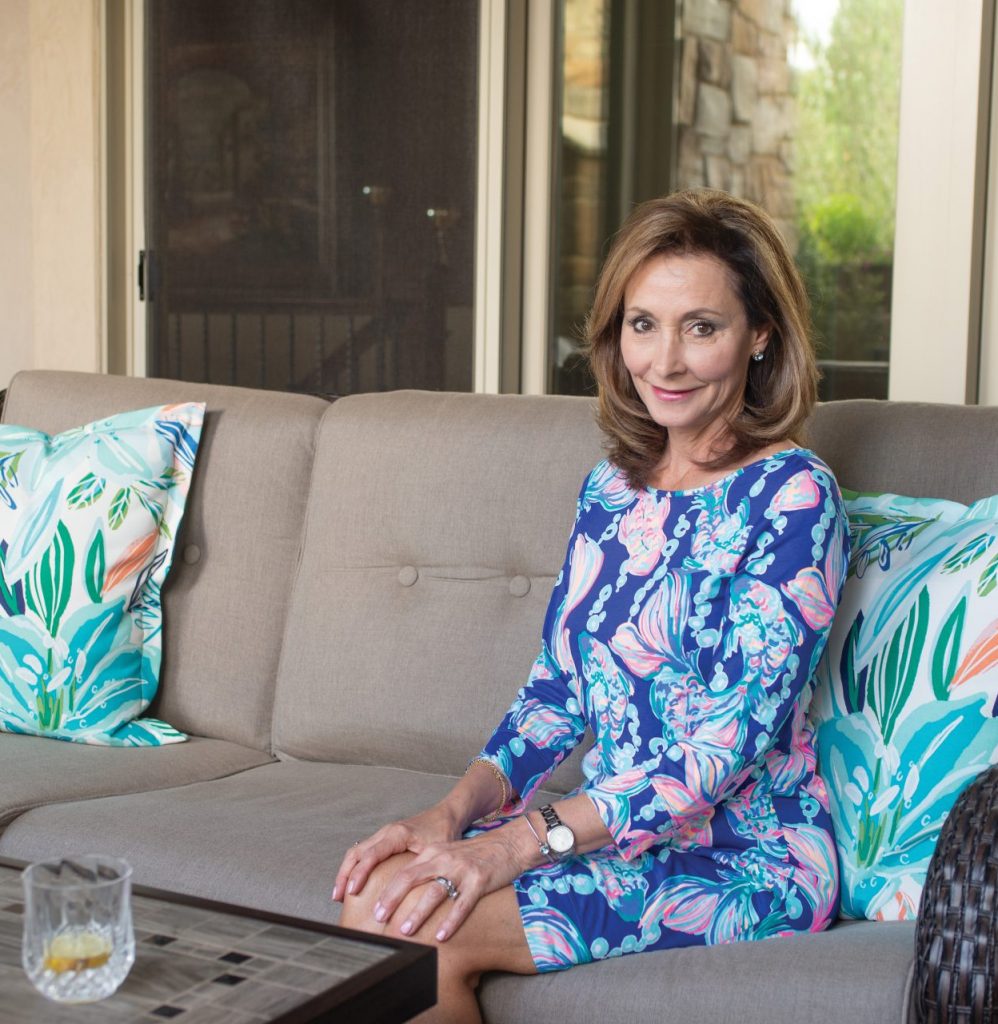 Pam Schenck-Kelly worships the sun and loathes the wind. She detests buying cars, but she's addicted to amassing an impressive shoe collection. She loves the smell of fresh paint, the flavor of arugula and happy endings. She adores Italy, most notably Tuscany. She despises cantaloupe.
Most of us know Schenck-Kelly as the senior general manager of Park Meadows Retail Resort and a dedicated community advocate, but there's still plenty to learn about the Nebraska transplant, who's called Colorado home for more than 25 years. We recently caught up with Schenck-Kelly, a Village of Castle Pines resident, to discover nine things you likely wouldn't know about the accomplished retail epicenter monarch.
Cornhusker to citified urbanite. Raised in Nebraska, Schenck-Kelly, a self-described "farm girl at heart," is a rabid Huskers fan and loves the "smell of the cornfield on the banks of the river." But she always longed for the bright lights of the city: "I always loved visiting my aunt in Denver or Miami, going to Lincoln and traveling to St. Louis, Kansas City, San Diego and New York City. The energy of the city, whether it was big or small, was always invigorating."
You grow, girl. "I love to garden and bake," shares Schenck-Kelly, adding those hobbies mirror her grandmother's passions. "I love to play in the dirt and cultivate my own seeds for my cottage-style garden, which consists primarily of perennials that bloom for three seasons and seeds that I harvest year after year." One of her favorite pastimes, she adds, "is teaching my grandchildren to garden and plant their own seeds."
Oh, what a night. During Schenck- Kelly's first site visit to Park Meadows in October of 1995, the retail resort—still under construction—was bombarded by a blizzard. There were no lights—no car lights or streetlights—and the culmination of the darkness and blowing snow made her rental car impossible to find. "I had to go back to the construction trailer, turn on all the lights and raise all the blinds to give me just enough light to make out my car in the distance," recalls Schenck-Kelly.
Famous faces. In 1991, when Schenck-Kelly attended the American Academy of Achievement ceremony in Chicago, former President Ronald Reagan was the keynote speaker—and the attendees included Nobel Peace Prize and Academy Award winners, NBA basketball wizard Michael Jordan and then chairman of Joint Chiefs of Staff Colin Powell, who just happened to be sitting next to Schenck-Kelly. "We had the most interesting, engaging and friendly conversation discussing family, work and the talented youth we were honored to interact with," she remembers.
Just don't look down. Schenck-Kelly fears heights, but she's perfectly comfortable standing on mall roofs. "I fear the uncontrollable aspect of heights—there's so much space between where you are and the surface below—but I find mall roofs very interesting," she adds. "They tell the story and history of the mall and offer a challenge to resolve or find issues, plus the views from the Park Meadows roof are amazing."
Live and let live. "I pray every day but don't care what another person's religion is. History and today's social events reflect the conflict in people having varied beliefs," she asserts, adding that "religions are fascinating, and acceptance with respect for another's belief, lifestyle or opinion is at the foundation of being a good person." She wonders, "Can't we all just get along?"
Delivering her case. "I won state extemporaneous speaking two years in a row in high school, which gave me confidence, the knowledge to study a subject before speaking about it and a format to deliver a point of view, which has served me well in my career," shares Schenck-Kelly. Her advice to those who want to make their point count: Don't be boring and incorporate spontaneous humor when it's appropriate.
Handy and hostess with the mostest. "I can fix a barbed wire fence, which is an important skill for growing up on a farm, but I also have a formal side and enjoy hosting dinner parties and entertaining large and small groups," says Schenck-Kelly. "There's a vintage style in everything I do, and learning the basics of fixing things yourself and mending something to protect your assets is becoming a lost art."
Cheers. Schenck-Kelly's favorite cocktail is a Manhattan, either stirred by her husband Jim or enjoyed at Perry's Steakhouse and Grill: "My favorite place to kick back and enjoy a cocktail is always on a patio, at the base of the slopes or at the beach."