Shortly after you get the hang of the whip and you flick your rod just so, the line whispers through the air, landing the woolly bugger on the intended spot in the river. With equal parts luck and skill, you tease a two-pound rainbow trout into striking. Bam!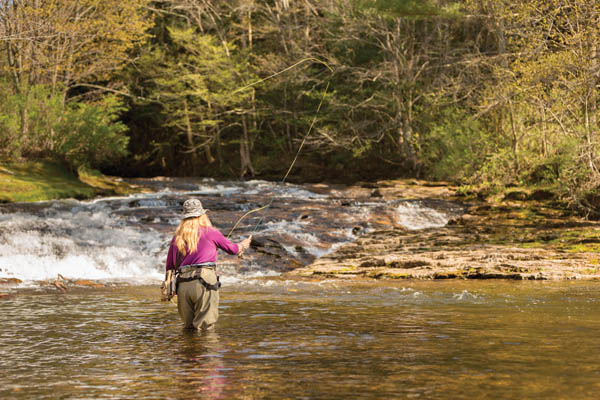 The fight is on as the fish slashes through the water with you working to coax it towards your awaiting net. Once you've posed for the classic "I-caught-the-big-one" photo, you gently remove the hook, releasing the fish back into its habitat to fight another day.
Fly-fishing is as popular in Colorado's tapestry of outdoor activities as mountain biking, skiing, snowboarding, golf and hunting. If you're curious about its allure, watch the 3:52 long YouTube clip on the 1992 movie A River Runs Through It, and you'll appreciate why it's received over 420,000 views. The scene shows Brad Pitt's encounter with a trout and cinematography that is as enthralling as the fight.
The challenge is to land the fly near where you aim and entice the fish to strike. Sage anglers examine the speed of the current, water temperature, where the sun and shadows appear, depth of the water and other conditions before choosing the appropriate fly—all aspects of the sport that novices best learn through instruction.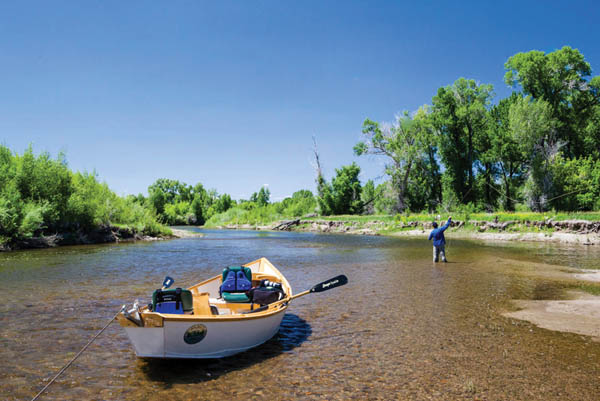 "We offer an introduction to fly-fishing one-day class pretty much every weekend from April to October," said Tyler Banker from Minturn Anglers. "We start in the shop going over the fundamentals and gear you'll need, then we drive down to the river, usually near Deckers, and spend about an hour on streamside education, followed by three or four hours of fishing."
Typical to the intro class most shops offer, participants learn how to rig a fly rod by connecting the shafts, affixing the reel and stringing the line. Novice anglers also learn how to tie different knots, why the fish hang out where they do and fly-fishing etiquette.
Gearing up may seem straightforward—rod, reel, line, waders, boots and flies—but the array of brands and prices can be a bit perplexing. That's where the expertise a shop or sporting goods store offers is invaluable.
"You don't have to spend a lot to start fly-fishing," explained Banker. "An entry level Orvis combo is $250 and comes with a 25-year guarantee. Simms has entry-level waders that run about $200, and Orvis entry-level waders are $230. And it's worth paying a bit more to get gear with a warranty." Think twice before buying used fly-fishing gear online (think eBay, Facebook Marketplace) because a warranty issued to the original purchaser often isn't transferable.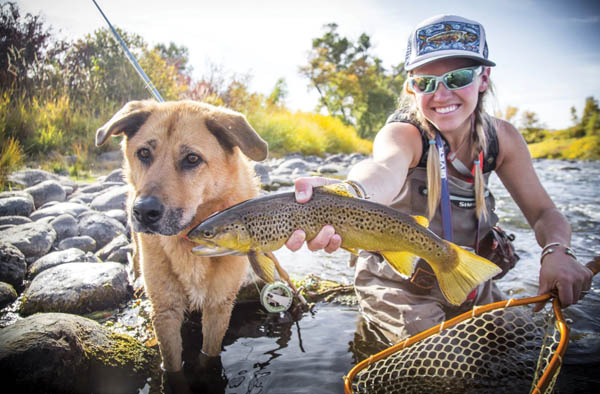 If supporting a homegrown source for fly rods and flies is of interest, check out SaraBella Fishing. Founded by Colorado natives April and JT Archer and Scott Grieble, the Erie-based company, staffed largely by military veterans and cancer survivors, produces one-of-a-kind rods that are assembled by hand and primarily designed for female anglers.
"Women have been fly-fishing for centuries," said April. "The first written piece about it was actually authored by Dame Juliana Berners in the 15th century. Women today join the sport because of camaraderie, healing power, more gear and safety options, and because they are seeing more women participate."
Supportive of school programs, nonprofits, conservation entities, girls in science, access-to-all fishing education and veterans, SaraBella Fishing uses repurposed, Colorado sourced hardwood lathed locally to make its reel seats. The Mile High WorkShop, a nonprofit manufacturing facility offering employment and job training for those facing barriers to work, makes the rod tubes and carrying sleeves for SaraBella, and rods carry a five-year warranty for the original purchaser.
"Project Healing Waters offers a path for veterans to connect with the healing power of water through the sport," April says. "In this program, veterans can meet other veterans through fly-fishing trips, rod building and fly tying. The human connection to other veterans who understand each others' perspectives and who enjoy spending time near water is truly impactful! Through this organization, we've hired veterans who found they enjoy rod building and decided they'd like to continue it as a source of income."
Fly-fishing requires patience. Being new to the sport, count on frequently snagging your line and losing flies. But once you catch those first few trout, you'll be hooked.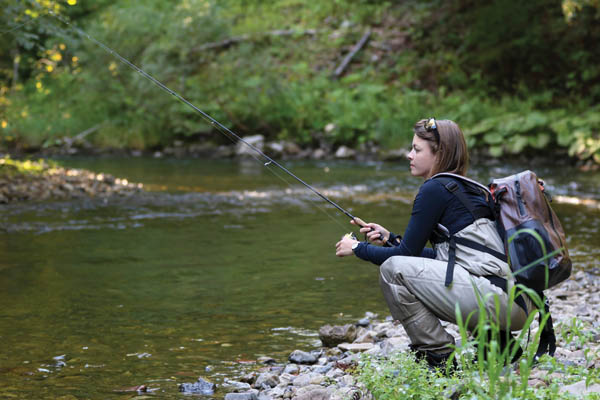 Getting Out There
Of Colorado's more than 6,000 miles of streams and 2,000-plus lakes and reservoirs, there are 315 miles
of Gold Medal Waters, streams, rivers and lakes designated by Colorado Parks & Wildlife for the quality of their cold-water trout habitat and ability to host trout 14 inches or longer. Running with brown, cutthroat, rainbow and brook trout, these spots give anglers a shot at a hat trick or a grand slam, where three or four different species might be caught in one outing.
The season officially begins April 1. However attractive the long and temperate days of summer, many outfitters agree that the best time of year for fly-fishing is autumn. You may be surprised, too, that wintertime is great for casting a line as well. Anglers are required to carry a license issued by Colorado Parks & Wildlife (cpw.state.co.us/), which can be bought online, through outfitters or retailers.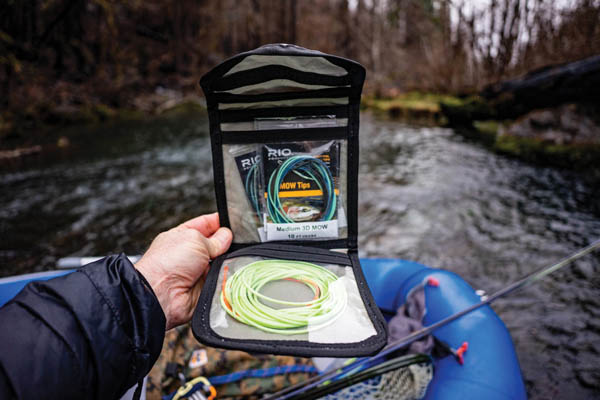 Denver's Deli Fresh Design produces fly-fishing gear with a commitment to sustainability. Owner Ross White grew up hiking, camping and fishing, developed a knack for good design, and then combined the two to create sensible gear that enables enthusiasts to spend more time enjoying the outdoors. The products are made on vintage sewing machines using repurposed fishing waders, sailcloth, climbing rope and more. The commitment to the environment is also apparent in the packaging you will not get when you purchase a product. Above: Centerfold Spey Leader Wallet, $50. Below: Fly Tyer's Dog Bowl, $35 and Climbing Rope Leash, $35 (cute pup not included). delifreshdesign.com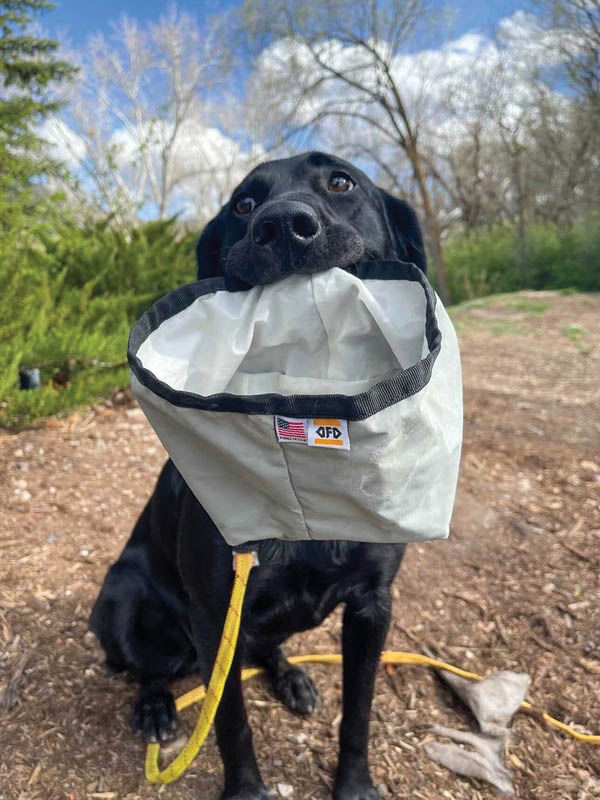 Go Fish
Here is a sampling of Colorado outfitters. Each offers guided excursions, "how-to" tips and local fly-fishing knowledge.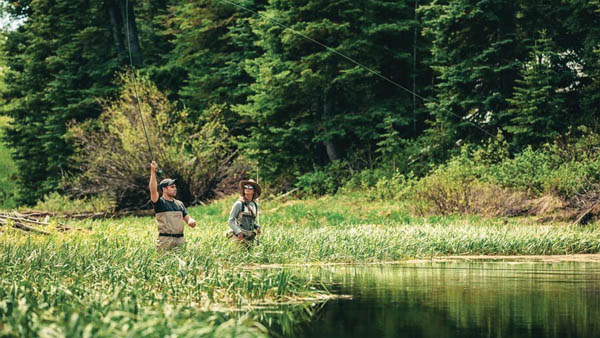 Angler's Covey
Colorado Springs
719.471.2984; anglerscovey.com
Aspen Flyfishing
Aspen
970.920.6886; aspenflyfishing.com
Breckenridge Outfitters
Breckenridge
970.453.4135; breckenridgeoutfitters.com
Bucking Rainbow Outfitters
Steamboat Springs
970.879.8747; buckingrainbow.com
Cutthroat Anglers
Silverthorne
970.262.2878; fishcolorado.com
Denver Fly Shop
Denver
303.736.9320; denverflyshop.com
Duranglers
Durango
970.385.4081; duranglers.com
Fly Fishing Outfitters
Avon
970.845.8090; flyfishingoutfitters.net
Frying Pan Anglers
Basalt
970.927.3441; fryingpananglers.com
Gore Creek Fly Fisherman
Vail/Avon
970.476.3296; gorecreekflyfisherman.com
Grand County Fishing Company
Winter Park
970.726.5231; grandflyfishing.com
I Fish Colorado
Castle Rock
720.971.2397; ifishco.com
Minturn Anglers
Lone Tree/Minturn
720.851.4665, 970.827.9500
Mountain Angler
Breckenridge
970.453.4665; mountainangler.com
Orvis
Vistas at Park Meadows
(and other locations)
303.768.9600; orvis.com
The Peak Fly Shop
Woodland Park/The Broadmoor Resort
719.687.9122; thepeakflyshop.com
River Trekker Outfitters
Parker
719.499.6469; rivertrekkeroutfitters.com
Roaring Fork Anglers
Glenwood Springs
970.945.0180; roaringforkanglers.com
The San Juan Angler
Durango
970-382-9978; thesanjuanangler.com
South Fork Anglers
South Fork
719.658.2955; southforkanglers.com
Steamboat Flyfisher
Steamboat Springs
970.879.6552; steamboatflyfisher.com
Taylor Creek Fly Shop
Basalt
970.927.4374; taylorcreek.com
Telluride Flyfishers
Telluride
970.728.4440; tellurideflyfishers.com
Telluride Outfitters
Telluride
970.728.4475; tellurideoutfitters.com
Trout's Fly Fishing
Denver
303.733.1434; troutsflyfishing.com
Trout Trickers
970.306.6255; trouttrickers.com
Vail Valley Anglers
970.341.9108; vailvalleyanglers.com
Colorado Parks and Wildlife
303.297.1192; cpw.state.co.us