We typically celebrate the ultimate taste of summer on Independence Day, America's star-spangled holiday showcasing food and drinks that shout U-S-A. Odds are good, if not obligatory, that the spread served at your picnics and cookouts—burgers, bratwursts, pork, deviled eggs—are matched with a refreshing, it-better-be-cold sip. We asked three area experts to recommend drinks to complement the dishes we're eating this summer. Best if followed through Labor Day.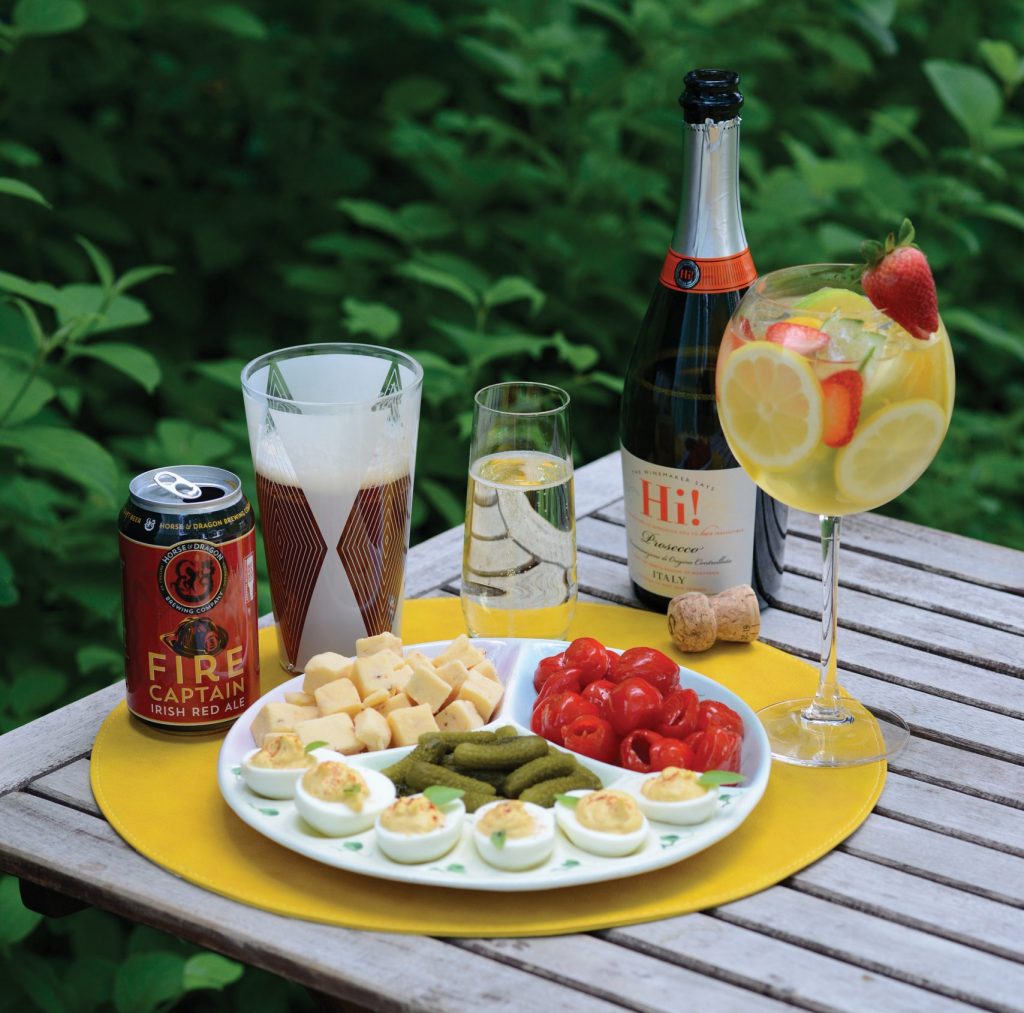 BEER
"I'm always tasting beers to find what they're missing or the direction they're leaning," says Denver-based certified cicerone and chef Jensen Cummings, who's also a restaurant consultant and the founder and host of Best Served, a podcast focusing on inspiring and provocative interviews with hospitality leaders. His picks are available at local liquor stores and/or breweries.
Deviled eggs: Horse & Dragon Brewing Company Fire Captain Irish Red Ale
Don't skimp on the mustard in the deviled eggs, warns Cummings. The bitterness and roasted notes of the beer, he says, "will be softened by the mayonnaise and egg, while the high citrus brightness of the hops paired with that mustard … well, you'll see."
Planked salmon: Good River Beer Four Falls Weizenbock
"Cedar-plank smoke and dry rub—aka jerk spice—screams for the citrus and dried fruit underpinnings of a Good River Four Falls Weizenbock," Cummings says. "The brown sugar and toasty malts will play with the spice and the fatty salmon."
Steak: Bootstrap Brewing Wreak Havoc Imperial Red
When it comes to a salted and peppered steak sizzling on a really hot grill, "you're matching intensity with intensity. The caramelized fat and maltiness set this pairing apart," Cummings says.
Vegetarian burger: Colorado Cider Company Cherry Glider
"Find a rich and robust blue cheese, pile it high in your burger and pair it with the fruity tang of a Colorado Cider Cherry Glider to accentuate full-flavored savoriness and creamy mouthfeel," advises Cummings.
Burger: Comrade Brewing Redcon Irish Red Ale
"With a sweet topping like caramelized onions, plus ketchup or relish, your burger will pop next to a Comrade Redcon, whose caramel malt undertones and piney hop profile really bring it home," shares Cummings.
Barbecued pork: Lone Tree Brewing Company Red Ale
A heavily dry-rubbed pork dish finished with a little vinegar screams for Lone Tree Brewing's Red Ale, says Cummings: "The beer's intense toffee and fragrant woody hop character really elevates the umami depth of the hog."
Bratwurst: Avery Brewing Company White Rascal
This is a flawless match, insists Cummings: "The coriander and orange peel notes amplify the mace and white pepper earthiness" of the summertime staple.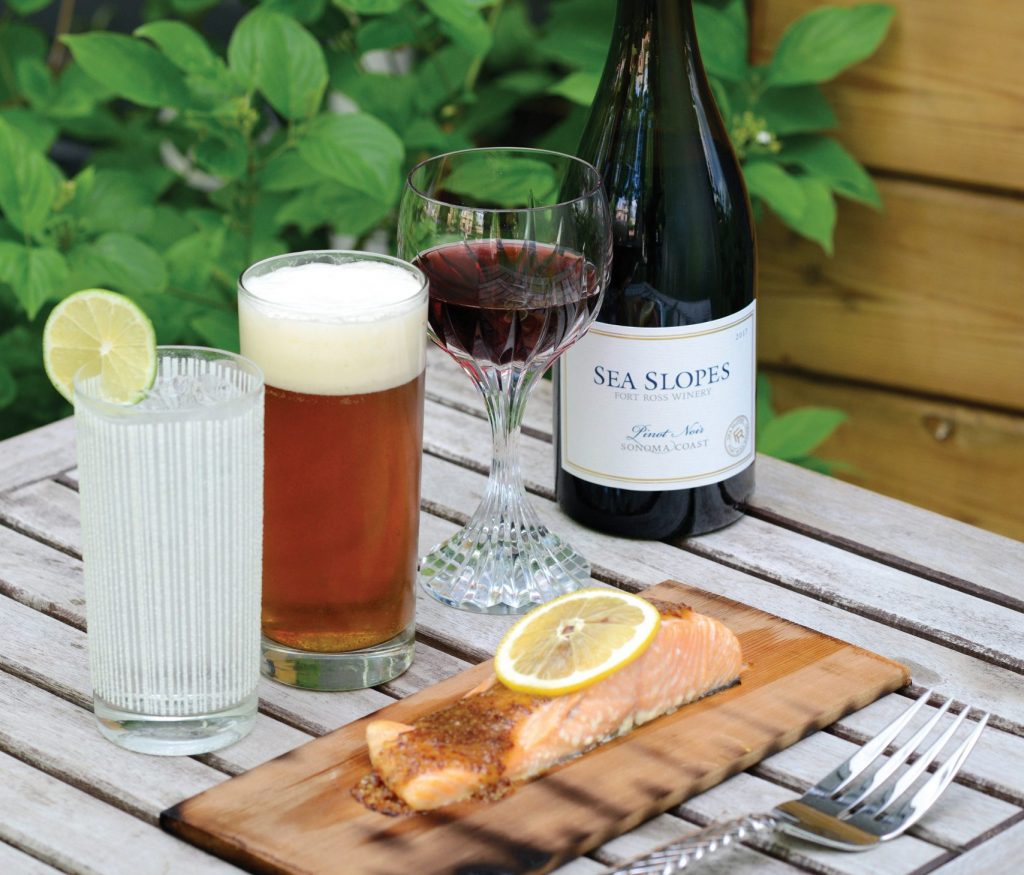 WINE
Michelle Maxwell, general manager of Greenwood Village's boutique Bouzy Wine and Spirits, stocked with world-spanning wines and local and global craft beers and spirits, maintains summer's lighter foods lend themselves to lighter wines: Pinot Grigio, Sauvignon Blanc and rosé, for example. Still, she insists that wine and food pairings, independent of season, are all about "the food you're eating and knowing when to complement the wine—and when to contrast it." Her recommendations are available at Bouzy.
Deviled eggs: Hi! Prosecco
Whip out this "bright and bubbly Prosecco with green apple and citrus notes and a clean finish," suggests Maxwell. "The effervescence and acidity will cut through the eggs' thick texture and rich flavor."
Or Ca' Lojera Lugana
Expect "toasted nuts and ripe apple on the nose, apricot and citrus on the palate and a clean and bright finish with this white wine," she says. Much like the Prosecco, the "acidity and brightness will temper the creamy yolk texture."
Planked salmon: Fort Ross Winery Sea Slopes Pinot Noir
This lightly structured Pinot Noir, says Maxwell, has "pronounced dark fruit flavors and a beautiful silky texture." With medium acidity and light earthiness, it really rounds out the flavors of salmon's oily flesh.
Or Domaine Marcel Giraudon Bourgogne Chitry Rouge
This $20 Burgundy isn't a wine people typically consider, admits Maxwell, but it's one of her personal favorites: "It has beautiful red fruit notes with a zesty acidity and subtle earth notes on the end, which makes for an ideal pairing."
Steak: Miro Cellars Cabernet Sauvignon
"This wine has great minerality, plus it's full-bodied, tannic and complex," raves Maxwell, adding that the wine's structure can "break through the higher fat content of beef."
Or Giorgio Pelissero Langhe Nebbiolo
Cherry-forward hints on the nose and palate, along with leather and tobacco, describe this stunner.
Vegetarian burger: CVNE Imperial Reserva Rioja 2015
This barrel-aged Rioja is full of "velvety tannins and lots of wild berries and licorice on the nose, coupled with toffee and tobacco leaf on the palate and a long finish." Veggie burgers typically don't have the fat content of beef patties, so you want to match them with a wine with softer tannins, she advises: "This Rioja has been aged long enough to smooth the tannins, but not so much that the oak flavor will trounce your burger."
Or Rombauer Vineyards Carneros Chardonnay 2018
A slightly acidic summer sipper with mango and vanilla notes up front, a creamy texture and buttery flavor, "this wine, with a smooth finish, makes a veggie burger feel fuller while giving it a fresh component," says the general manager.
Burger: Cocetti Cabernet Sauvignon
A Colorado-owned product with grapes grown in California, this full-bodied cab with black fruit, balanced oak and resolved tannins definitely complements the fat content that's inherent to a classic cheeseburger, promises Maxwell.
Or Zin-Phomaniac Old Vine Zinfandel
Punctuated, says Maxwell, with "great baking spices, dark fruit and smooth tannins," the Zin-Phomaniac is bold, which pairs particularly well with a meaty patty.
Barbecued pork: Chapillon Cuvée Harmonie
A blend of Petit Verdot and Tannat with a dose of cocoa, blackberry and fig notes, coupled with leather and tobacco on the end, "pleasantly balances the sweetness in barbecue sauce," she says.
Or Long Shadows Sequel Syrah 2015
With pronounced notes of barbecue smoke, licorice and black pepper, this Syrah is ideal for pork with a sauce or rub that packs a spicy punch. "The juicy feel of the wine, along with silky tannins, coats your mouth without overpowering the sauce," explains Maxwell.
Bratwurst: Martin & Anna Arndorfer Grüner Veltliner
"Clean and crisp with a bright minerality and a little bit of smoke from its time on the lees," this lovely white wine from Austria brings out the best in bratwurst.
Or Dr. Loosen Red Slate Dry Riesling
"Peach and citrus notes on the front and a dry finish" sums up this Riesling. "The minerality is warm, and the acidity is softened with just a touch of oxygenation," notes Maxwell.
COCKTAILS
Zach Reynolds, bar manager of Old Hampden's Cochino Taco, loves to fire up the grill. And when he does, he opts for easy-to-prepare cocktails. "Drinks at a barbecue or picnic should favor simplicity," he says, adding that batched cocktails are a great way to go. "And I'm a big believer that you don't have to buy the most expensive booze. While there are times to splurge, a picnic or barbecue probably isn't one of those occasions." Tip: For kaleidoscopic drinks, use fresh fruit purées or make your own berry lemonade.
Deviled eggs: White-wine sangria
"I don't think anyone has ever paired a cocktail with deviled eggs, but a white wine sangria with fresh berries, some brandy, fruit juice, soda water and 7Up? Yep, that works!" quips Reynolds. A good sangria "will pair with anything and everything at a barbecue or picnic."
Planked salmon: Gin and tonic
"Nothing screams summer like a gin and tonic," says Reynolds. "The botanicals in the gin play really well off the fatty acids found in salmon." If you don't like tonic, try mixing the gin with lemonade.
Steak: Mint Julep
"A grilled steak deserves some good bourbon," insists Reynolds. "This is a drink that anyone can make, plus it's a bit upscale." All you need to whip one up: bourbon, simple syrup, soda water and some fresh mint sprigs. And a wide-brimmed hat. Neigh!
Vegetarian burger: Vodka and lemonade
"Vodka and a berry-forward [think strawberry or blueberry] lemonade is as refreshing as it gets on a hot summer day, and it's extremely versatile," Reynolds says. The simple and straightforward sipper has enough flavor to stand up to all of your veggie burger fixings.
Burger: Watermelon margarita
"I think you need a light cocktail with a burger," muses Reynolds. Just add an ounce or two of freshly made watermelon purée to a glass of silver tequila and finish it off with a squeeze of fresh lime and splash of triple sec.
Barbecued pork: Frozen Paloma
"Our frozen Paloma at Cochino Taco pairs fantastically with pork—it's a match made in heaven—and it's pretty simple to make a pitcher of them ahead of your bash," says Reynolds. To assemble: silver tequila, triple sec, fresh lime juice, grapefruit juice and a splash of grapefruit soda. Its crowning glory? A float of Aperol, which gives the citrus-laced cocktail a rich and vibrant reddish-orange hue. "You don't have to use Aperol, but it does add another level of flavor while minimizing the sweetness," notes the bartender.
Bratwurst: Blue Hawaiian
Bratwursts united with a Blue Hawaiian—rum, pineapple juice and splashes of blue Curaçao and coconut cream—might strike some as a "surprising pairing," admits Reynolds. "But the sweetness of the pineapple juice works perfectly with the fat in the bratwurst. The blue Curaçao really does create a gorgeous blue hue, but a little goes a long way. Drinking too much of that stuff in the sun will make you live to regret it." You've been warned.