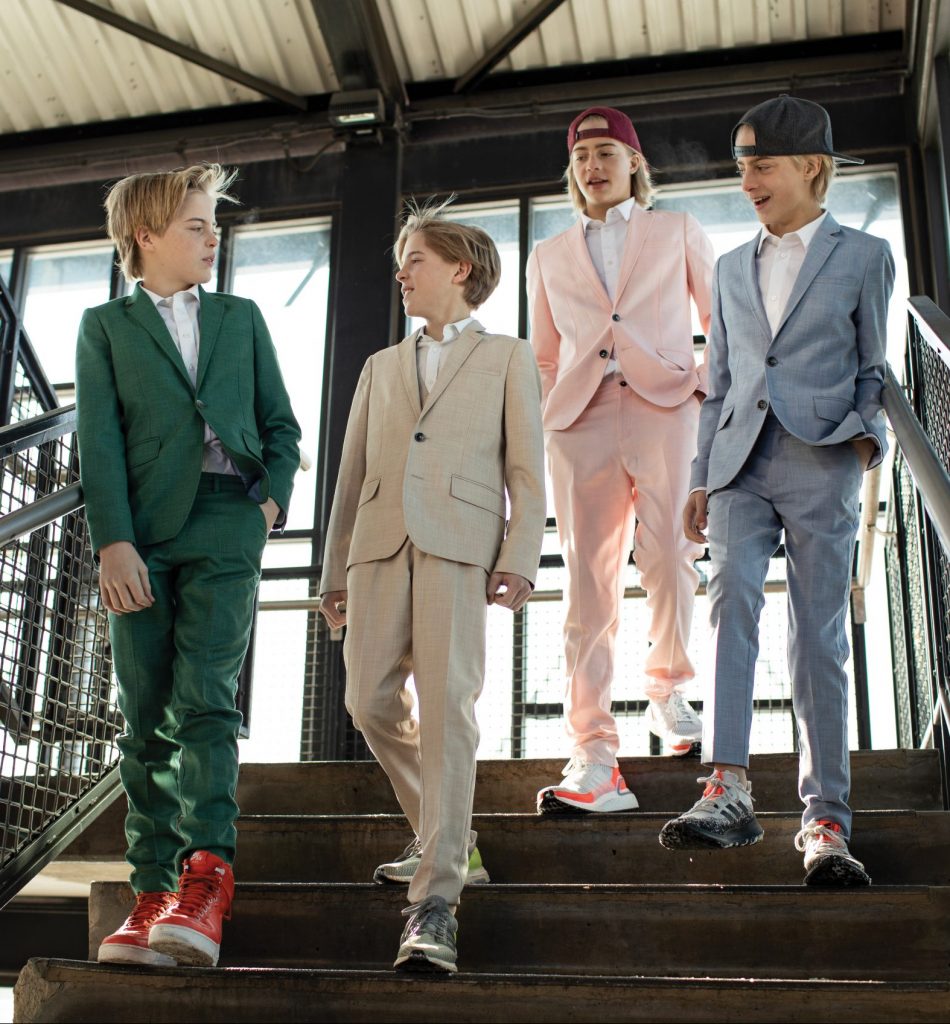 When her kids' suit company, Kindhuman, launched in early March, it wasn't fashion industry veteran Autumn Kimball steering the ship. Instead, Kindhuman is being run by Guy, Everett, Lincoln and Severin Kimball—Autumn and husband Brett's 13-year-old quadruplet sons. 
The suits are brightly colored—from shades they've coined "Tiger Pink" to "Jade Dragon" green—with custom linings that Autumn Kimball calls "really eccentric," contrasting buttons and other fun details. "They're the kind of suits my sons actually enjoy wearing," says the mother of six (she also has two younger boys).
Before children, Kimball worked in New York City for designers like Calvin Klein. She was in the middle of a burgeoning career as an award-winning creative director in the fashion industry when she got pregnant with the four boys. "One perspective is that getting pregnant imploded my career," she explains from her Castle Pines home, which also serves as Kindhuman HQ. "On the other hand, it directed me to the life I was supposed to live."
That life was one dedicated to her children. Kimball now works as a consultant to Asian fashion markets at night while parenting full-time during the day.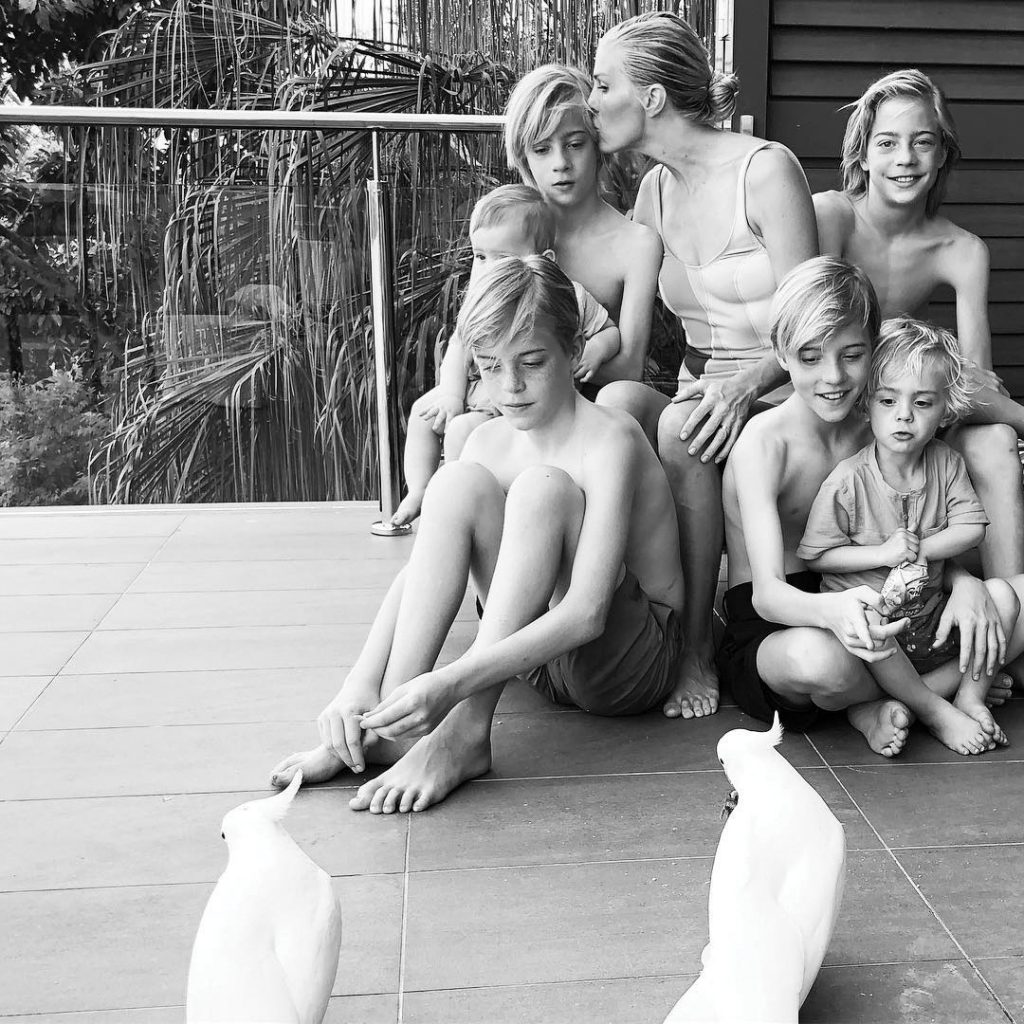 When the quadruplets were 9, the family had the idea to start a suit company. But having two more children, Tor (age 4) and Von (age 1), put launching a business on the back burner. With the older boys in sixth grade this year at Aspen Academy, a private school in Greenwood Village that focuses on leadership and entrepreneurial development, the Kimball family decided to go for it.
Each boy brings a different strength, personality and style to the brand. "Guy is a phenomenal drawer. He has everything to do with design," says Kimball.
She says that Lincoln's creativity has him always approaching things differently, and that Everett has incredible personal style. "And Severin just grounds the four of them," says Kimball. "He's more in the box, but is a great executor. … We have not moved forward on anything unless there are unanimous decisions."
With the boys doing everything from making design and financial choices to running the company's social media campaigns, Kimball says that each one will move into the roles that suit them best. "I'm pushing them toward making those choices," she says. "I want them to feel the results in living their lives."
What do the boys think? "I love working with my mom," says Everett, who adds that he's excited to see suggestions from customers and for new things to come. Continues Guy: "This really gives me a lot of experience and will help me later in life."
Autumn has found herself being inspired in new ways as well: "Starting the company has really been an exercise in motherhood, on how to stay tethered to your children and how to be part of it without being heavy-handed. It's been about identifying their talents and pointing them in the right direction."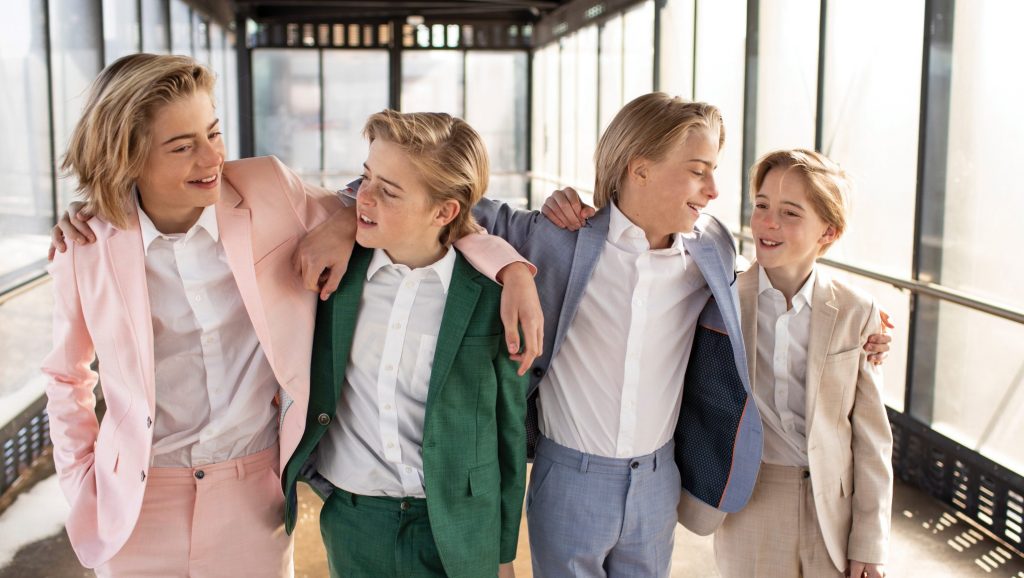 Autumn Kimball's PARENTING GOALS
"I'm a really strong female and I have six sons. I think that my job is to educate, strengthen and eradicate entitlement on some level."
"I know the business will propel all of them in different ways. It's my goal to foster that individuality."
"I want to give them more opportunities to be more observant."
"I want them to feel the success, or the failure, and see what they do with it."