Authentic art is everywhere—if you spend time in Centennial, Lone Tree, Littleton or Sheridan, that is. Thanks to the South Suburban Public Art Committee, organized by South Suburban Parks and Recreation more than a decade ago, special sculptures, paintings and the like have become staples in area parks and recreation centers.
We dare you not to feel inspired after visiting the more than 60 pieces on display between the four south metro towns—including permanent exhibits (some owned by the cities of Littleton and Lone Tree), temporary presentations inside rec centers and "loaned" work outside Centennial's Goodson Recreation Center.
It gets better: New pieces are added every year. "We look at where our most recent sculptures are—we want to distribute art evenly across the district—and area needs," says committee chair Jessica Wilcox. "The South Suburban staff tells us what's coming, and we try to align our projects with those endeavors. How great would it be to commemorate a new trail with a new sculpture?"
Better still: All of the pieces, submitted via proposals, are by Colorado artists and chosen by the art-minded residents who make up the committee (which you are invited to apply to join).
Here, we offer a starting tour of the compiled works. To see it all, follow South Suburban's interactive art map on ssprd.org at your leisure.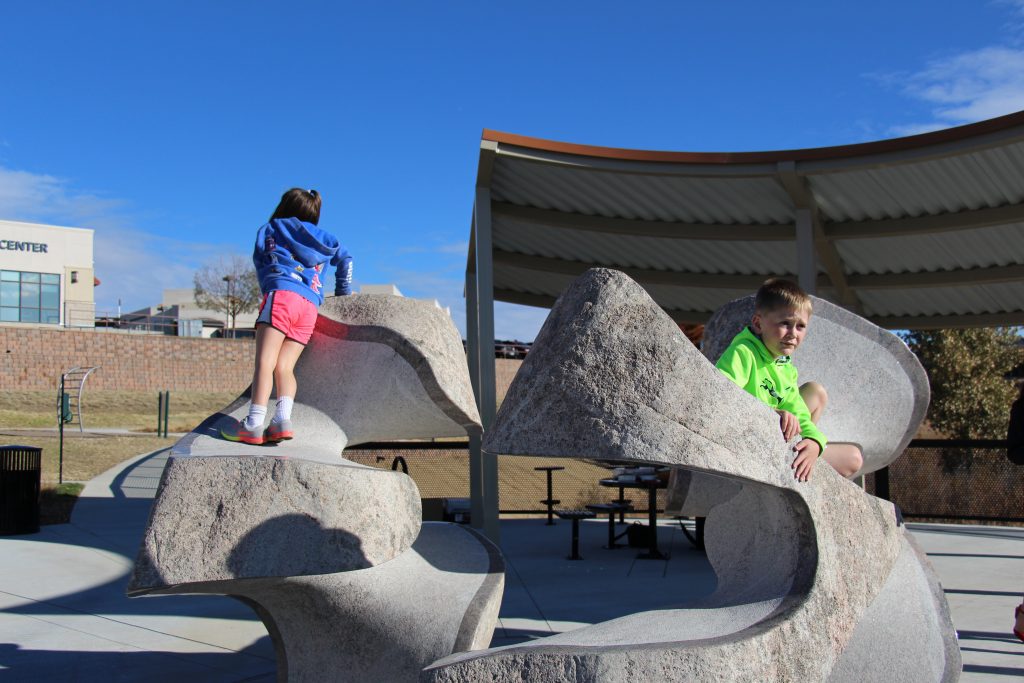 INTERSECTION
Kimmer Plaza, Lone Tree
In this three-piece stone sculpture, artist Frank Swanson has managed to encapsulate the Colorado design aesthetic. The (climbing-friendly) carving is meant to be a "bridge" between man and nature; the outside of the boulder keeps its natural finish, while the inside is smooth and man-manipulated.
PENNANT WHIMSY
Cherry Knolls Park, Centennial
David Farquharson is behind this optical illusion. The flags, created from meshed metal in varying hues, appear to be blowing in the wind, but are really completely still. "When we first installed it, we thought he used those colors to make it bright," Wilcox says. "But he actually researched all of the local schools and put their team colors on the flags."
THE GIFT
Goodson Recreation Center, Centennial
Here, sculptor Kim Kaminski really gets to the heart of the matter. The small bronze piece "represents the human journey of being full, open and giving." Notice the varying patinaed hues, the basket of gold hearts and the single heart the figure is extending.
MAP IT OUT
South Suburban Parks and Recreation
Centennial
303.798.5131
ssprd.org