By Amanda Lacey
Photography Courtesy of Tribute Barbershop

Entrepreneur NICK ANDERSON has a knack for seeing what's missing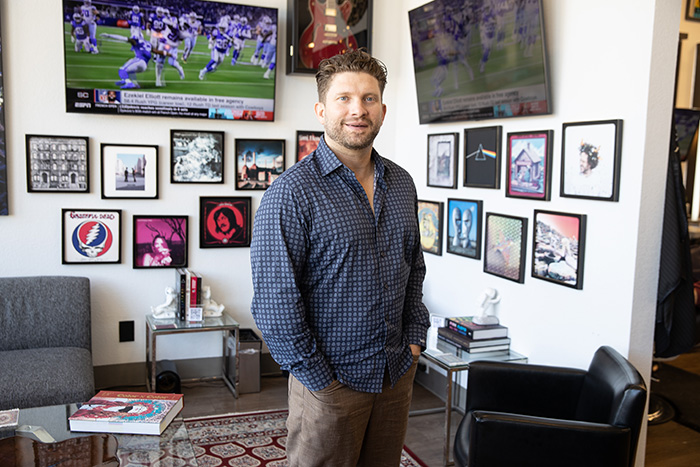 Nick Anderson, owner of Tribute Barbershop Lounge, is a man with vision. The Colorado native purchased a salon and day spa, Antoine du Chez, in 2008. Insight, knowledge and first-hand experience in creating a high-end beauty experience for women opened his eyes to a void in the barbering industry: pampering men and offering them something special. In 2017, he thought outside the box to create an experience that he knew men would enjoy. Enter Tribute. "I built it as a tribute to the doers, the entrepreneurs, the go-getters, the innovators—the people I feel move our world forward," he says. "It's a tribute to them. It's my way of saying thank you for all you do, we get you, we see you. This is a place that you can call home for your grooming needs."
The entrepreneur has always had a knack for seeing what's missing in a business or industry. Anderson started his career in the golf industry and later his entrepreneurial journey with GolfTEC, where he quickly made his mark and took on the role of fitness director. With a strong passion and dedication to serving people, he carved out a niche in the company to focus on the conditioning side of things (GolfTEC meaning technique, equipment and conditioning) and ran with it, building a program for clients to best serve them and their needs by diagnosing limitations and instituting a program to improve mobility and flexibility.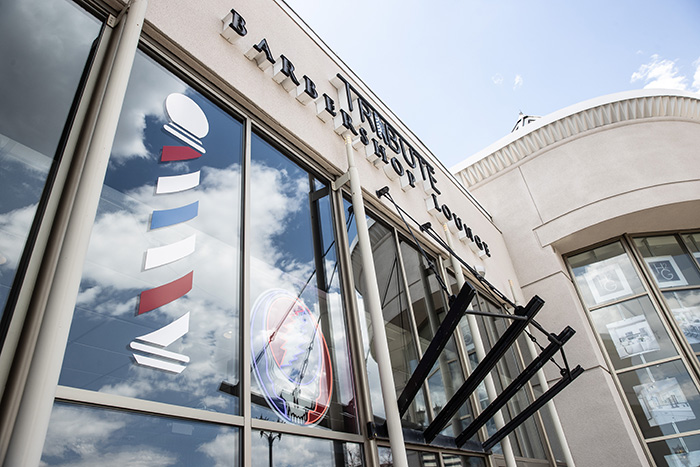 After much success and growth in the company, another door opened outside the golf industry: Antoine du Chez. Willpower, discipline, determination and grit allowed him to navigate the challenging times of the recession and learn about the beauty industry simultaneously. Faced with some ups and downs, he built close relationships and developed a culture inside the business that united his team to bring much success yet again. Antoine du Chez is near its 50th anniversary, and Anderson notes he's immensely proud to have had his part in the business and doing what he did to bring it back to the top.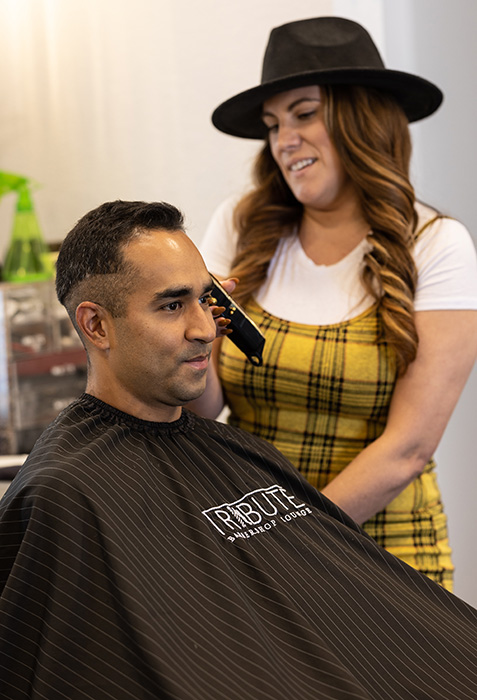 During his tenure at the spa, he had a vision that the beauty industry needed to pivot to include a gig economy model, so he developed Blush, a software platform that connected service providers with consumers for more of an onsite experience: think Uber for beauty.
His vision for Tribute made a near-instant hit until closures and capacity restrictions in early 2020 led Anderson to re-strategize his part in his businesses. Turning over Blush and parting ways with Antoine du Chez allowed him to focus on his priorities with Tribute. Rebranding the barbershop in late 2021 proved to be everything. "I started from the walls and worked in—everything came down, all fresh paint was applied, I revamped the music and tailored it to my taste and background (think jam band), and I handpicked the artwork. Once we redid that, it was amazing what started to happen," Anderson says.
It is a barber experience unlike any other. Guests feel thoroughly pampered from the minute they walk in, to the minute they leave. First, you're offered a complimentary beverage (adult or non) when you walk in the door. Next, you get a shirt to change into during your cut to ensure no pesky clippings get on your own clothing. You can get your shoes shined and your shirt pressed. "We really go above and beyond," Anderson says. "And my competitive nature pushed me to build something that I knew would be so unique and cool. I can stand behind this, and I know we have something really special with Tribute."
His biggest takeaway from his successes? He says: "If you treat people extremely well, you'll have a successful business. And I truly pride myself in that."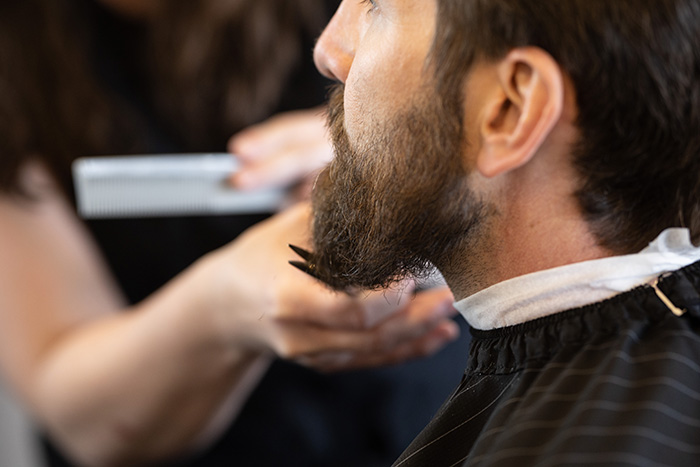 Tribute Barbershop Lounge
8000 East Belleview Ave., D40
Greenwood Village
303.224.9933