By Kathryn O'Shea-Evans and Laurel Thompson
On paper, the toll the novel coronavirus has taken feels insurmountable. But we'll go ahead and spoil the ending of this story: Though this year's albatross has thrown more—way more—than its fair share of punches, local style experts aren't down and out yet. These four fashion leaders, who have all been dressing locals for at least a decade, have kept their style hubs alive with heart and wise moves—and they are doing what they can to look ahead.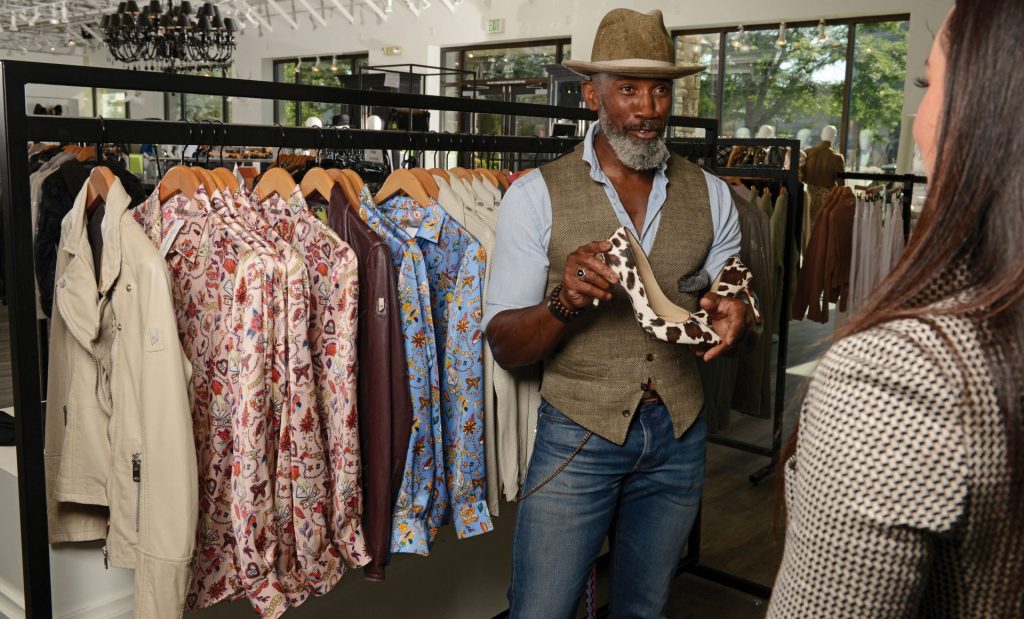 Stylist: TIMOTHY ROLLINS
Garbarini
Cherry Creek North
303.333.8686
BEFORE "PANDEMIC" BECAME EVERYDAY VOCABULARY
With fashion icons like Grace Kelly and Jackie O. at the top of his style inspiration list, it's not surprising Colorado's glitterati (from Greenwood Village to Castle Pines and beyond) call Timothy Rollins, a stylist and buyer at longtime Cherry Creek women's boutique Garbarini, when they need to look Fabulous with a capital F. The three-decade stylist veteran handily makes clients look their best—and exquisite clothing is just part of it. "I added some personal training to what I do because I've always been athletic," Rollins says. And: "I expand on my services from it being, 'Hey, can you help me with my clothes?' to 'Hey, can you tell me where a good Italian restaurant is?'" he says.
WHEN WE WERE HARDCORE HOMEBODIES DURING THE STAY-AT-HOME ORDERS
With the new personal training wing of his business, "I'm actually busy, because what's happening now is people aren't going to the gym," he continues. His stylist skills are also just as coveted as ever: "People are still wanting to shop, although some don't want to admit it. They need the distraction. If you're homeschooling your kids, I'm sorry, you need something, and alcohol isn't the answer and sourdough bread recipes … honestly, for some people, they just don't roll that way!" To help locals get their fashion fix, Rollins has been hand-delivering to homes and shipping out packages from the store three to four days a week. "I have clients in the Middle East and Europe I've only met once that I've sent packages to," he says. "When I was 15, I started bagging groceries at the Lowry Air Force Base, and that's where I learned customer service." Even then, Rollins knew the importance of pampering, expertly loading groceries and carrying umbrellas over shoppers when it rained. Tips skyrocketed. "I went from making $20 a day to, in a couple months, making $100 a day, tax-free," he recalls.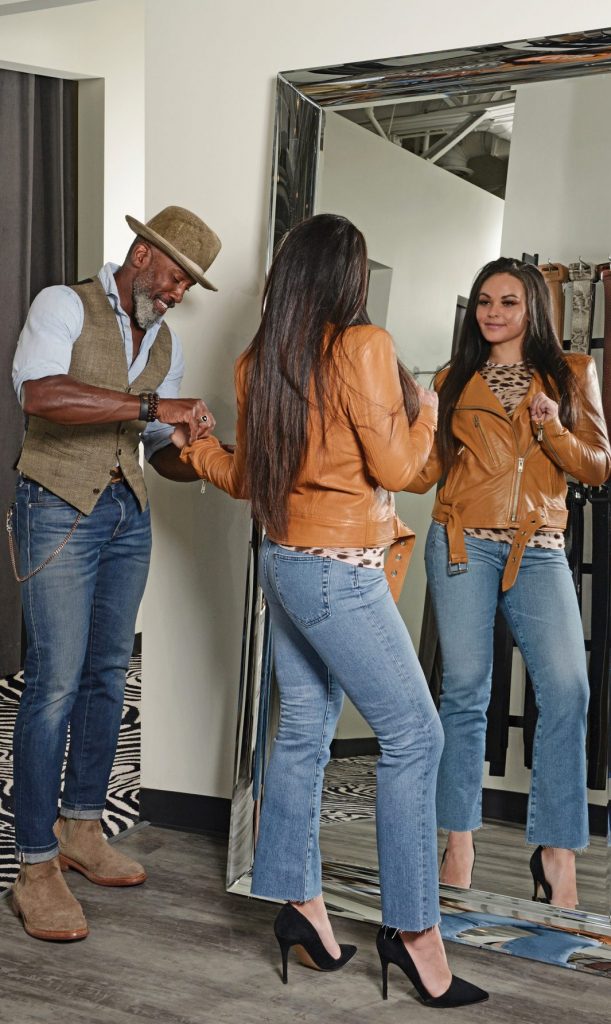 OUT AND ABOUT IN A WHOLE NEW WORLD
Whether maneuvering an international pandemic or not, Rollins' goal doesn't veer from aiming to leave people with the best possible experience. Take one recent night, at 9:30 p.m., when a couple getting married texted him needing accessories for their groomsmen. "I went online, picked out a couple options to choose from and texted back immediately. Clearly, if they're texting me at 9:30, it's urgent," Rollins says. "I think you have to be that way because of what's going on right now and what will be going on in the foreseeable future—personal concierge service is the way to go."
I HAVE A HUNCH …
"Customer service is the biggest thing [in all of this]," says Rollins, noting that business has been booming at Garbarini for that very reason. "Even with all this going on, we're reaching out. I live 10 minutes from the store, so if there's a need, I'll get you whatever that need is. You have to take care of people—that is a very lost art."
3 FALL WOMEN'S TRENDS TO WATCH FOR
LOOKS THAT ARE GOING TO BE HAUTE, ACCORDING TO ROLLINS.
SUITING: "People say, 'no one is wearing a suit.' Well, you'd be surprised how many suits I've sold in the last couple weeks. People are starting to meet again, even on video chats—and a hoodie isn't going to get it done! The menswear look is still big."
1970S HUES: "We're still seeing lots of burnt orange, burgundy, browns … a '70s vibe, as far as colors."
COMBAT BOOTS: "Heels are definitely coming back, but combat boots are huge again."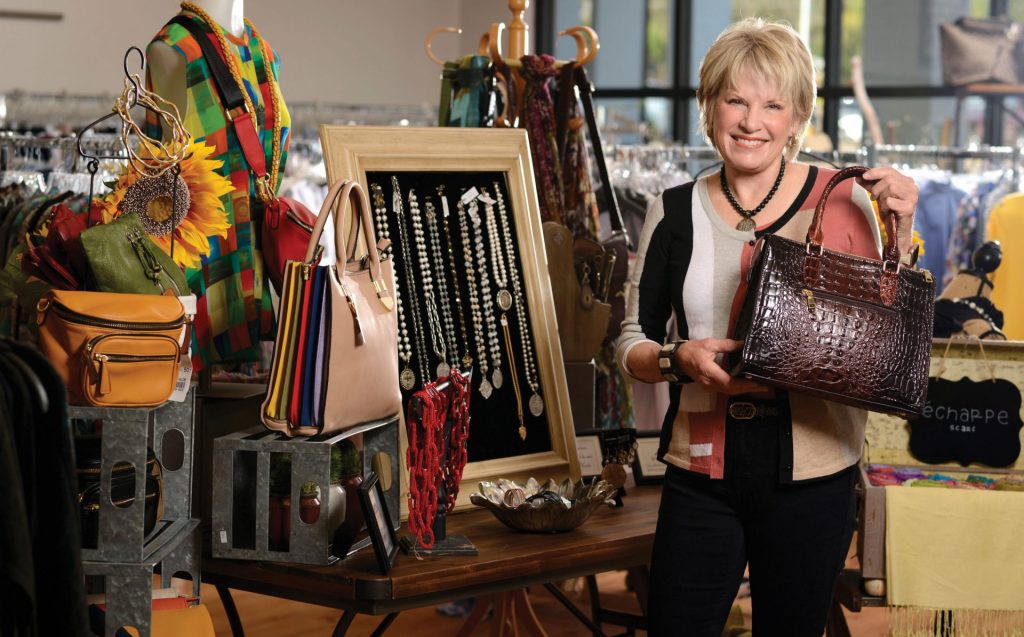 Women's boutique: NEVER PAY RETAIL
Happy Canyon Shopping Center
303.695.9596
BEFORE "PANDEMIC" BECAME EVERYDAY VOCABULARY
Never Pay Retail—known for its selection of unique, high-quality sample lines from New York, Los Angeles, Paris and other fashion meccas around the world—was bustling with locals shopping for fresh spring looks. "We carry a lot of really one-of-a-kind pieces you can't find anywhere else, so it's a great place to shop for the latest styles at affordable prices," says owner Ann Fulton. "We also give shoppers a lot of personalized attention—we make sure their outfits are complete and provide recommendations we know will help them look their best. Many of my clients are not couture fashionistas; they just want to look nice at their grandkid's wedding, an important business meeting or on a well-deserved vacation."
WHEN WE WERE HARDCORE HOMEBODIES DURING THE STAY-AT-HOME ORDERS
Fulton was forced to close up shop for nearly two months, but found other ways to promote the boutique: "One day I woke up and decided to shoot a video in my closet. I'm constantly teaching people how to 'edit' and refresh their clothing, so I started posting all kinds of videos on Instagram. I'd talk about current styles I like, share tips on how to organize your closet, list things you should get rid of and discuss whether certain tops and bottoms work together. I think people liked having that cheerful, 60-second clip come across their news feed every day to break up the COVID-19 posts we were being flooded with. I also included the videos in my newsletter and uploaded some to my website for the folks that don't use social media."
Fulton says the boutique might not have survived the spring if she hadn't started selling masks. "One of my vendors reached out to me in the third week of March asking if I wanted to sell masks, so I ordered a couple dozen on a whim," she recalls. "I think we've sold over a thousand at this point. It was something we could easily ship, and we didn't charge much for them because they were becoming a necessity. Providing high-quality clothing at wholesale prices has always been our selling point, so we wanted to make sure we were doing the same with our masks even though we could have easily charged more."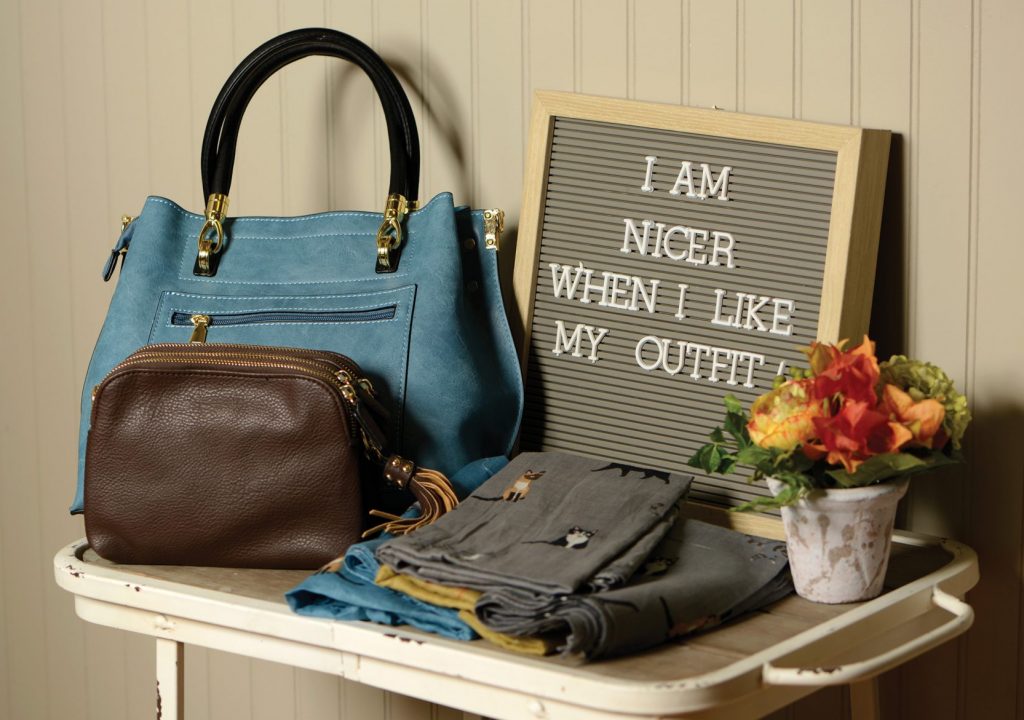 OUT AND ABOUT IN A WHOLE NEW WORLD
Since reopening on May 9, Fulton has been sanitizing the boutique from top to bottom and spacing out clothing racks so fans can shop at a distance. "I like to have no more than four people in the store at a time," she says. "Since my space is relatively small and I have a couple of employees here with me, I'm able to get everything cleaned around the clock. I'm thrilled at how cooperative everyone has been—we ask everyone to use hand sanitizer when they come in and everyone is required to wear masks, which my clients are happy to do."
I HAVE A HUNCH …
"There'll be a bit of recovery time once this starts to pass—not only are people fearful and anxious about getting sick, but they're also mentally and emotionally exhausted with all the changes," the fashion sage says. "I'll keep doing what I've been doing to reach out and make sure my clients, vendors and employees are okay. As for the day-to-day, everything is going to be adaptive. When there's a vaccine or we get the 'go ahead' to ease up on restrictions, people might not want to return to normal right away and will likely continue to be more cautious when they shop. This has really rocked the souls of a lot of people, so it'll be a collective effort to get back to a place that feels normal, even though normal may look a bit different moving forward."
HOW TO GET DRESSED FOR A ZOOM CALL
WEAR SOLID COLORS.
"Solid colors—particularly blue and green—are the easiest colors on your eyes, and they won't get distorted like red, black and white will," says Fulton. "If there are multiple people on the Zoom call, consider enforcing some kind of dress code so everyone looks uniform and coordinated for the same event."
KEEP IT SIMPLE.
"A nice collared shirt or a simple neckline is flattering while keeping the focus on your face. If you decide to wear jewelry, make it very minimal and stay away from flashy, religious or otherwise distracting pieces. A little makeup goes a long way on Zoom—wear a bit of blush and lipstick to keep yourself from looking washed out."
INVEST IN A HALO LIGHT.
"If you're going to be working remotely through the fall and winter, a halo light will ensure there is always light in front of you even if it's stormy outside or if you can't work in front of a window. Also, adjust your computer to desk-height so your face and top take up the frame and people aren't distracted by what's in the background."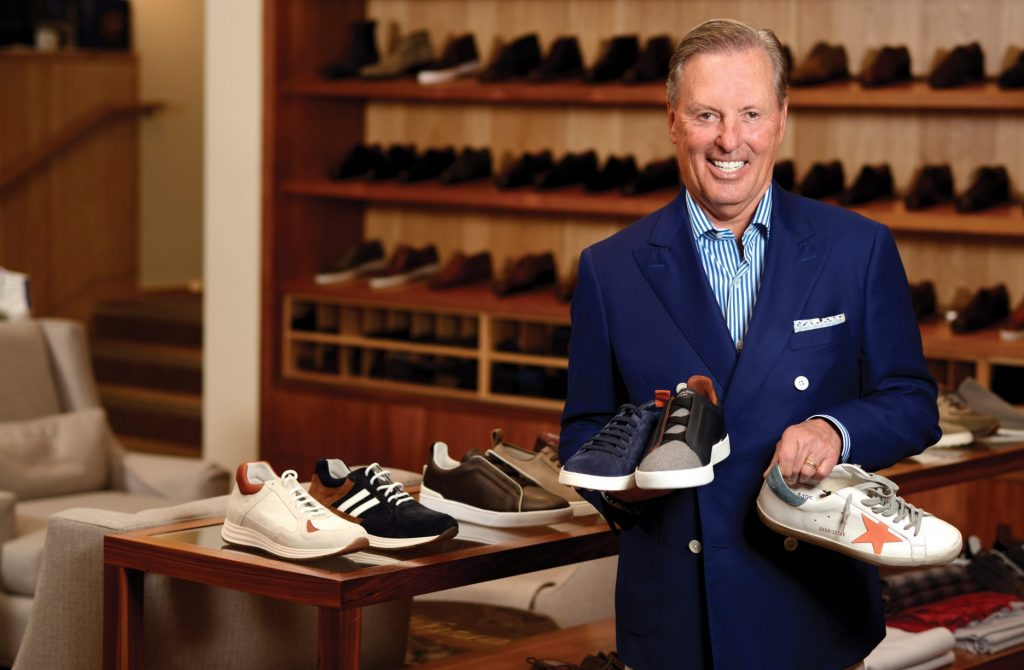 Men's boutique: ANDRISEN MORTON
Cherry Creek North
303.377.8488
BEFORE "PANDEMIC" BECAME EVERYDAY VOCABULARY
Seeking out the latest wares (ahem, wears?) from storied luxury Italian brands, including Boglioli, Ermenegildo Zegna and Canali, has long been significantly easier than flying to Milan thanks to Andrisen Morton, tucked into the well-heeled heart of Cherry Creek North. "We've been in business for 41 years," says the company's cofounder, Craig Andrisen. "We started it when I was 28 and my partner [Dave Morton] was 25. Now, I'm 70!" It's no wonder they've been a success, given their longtime approach to customer service: "Our motto is always: never say no, just say yes and figure it out," Andrisen says.
Translation: top-notch pampering sets Andrisen Morton apart from other retailers, as anyone who has taken advantage of their made-to-measure, in-house master tailors or personal delivery can attest. It's always been a roll-out-the-red-carpet kind of place.
WHEN WE WERE HARDCORE HOMEBODIES DURING THE STAY-AT-HOME ORDERS
And that philosophy didn't change, even in an international pandemic. "We've been by appointment only, and still have a lot of appointments," Andrisen says. The team has also arranged in-home shopping and delivery, which according to Andrisen, lots of clients in their 70s and above take them up on. "You don't change your business mission when times get tough; you have to work harder, but your core values have to be the same. We just believe that service comes first."
OUT AND ABOUT IN A WHOLE NEW WORLD
As of press time, coronavirus cases around the country were continuing to rise—so Andrisen Morton's aforementioned new initiatives seem like they're here to stay (at least until this fog is in the rearview, that is). One apparel favorite Andrisen has noticed? Golf-ready garb is more popular than ever as patrons hit the links to blow off this year's abundant stress. "We're selling shorts and knitwear, because everyone is playing golf; tee sheets around the country are packed," he says. "The tuxedo business won't come back for at least another year."
I HAVE A HUNCH …
Andrisen is a realist when it comes to the future of Denver retail in the post-COVID-19 era. "There are going to be less stores," he says. "I don't see people getting really comfortable until there is a vaccine. People have to feel safe, and right now they don't." For their part in-store at Andrisen Morton, everyone always wears masks and they've implemented stringent new sterilization procedures. "The way we look at things, we have to get through 2020," the cofounder says. "And then our prediction is in May or June of 2021, this will turn around."
3 FALL MEN'S TRENDS ON THE RISE
ALWAYS PLUGGED-IN TO THE STYLE SCENE, ANDRISEN OFFERS HIS VIEW ON TRENDS FOR AUTUMN.
SPORTSWEAR: "Jackets and suits are a really difficult business right now. People are going to come out of this in a relaxed mode, with things more casual than before: They get on a Zoom call in a nice shirt and they're wearing a pair of shorts underneath!"
PERFORMANCE FABRICS: "Performance fabrics that have stretch in them are popular—cloth that is going to have a lot of memory in it."
COMFORT SOLES: "It continues to be a soft-soled shoe business. Hard-soled loafers are still huge—hard-soled shoes are 5 percent of the shoe business now—but soft-soled suede shoes are a huge category for us, like sneakers, which are suede with rubber soles."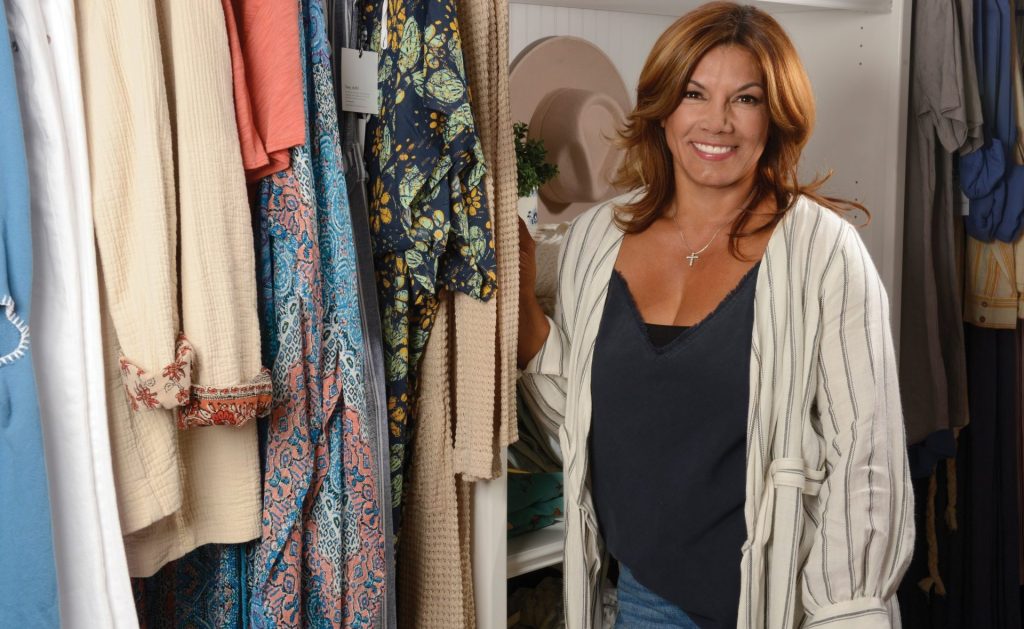 Fashion truck: EVEY K FASHIONLINER
303.907.5800
BEFORE "PANDEMIC" BECAME EVERYDAY VOCABULARY
Evelyn Knuckles was bringing the latest fashion trends to the Denver Tech Center, Lone Tree, Cherry Creek, Castle Rock and pretty much every other area in the Denver metropolis in a pink-and-leopard-print-clad fashion truck. What was originally a brick-and-mortar store located in Cherry Creek, Evey K Fashionliner, now headquartered in Lone Tree, has spent the last six years popping up at festivals, office buildings, private events and more to provide a little retail therapy to those who are looking for it most. Knuckles' personal touch, keen eye for fashionable ensembles and notable inventory of quality denim, dresses and going-out tops kept clients coming back for more—which is also exactly what kept the fashionliner on the road, so to speak, when COVID-19 hit.
WHEN WE WERE HARDCORE HOMEBODIES DURING THE STAY-AT-HOME ORDERS
Knuckles parked the truck for two weeks and turned to social media: "I started doing live Instagram videos to model clothes and show people that they can still look and feel their best. It's easy to get lazy when we're working from home and don't have any events to look forward to, but I really think there's so much strength and confidence that comes with wearing pieces that make you feel good about yourself. My goal has been to stay engaged with the community and not just share fashion content, but also spread joy and inspiration across social media feeds that have been saturated with a lot of bad news lately."
Knuckles' website also got a makeover with new clothes and accessories. "People are doing most of their shopping online now, and even though I love the in-person aspect of the fashion truck, I also like having a functional website so clients can shop from anywhere without risking their health and safety," she says. "I have the best clients ever—they love watching the live videos, checking things out on my website and doing one-on-one Zoom calls with me so I can show them the pieces they're interested in. Everyone has been really understanding and adaptable over the last few months, and they are continuing to support me through all of the changes."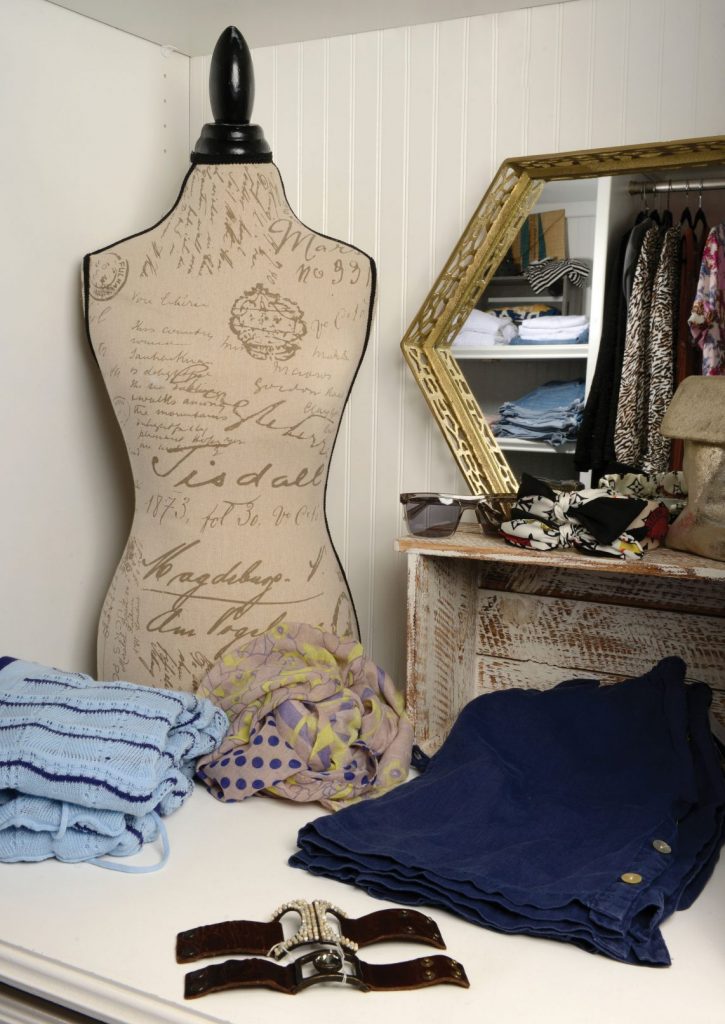 OUT AND ABOUT IN A WHOLE NEW WORLD
When restrictions were lifted, Knuckles had a new plan in place to minimize foot traffic in the truck: She turned her focus toward private events and personal styling with no more than two clients allowed in the fashionliner at a time. "I keep my distance by staying near the front of the truck while shoppers peruse the racks, then we switch places when they want to use the dressing room," she explains. "It's actually really spacious and doesn't feel claustrophobic—there are two vents on the ceiling that circulate fresh air, plus I've been putting a few racks outside so people can shop while they wait to come in. I've also been diligent about having everyone wear masks, and I make sure to sanitize the dressing room and steam the clothes between clients. So far it's worked really well, and I don't think anyone has felt unsafe."
I HAVE A HUNCH …
"There are going to be a lot of new challenges for those of us in the fashion industry," Knuckles predicts. "Going to market is one thing—I think those types of events will be much more exclusive in the future, rather than large gatherings with lots of buyers at once. Not only that, but shoppers are shifting away from needing to have the latest thing and thinking more about where their money makes the most impact. For some people, that means investing in practical pieces that'll last a lifetime. For others, that means supporting small businesses that give back and make a difference in the world. Designers and shop owners will need to keep up with the change in demand to stay afloat."
HOW TO SHOP A FASHION TRUCK
DON'T BE AFRAID TO STEP INSIDE.
"A lot of people haven't shopped in a fashion truck before, so they can be hesitant to try it. I suggest approaching it as a brick-and-mortar store—in reality, it's a boutique on wheels that offers a lot of the same stuff, just with a more exclusive, personal touch."
TALK TO THE OWNER.
"One thing that is really unique about fashion trucks is that the owner is typically there to help you find what you're looking for. I love helping people find unique pieces that speak to them, providing personal styling tips and just being a reliable resource."
FOLLOW THE TRUCK.
"Most fashion trucks will have some way for people to track their route and see any upcoming events or festivals they'll be participating in. Some will announce these things on social media, send out an email newsletter or have their stops listed on an online calendar. If you follow your favorite truck, you'll have something to look forward to when they come to town."