In the same way you fill out your wardrobe, you can create a truly custom and special home with design details that reflect your personal style. These three design elements can really up the wow! factor in your home—lighting, fixtures and paint color. Here are tips to help you craft an on-trend and personally pleasing home.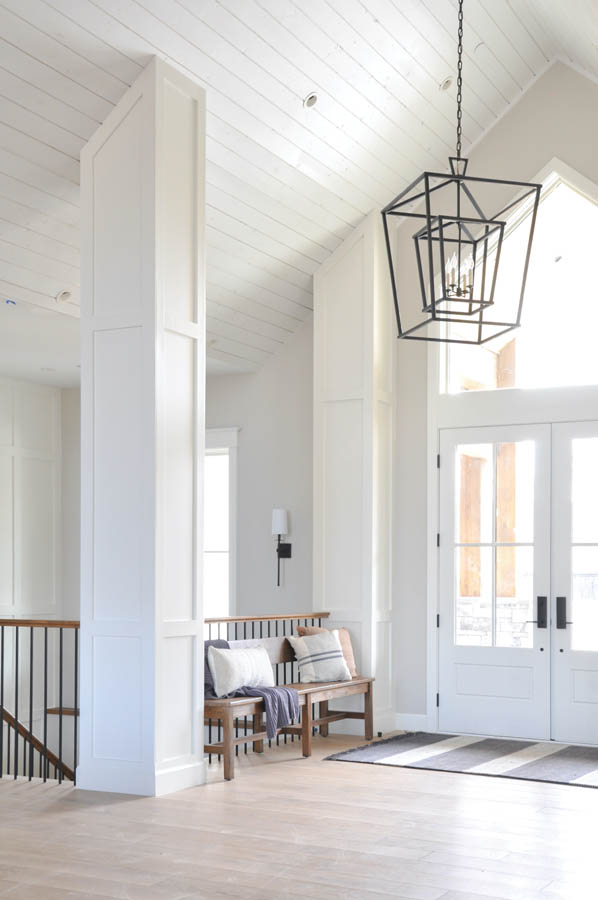 Statement Lighting
Don't let your light fixtures be afterthoughts. Jackie Newell, founder and lead designer with Basil + Tate, says lighting can be a statement piece which defines a space. "Large fixtures can define the style of a space and smaller fixtures like lamps, wall sconces and art lights can help to define the mood of a room," she says. "Our eyes are drawn to light, so they are a critical element of every space we design."
An important consideration when choosing lighting is scale. Newell says to choose a large fixture for a grand foyer—not only to fill the space, but also to be sure it provides enough light. What if your foyer is not so grand? "Smaller foyers have just as much potential because there are so many fun light fixtures to choose from," she says. "One of the most important considerations in smaller foyers is the clearance between the top of the door and the ceiling so that you don't risk the door hitting the fixture when it swings open. Regardless of size, give your guests a reason to look up!"
Certainly, you will have a nice mix of large and small light fixtures throughout your home, and you'll likely have a variety of finishes and shapes. "From fabric drum shades to forged iron lanterns to seagrass pendants—beautiful options are endless," Newell says. "Lighting is one of our favorite elements in a room, so we often choose a fixture and let that inspire the design for an entire space!"
Basil + Tate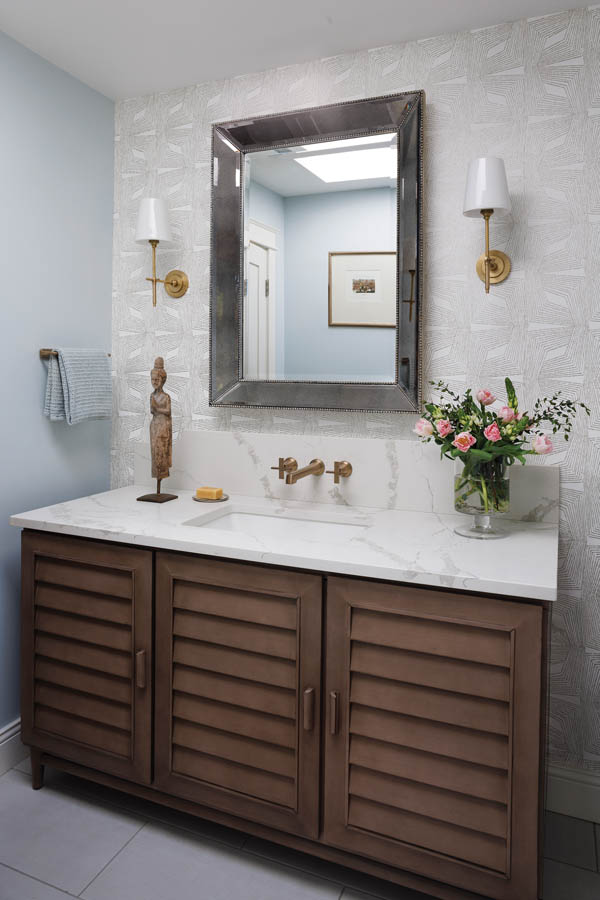 Bring the Bling
Fixtures and hardware are often referred to as the jewels throughout your home. And there are so many options in finishes today, your home jewelry can be just as varied as what's in your jewelry box. For a bathroom remodeling project that won NKBA's best before and after project, Dawn Wilkinson of Six Walls Interior Design opted for Delta's high-end Brizo fixtures in luxe gold finish. She made this choice because although the bathroom serves two children's rooms, it's also used for guests. "The soft gold finish added an element of luxury for a guest bath, as opposed to a more standard finish," Wilkinson says. The natural stone she chose for the shower walls and floor created and inspired the color palette. It features both cool and warm tones, which made introducing the warm gold an easy selection. "People are really responding to adding warm tones with gray," she says. "It makes it warm and inviting by providing contrast to gray or white."
She does warn that the manufacturers who make the shower door hardware are not the same as the fixture manufacturers. However, she adds, most do a good job of coordinating. So, be sure to consider that when choosing finishes—especially for a small bathroom where the metals will be in close proximity. Another pro tip Wilkinson provides: "Think about door hardware … If the rest of the home has a different metal, you can do split-finish for door hardware."
Wilkinson chose wall sconces from Circa Lighting in a similar finish. "The neat thing about a small bathroom—they are little jewel box spaces where you can experiment in a place that doesn't impact the rest of the home design." In other words, feel free to "bling" them out just for the fun of it.
Six Walls Interior Design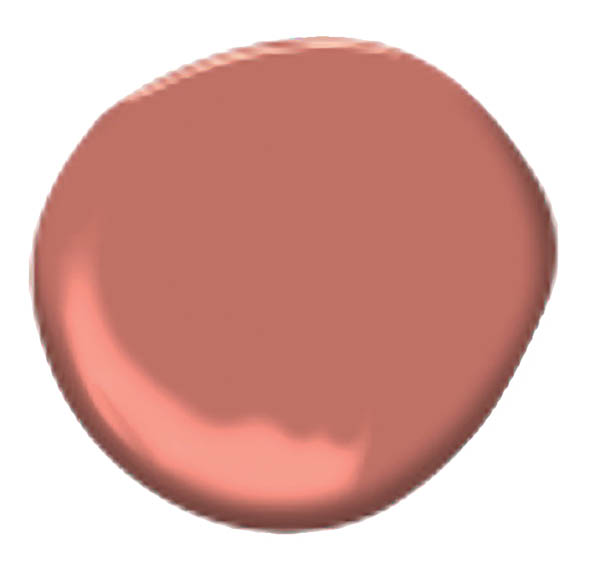 Wrap Up in Color
Be gone, boring walls! Color trends are reflecting the outdoors with rich, warm colors bordering on fern green, burnt umber and lambswool creamy white. While the colors themselves can be deep and moody or light and soft, they provide a beautiful backdrop for bold fabrics, dazzling metallic fixtures and other standout elements of design.
Benjamin Moore's recent palette includes colors such as Wild Flower, a color closer to a natural Colorado flagstone red; High Park, which is a luscious green like a velvet succulent; and Venetian Portico with its soft dried-grass hue; among others.
Use any of these tender tints as an accent wall or to blanket the entire interior—they are simultaneously striking and subtle.
Guiry's