AN HEIRLOOM IS defined as "an object that belonged to a family for several generations with sentimental and/or monetary value." The merit of these pieces come from the memories of beloved family members and are considered "the crown jewels" of most family legacies. Our own Hillary Locke Mujica shares some of her personal collection, complete with three generations of charm bracelets, an Add-A-Pearl necklace and a vintage Emerald ring from local consignment shop, La Cache. The following jewelers from around the country offer legendary pieces to add to your own family collection.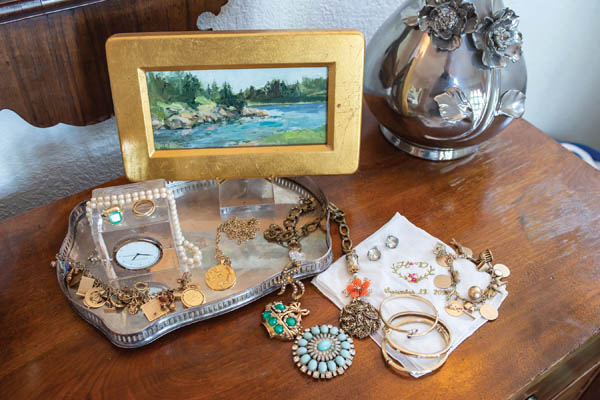 LOREN HOPE
Loren Hope is a luxury costume jewelry house based in Newport, Rhode Island, offering seasonal collections of heirloom quality pieces to serve as a bridge between nostalgia and modern design. These instant heirlooms are hand-crafted in small batches with the artistry of vintage jewelry combined with dynamic designs that speak to all generations. Broaches, earrings, necklaces and hair accessories evoke sentimental emotions, yet these works of art will endure for decades.
VICTORIANA ANTIQUE JEWELRY
Located in a charming shop on Denver's Larimer Street, stepping into Victoriana is like opening a treasure chest of jewels from years gone by. Proprietors Dave and Veronica Prebble have a passion and panache for finding antique jewelry that stands the test of time. Whether you're looking for Georgian, Edwardian, Art Deco or Retro, Victoriana offers a beautiful selection to be adorned and worn for generations.
ERSTWHILE JEWELRY
In 1887 Hirsch M. Klusner opened the Belle Epoche jewelry shop in Russia as a provider of rare gems and watches. During the Bolshevik Revolution, Hirsch and his son, Meir, set up shop in Berlin, supplying much of the German capital's fine jewelry. With the rise of the Third Reich, Meir and his son Stanley carved out the pages of books and filled them with jewelry. In 1937 Meir obtained passports and embarked on a steamer trip to New York City, where he began anew in Manhattan's jewelry district with Hirsch & Sons in 1940, eventually passing the business to the fourth generation, Rodney Klusner. Today, his son Jared Klusner runs the family business alongside his wife, Alisa on 48th Street and Fifth Avenue. Together they use their vast knowledge towards designing jewelry inspired by the vintage treasures of their ancestors.
ADD-A-PEARL NECKLACE
Since 1854, Juergens & Andersen Company's Add-A-Pearl necklaces have been bringing together generations through timeless keepsakes. Through the years, its unique gift-giving legacy becomes an heirloom, adding pearls its wearer will cherish for a lifetime. Not only do they support eco-friendly pearl farms, the pearls are actually hand strung on pure silk to maintain a strong necklace that will dazzle as a sentimental jewelry gift year after year. addapearl.com