Metro businesses and fashion designers have been hard at work creating face coverings that are protective, but still allow personality and style to shine through. For many of them, COVID-19 has been both a challenge and a breakthrough as they work to stitch the community back together. Here's how four such fashioners are making a statement—and a difference—this summer.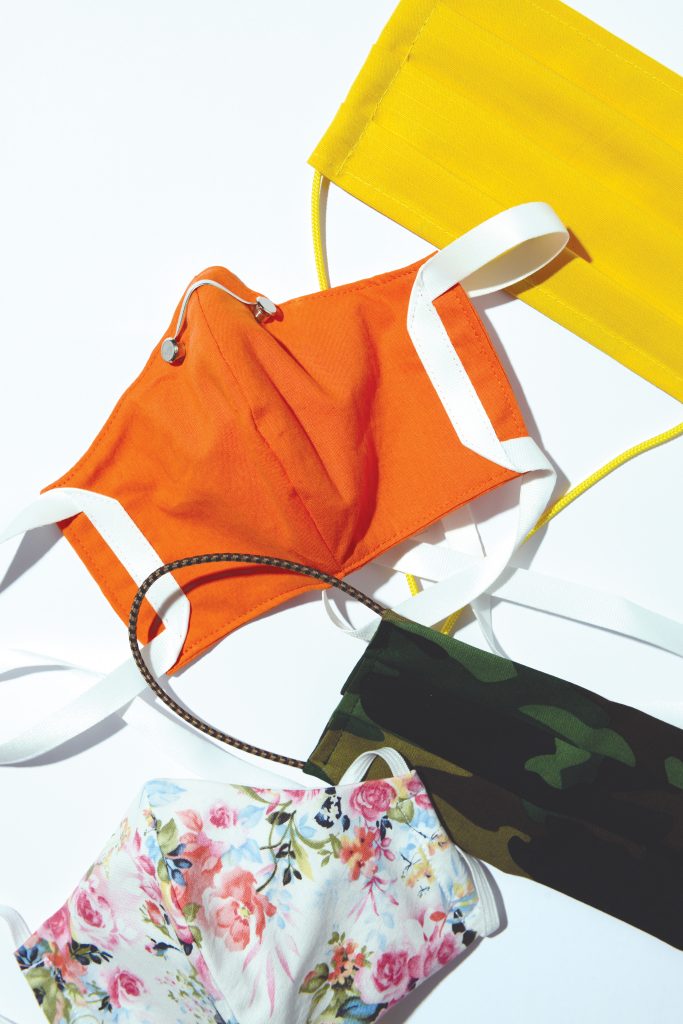 (From top to bottom)
WINTER SESSION
Roy Katz and Tanya Fleisher, the husband-wife team behind Denver-based Winter Session, are known for their handcrafted canvas and leather goods. But now those designs are sharing the spotlight with a new product: reusable face masks, which have shipped across the world. "We realized our warehouse could be set up safely, and we had rolls of fabric just sitting here, plus the capabilities to produce masks on a short timeline," Fleisher says. "We also started a nonprofit called Cover Up Colorado, where we donate one mask for every mask sold to frontline health care workers, homeless shelters and other vulnerable populations. The masks are sleek and adjustable. They're made of tightly woven cotton fabric with a metal nose piece inside and a pocket for a filter—each order comes with a few."
JASMINE LEWIS
When it comes to unique style details, Denver Tech Center-based fashion designer Jasmine Lewis is always full of ideas: "My style is very 'avant-garde meets ready-to-wear,' so I created a unique metal nose piece on the outside of my masks as a way of adding my aesthetic—it's sort of like jewelry. My masks are made of 100 percent cotton. You choose the style, the type of strap and whether you want the visible nose piece. They also have a pocket for a filter, though I don't provide those because I don't want to take away material that could be used for real medical masks."
DARDANO'S
Four generations' worth of experience and some maneuvering helped Dardano's—a family-owned and operated shop that offers shoe repair and comfort footwear to area residents—tackle COVID's challenges. "We shut down for a week and a half when the stay-at-home order went into effect, so we started thinking of ways to keep our people employed," says Vice President Dillon Dardano. "My mom owned a custom window treatment business until she retired five years ago: She had material, equipment and space we could use to create double-layered cotton masks. Elastic was very hard to come by, so we used drawstrings from shoes. For a while we were purchasing shoelace kits, then we found a New York manufacturer that sells bulk elastic. Our masks are handmade by Dardano's employees, and we have more than 40 colors and patterns." 303.692.9355
OLA CRÉ
Ola Cré owner Rachel Riedel has dedicated her life to educating people on safe skin-care. So when the danger of COVID-19 became apparent, the Denver native found other ways to help prevent toxins from getting in our bodies: "I created and sold 130 face masks in the first six days. I sent them all over—to Afghanistan, New York, California, New Orleans." Locally, Riedel's masks are available at farmer's markets in Parker and Castle Rock; Keller Williams Realty DTC, whose wellness team she's worked with for the past two years, can also recommend her skin-care expertise. "I have a lot of different mask designs, and everything is made from scratch," Riedel continues. "The masks are made to fit snugly, so there is no need for a piece of metal inside." Order on Facebook and Instagram: @olacreskin.