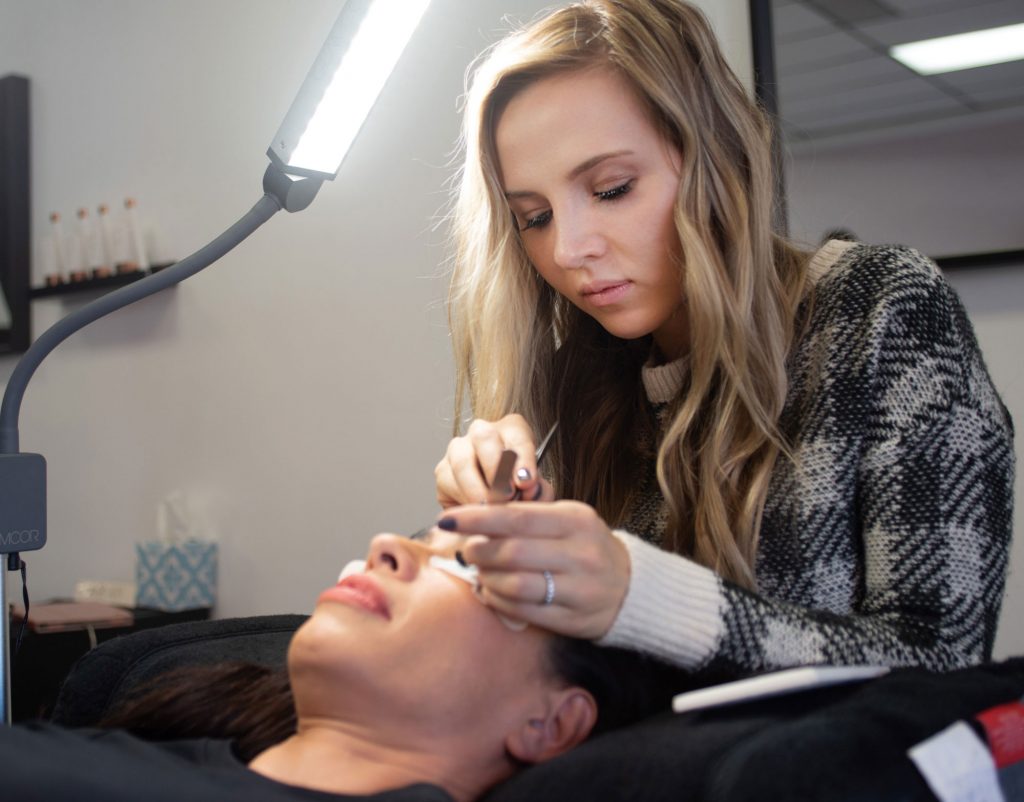 Alexis Weisenburger, founder of the Centennial-based beauty spa AW Lashes, changed the course of her life with one important purchase: a Groupon coupon. "The first-ever eyelash course that I took was found and purchased through Groupon," recounts the Utah native. "It was a small, one-day course that had minimal supplies … but I was hooked."
Weisenburger, who initially thought she wanted to be a registered nurse, got her certificate in dental assisting in high school and became a certified nursing assistant. "After working in those fields for several years though, I didn't feel that I had completely found my calling in life," she admits. "I wanted to help people and give them more confidence. My role model, my grandmother, inspired me to try cosmetology school."
Helping people look and feel beautiful through in vogue eyelash extensions, it turns out, is that calling.
Weisenburger was one of the first artists in the beauty industry to specialize in mega-volume lashing, that very full, dramatic look that started hitting salons and changing industry standards in 2017. She has trained lash artists in the technique at trade shows and worked with companies to "help others with the basics and the tips and tricks that have helped me reach the level I am at today."
She also co-created the Lash Pod by Bella Lash, a time-efficient, ergonomically friendly and hygienic wrist device that makes "lashing" faster, and developed lash extension training programs at Borboleta Beauty, as well as an online education system for Bella Lash.
"All lash artists are initially trained in classic lashing," explains Weisenburger. "Volume lashing is much more flexible and gives experts the ability to create so many different looks and modify lashes to cater to eye shape. I was introduced to volume lashing early on in my career and I loved it. I worked extremely hard to master fans and become the best I could at the technique."
And for the past eight years, south suburban residents (and notables like influencers Shanna LeRoy of The LeRoys and Ashley Gardner from Gardner Quad Squad) have been reaping the benefits at her eponymous lash boutique, now complete with five "lash bars."
"Even in school, I just kind of did this for fun," adds Weisenburger. "But if I died tomorrow, this is what I would want to be known for."
LASH TALK
How Weisenburger vets artists
The training: In Colorado, anyone with a license in cosmetology can legally do lashes, says Weisenburger. Make sure your artist is trained and certified specifically in lash extensions—don't be afraid to ask where someone did their training.
The credentials: For a classic set of lashes, your artist should have a minimum of six months of experience. For volume lashes, make sure they have been doing lashes for at least two years.
The style: Most lash artists and salons will have a social media presence on Instagram and Facebook. Look at the pictures they post: Do you like the way the lashes look? Could you picture the work they do on you? When you zoom in on the pictures what kinds of details can you see?
The reputation: What kinds of reviews is the artist getting? Is the feedback primarily positive or negative? How did the artist handle negative responses?
AW LASHES
Centennial
720.484.5348