With more than 350 miles of trails, connecting 34 huts, a guided trekking adventure could be the perfect summertime getaway if you're looking to test your hiking mettle. Named after an Army unit that trained for World War II in the Rocky Mountains, the 10th Mountain Division hut system—one of the largest mountain hut networks in the country—has become popular with backcountry skiers in the winter and hikers in the summer.
This is an excellent way to enjoy the backcountry at its best, with rustic and cozy cabins equipped with beds, kitchens stocked with utensils, outdoor patios perfect for evening cocktails—and, of course, each one comes replete with spectacular Rocky Mountain views. But accessing these huts on your own for the first time can be overwhelming—requiring reservations and a lot of planning. So, if you are unfamiliar with this type of backcountry activity, companies like Paragon Guides, are here to help you make the most of your trip with no headaches.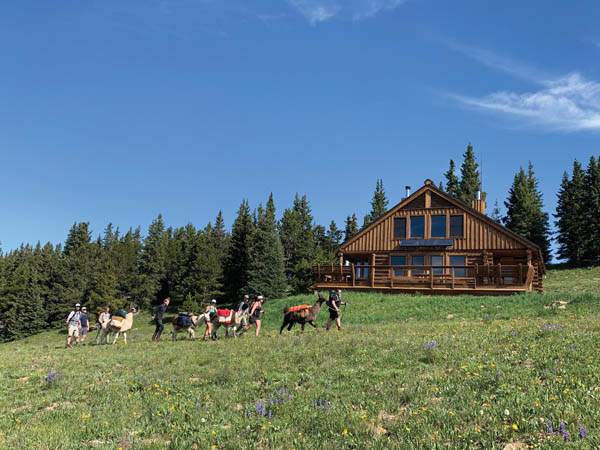 Will Elliott, co-owner and lead guide at Paragon Guides, has been leading both summer and winter hut trips since 2008. The company offers both single-day and multi-day excursions, with Elliott's favorite and the company's most popular trip being the Aspen to Vail. Another popular route, he says, is the 10th Mountain memorial hut to Uncle Bud's hut, traversing part of the Colorado Trail and a climb to Homestake Peak. Paragon's llama excursions also draw in big groups. "Llamas help carry all your stuff and are pleasant on the trail, making them great travel companions," Elliott says.
While the hut system was originally built for winter use, summer treks are becoming just as popular. Summer trips pose their own set of challenges and the biggest one is hydration. Many of the huts do not have running water, so you must carry it or filter it on the trail. Also, the trip itself can take longer—necessitating more water—because hiking is inherently slower than making the trek on skis. To combat this issue, many hikers choose treks that center around a single hut with mini day excursions as opposed to going hut to hut.
To help you plan your summer trip to the 10th Mountain Division huts, Elliott and the team at Paragon Guides offer a few tips to make your adventure one to remember:
•   Huts.org is a great place to start to get a comprehensive overview of the hut system.
•   Print a portable map, as your phone should not be used as a reliable navigation source.
•   Pack like you could spend the night outside.
•   Bring a water filter. A gravity-fed filter is one Elliott likes the best.
•   Work to be a better steward of the hut system. Be sure to do your homework before you go.
•   Hire a guide service, if you are unsure about trekking details.
Paragon Guides, paragonguides.com