By Jessica Hughes

Inspired by her husband, Laura Ringgenberg ditched a corporate career for something better
As Laura Ringgenberg watched her husband on an entrepreneurial path, she found herself experiencing some discomfort in her career. As he got out in the community, socializing and making an impact on those around him as the owner of the Berg Haus in Castle Pines, she was toiling away as a corporate lawyer at her computer, alone, day after day. She wanted something different for herself. "What I was doing was document intensive and sterile, and it required me to be at my computer from eight to five," she says. She wanted to be around people and to feel like she was contributing to the community.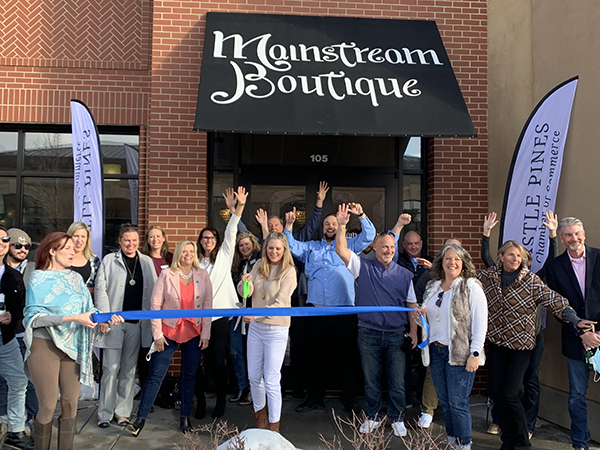 Photo Courtesy of Mainstream Boutique
"So, I started looking for a business that was for sale in my zip code," Ringgenberg says. "I wanted something that allowed me to be a little more creative and interact with people on a social level." She was also looking for a flexible schedule that would allow her to be more available for her children's last couple of years of high school. "Honestly, I was just ready for a change," she says.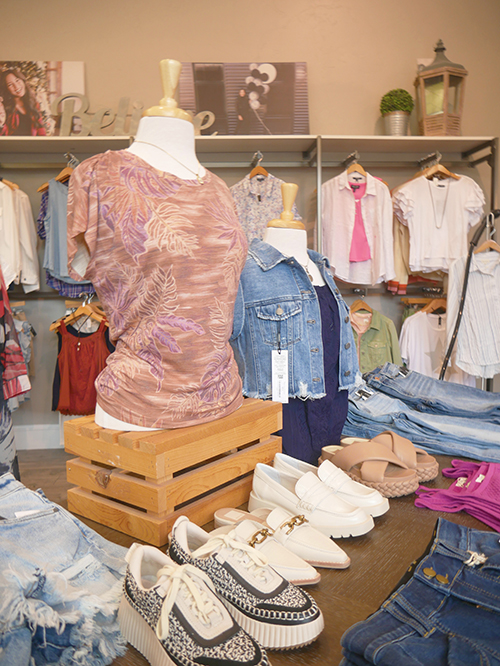 Photos By D.T. Carel
Although Ringgenberg has no retail experience, when she found the Mainstream Boutique in The Village at Castle Pines for sale, she jumped at the opportunity to purchase the store. And so, in January 2021 at age 52, Ringgenberg cut theribbon on her new career and has been loving it ever since. "I am so happy I made the move," she says. "I love that I can provide a place wherewomen can go and visit with each other, shop and have an experience."
Not knowing much about owning a fashion business, she says she liked the fact it was a franchise and was already an established location—having originally opened its doors in 2016. "I got support right out of the gate," she says. "They trained me on how the business works and gave me ideas on how to run my own business." In addition, she inherited two employees that she says have been a tremendous help
to her.
It's not just the affordable, comfortable—not slouchy—yet trendy clothes that keep her customers happy, it's her genuine connection with them. "Our customers are our friends. We listen to what they need and what keeps them coming back." And while Ringgenberg says she is always on the lookout for the latest style trends, she still makes her buys based on what her customers want.
Her next step will be to open an online store, but her bigger plans center around getting to know her customers better and to keep learning what they want. "I am always talking with the customers and buying what they want, while still staying on trend."
For Ringgenberg there is no looking back. She couldn't be more confident in the later-in-life career move. "It's been a good transition" she says. "It's increased my confidence and opened my eyes to other ways to live and to have a more fulfilling career," she says. "I am so happy that I did it—we have a nice little niche here."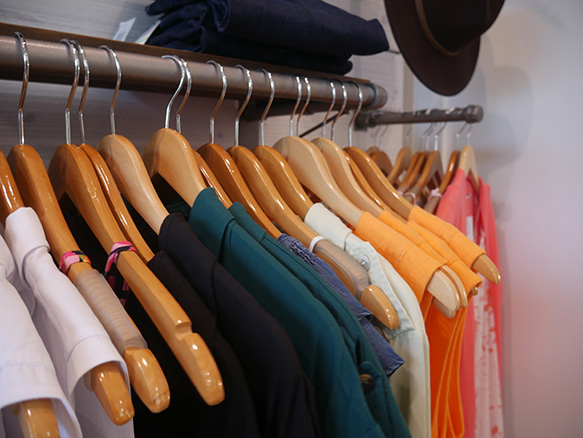 Photos By D.T. Carel
Mainstreet Boutique
72 W. Happy Canyon Rd., Castle Rock
720.612.4334
mainstreamboutique.com/pages/castlepine