11 Colorado culinary experiences worth packing a bag for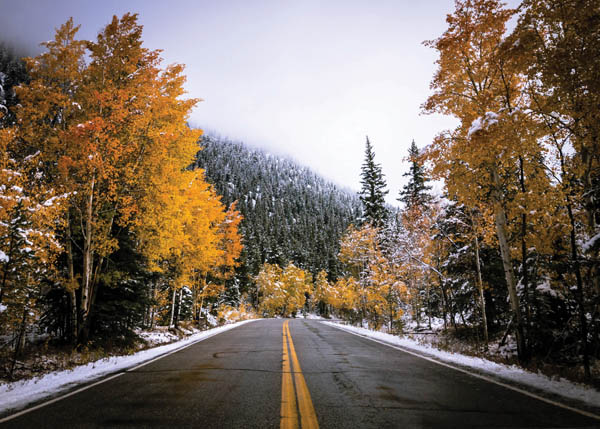 Fall in the Centennial State is full of golden leaves, crisp air and blue skies. But it's also the perfect time to hit the road for a gourmet getaway across the state. Here are a few of our favorite jaunts.
TABERNASH
Devil's Thumb Ranch House
The Wagyu cattle at Devil's Thumb Ranch graze on local high-altitude nutrient-dense grasses, giving their pasture-to-plate melt-in-your-mouth Wagyu steak its signature flavor profile. DTR is one of the few locations in the nation to breed and serve full-blood buttery rich and healthy Wagyu. Yes – you heard correctly – Wagyu beef produces higher monounsaturated fats which can lower bad cholesterol (LDL) and increase good cholesterol (HDL). Plus it contains higher percentages of omega-3 and omega-6 essential fatty acids, so basically, it's health food! We love their Wagyu Short Ribs which are braised for 48 hours and accompanied with mushrooms, potato purée and topped with Wagyu Jus. Dig in, for your health. devilsthumbranch.com
ASPEN
BOSQ
Bosq is where you go when you want to experience the best tasting menus around. Chef and owner Barclay Dodge and his wife Molly look to the fields and forests of Aspen Valley to create a one of kind dining experience where the essence of local ingredients are celebrated. Guests choose between four, five or seven courses that seem to say "come closer, stay awhile, you're family." A DiRoNA Award Winner, James Beard Guest Chef, Member of Slow Food and a Member of the James Beard Society, you'll be in good company at this understated elegant establishment. bosqaspen.com
EVERGREEN
The Bistro at Marshdale
The history of Colorado is seen and felt in every hand-hewn beam at the The Bistro at Marshdale. This authentic Rocky Mountain Tea Room was built by expert craftsmen in 1923 and that same artisanal attention shines through the menu created by Executive Chef Cris from her private recipe collection. The scratch kitchen favorites include ricotta dumplings with cherrywood smoked shiitakes, beef jus and whipped truffle butter, duck confit with current fennel pancetta and onion sauté with an orange demi glaze and a bottle of Chateau La Plagnotte Bordeaux to top it off. thebistroatmarshdale.com
GRAND JUNCTION
Bin 707
There's a purpose behind everything this James Beard-recognized restaurant does. Whether it's where they source Colorado lamb, or why they top their grapefruit curd with a beet merengue; every detail is written into the story of each dish. And being in the heart of Grand Valley allows them access to the freshest local purveyors where they can look, feel and touch the ingredients as well as engage the farmers, ranchers and artisans from start to finish. This way of cooking results in an adventurous dining experience every time. Fall favorites like the Elk Tartare with peach tapenade, or the bone-in pork "katsu" and green chili jus are not to be missed.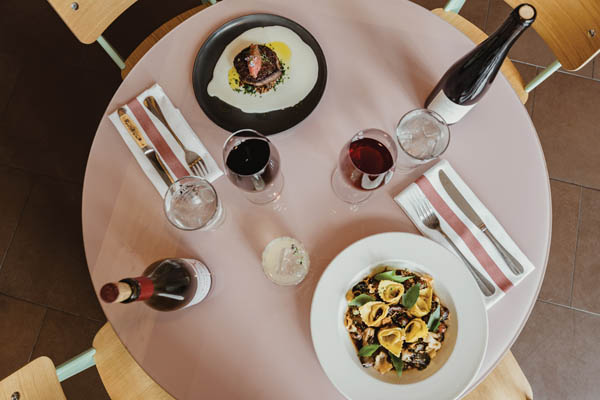 Photo: k. robinson, courtesy bin 707
BOULDER
Black Cat Bistro
Bramble & Hare
Jill and Chef Eric Skokan's 425 acre organic farm just outside of Boulder provides the farm-to-table features where they grow over 200 organic crops, mill their own grains and raise heritage breeds of pigs and chickens. It's legit to say the least! Whether you're at the Farm Dinner dining in their historic blacksmith barn, garden cabanas, beneath the patio pergola or at their gastropub Bramble & Hare in Boulder, your night will be one for the memory books. Fresh salads from the garden, tomatoes still warm from the sun, heritage pork and lamb roasted over plumwood embers create an intimate dining experience from beginning to end all year long. blackcatboulder.com, brambleandhare.com
Photos: courtesy black cat bistro
COLORADO SPRINGS
Four by Brother Luck
Who are the people that bring dishes to life? Why the hunter, the gatherer, the fisherman and the farmer of course. And those are the people who Brother Luck celebrates at his restaurant Four by Brother Luck featuring American western, Mexican, Spanish and Native American dishes. Each features a four-course menu with seven options, or you can mix and match to suit your palate. You absolutely must try the artichoke with blue cheese crumbles with its tangy, creamy perfection poured tableside for your viewing pleasure. And the Tamaya blue cornbread with berry jam is the perfect companion. fourbybrotherluck.com
TELLURIDE
Allred's
Riding high, dinner at Allred's is indeed an elevated experience. The panoramic views of the San Juan Mountains and the Sneffels range vistas are nothing short of breathtakingly spectacular, with a menu to match. Allred's is a private club at lunch but opens for happy hour and dinner at 5 p.m. so make sure you arrive an hour before sunset to capture the alpenglow dancing across Ajax in different hues of yellow, gold, orange and pink. Their menu features proteins finished in seasonal styles such as seabass, bigeye tuna, elk, pork, beef and veal. And the extensive award-winning global wine list is sublime. The combination of luxury and authenticity is second to none. tellurideskiresort.com
KEYSTONE
Ski Tip Lodge
Once an 1800s stagecoach-stop-turned-family home of Keystone Resort's founders Edna and Max Dercum, today the Ski Tip Lodge is a cozy mountain B&B, and just so happens to be home to one of the most acclaimed restaurants in the country. Lucky us! It's truly a gem nestled in the Rockies complete with a seasonal four-course prix fixe menu and a fireplace that provides a certain kind of warmth and merriment that makes you wish "these walls could talk." And since there's no TV or phones to be found, Ski Tip Lodge lets you travel back in time, immersing yourself in the sights, sounds and flavors of this romantic escape. keystoneresort.com
VAIL
the left bank
Authentically French, Chef Jean-Michel Chelain has undeniably elevated Vail's palate. And after 51 years of escargots à la bourguignonne, bouillabaisse de crustaces au fenuill, dover sole meunière and soufflé au citron, he's still turning out exquisitely prepared dishes that transport you from the Rockies to the French Alps. The food is as luxurious as the setting overlooking the Gore Creek. Plus, you can enjoy the good life with Windows by Left Bank Ready-Made Menu at home too, although to dine with Chef Jean-Michel is the crème de la crème.
FORT COLLINS
The Farmhouse at Jessup Farm
The 19th-Century farmhouse at the heart of Jessup Farm Artisan Village embodies the spirit of community and a shared quest for delicious food and memorable experiences that drives the team at The Farmhouse to continually source exciting ingredients, hone fresh recipes, and deliver the best products to its guests. Chef Joel Navejas and his culinary team partner with Northern Colorado growers, producers, brewers, and creators to offer modern twists on comfort food favorites like their smoked and bindled coffee-rubbed lamb sirloin with low country grits, rainbow carrots and bbq blackberry sauce. Paired with the bar's curated beverage offerings, it's a dining experience for all the sense. farmhousefc.com
PAGOSA SPRINGS
Alley House Grille
The beautifully restored 1912 cottage house that is home to the Alley House Grille offers quintessential small-town hospitality with over-the-top New American dishes. One stand-out is the char-grilled ribeye with jalapeño whipped potatoes and sweet and sour roasted Brussel sprouts, finished with chipotle butter—it's decadent and worth every bite. Finish the night alfresco with a nice port and their white chocolate raisin bread pudding for a meal that's over the top. alleyhousegrille.com
Photo: Jeff Laydon, Pagosa Photography, courtesy alley house grille