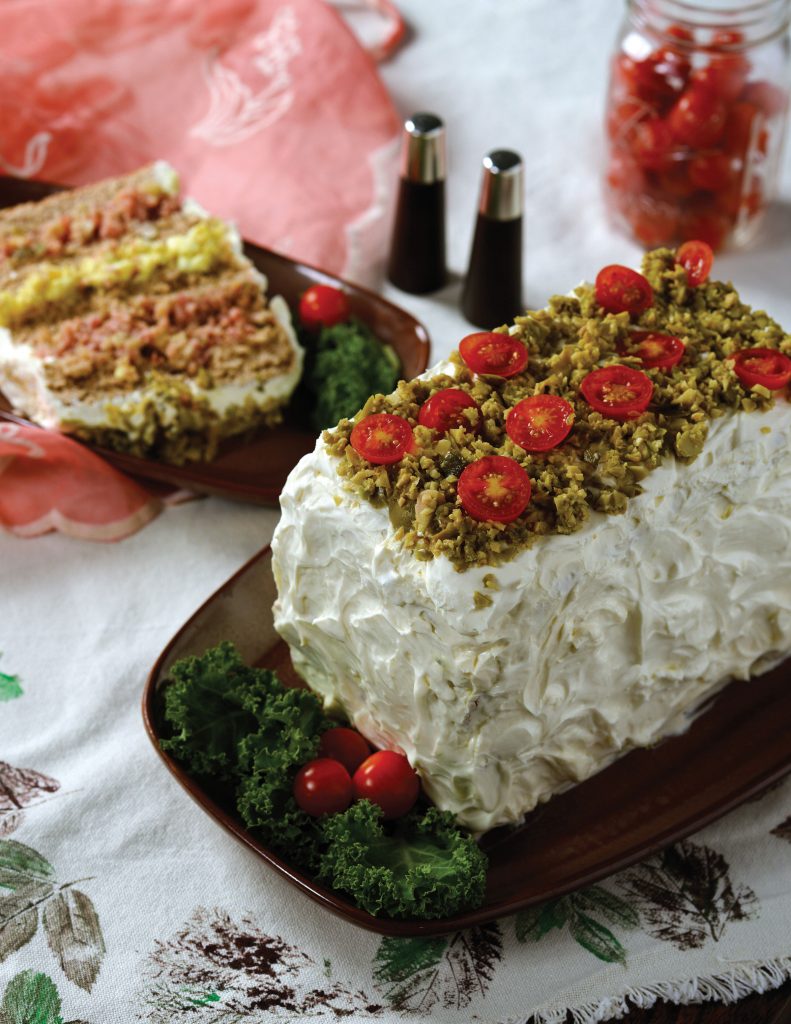 The book High on Country: A Narrative History of Cherry Hills Village by Klasina VanderWerf and The Cherry Hills Land Preserve truly brings the history of Cherry Hills Village to life. That's the only way to explain, at least, how the AvidLifestyle staff ended a typical Friday hovered over a serving platter, tasting a dish from the mid-20th century.
Walking the remnants of the town's past "from the early beginnings to 1975," VanderWerf and a slew of locals accumulated all they could gather from newspaper articles, interviews, research, other writings and more to form as complete a picture as possible of the culture that created Cherry Hills Village—and then released it to the public in 2007.
That more refers to a few fun things: a short chapter on "interesting and unusual artifacts and people," past maps of Cherry Hills land and, finally, an assortment of vintage recipes from area families.
Enter the Sandwich Loaf. For those who didn't enjoy a sliver in formative years, the cream cheese-covered morsel was a popular entertaining dish around the 1950s thanks to its pretty presentation. (True to some historic descriptions, a few unsuspecting souls in the Friday brood even thought it was cake before cutting a slice.) The Warren family, whose recipes occupy the most space in the history book, are credited for this recipe.
THE WARREN FAMILY METHOD
"Slice a loaf of bread lengthwise after trimming the crust off all four sides and ends. Spread the first slice with minced ham; the second with hard boiled eggs, which have been grated and seasoned well with salt, pepper and mayonnaise; and the third with ground olives and nuts (if preferred). Ice the whole thing with two cakes of Philadelphia cream cheese, which have been moistened with milk or cream. Garnish with tomato slices and celery curls. This is a whole meal—serves about four."
Our slight adjustments
INGREDIENTS
Curried egg filling, recipe below
Ham-pickle filling, recipe below
1 loaf unsliced sandwich bread (about 1 pound or 13 ounces)
Butter, at room temperature
Cream cheese "frosting," recipe below
1 small can diced green olives, grape tomatoes and curled celery for garnish
HAM-PICKLE FILLING
3 cans deviled ham
¼ cup chopped dill pickle
CURRIED EGG FILLING
¼ cup mayonnaise
1 teaspoon mustard
1 teaspoon grated onion
½ teaspoon curry powder
½ teaspoon salt
Dash black pepper
3 hard-boiled eggs, finely chopped
FROSTING
2 packages (8 ounces each) cream cheese
¼ cup mayonnaise
2 tablespoons light cream or milk
METHOD
Mix filling ingredients and chill. Cut all crusts from bread with a sharp knife. Lay loaf on its side and cut into 5 even slices lengthwise. Spread butter on 4 slices, then spread fillings, alternating between ham and egg mixtures, on those same slices. Stack and top with fifth slice of bread.
For "frosting," combine cream cheese, mayo and cream. Using an electric mixer, blend until smooth and spread on top and sides of loaf. Chill thoroughly and decorate with olives, tomatoes and celery.
READ IT
Starting at $10
amazon.com