Our input as you go about resetting eatings habits this month: meal plan inspiration. Greenwood Village health coach Lindsey Green shares what she recently ate in a week, plus recipes and a bit of advice. Spoiler alert: Her success is in simple, tried-and-true steps.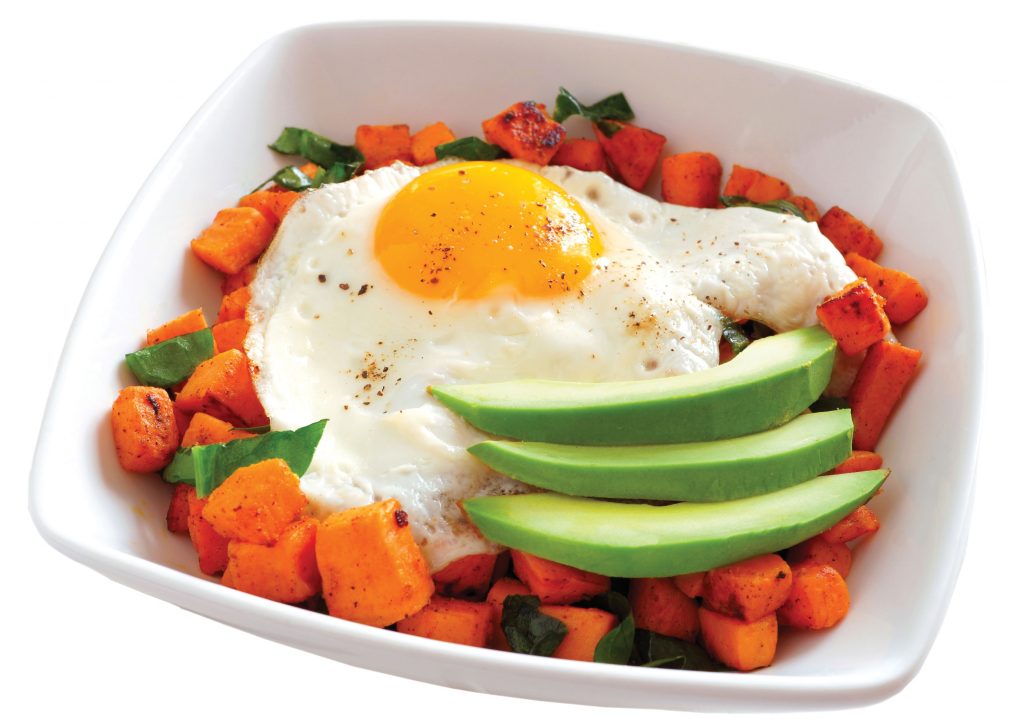 Breakfast
THE STANDBY: ⅓ of a sweet potato and ¼ of an onion, both chopped and sautéed in a pan with olive oil, topped with two fried eggs and half an avocado. "This is my go-to breakfast because it's easy and has good fats and proteins that keep me full."
CHEESE, PLEASE: two-egg omelet with onions and sharp cheddar cheese inside. Salsa and half an avocado on the side.
BEST OF BACON: two fried eggs with three slices of bacon and a side of Greek yogurt and berries.
SATURDAY SPECIAL: protein pancakes (two eggs mixed with one scoop of vanilla protein powder) with almond butter on top and a side of berries.
Snacks
POST-WORKOUT STANDBY: protein shake with Myprotein vanilla powder and 8 ounces of water.
ALL DAY: macadamia nuts, apple sauce, fruit, dark chocolate, LaCroix.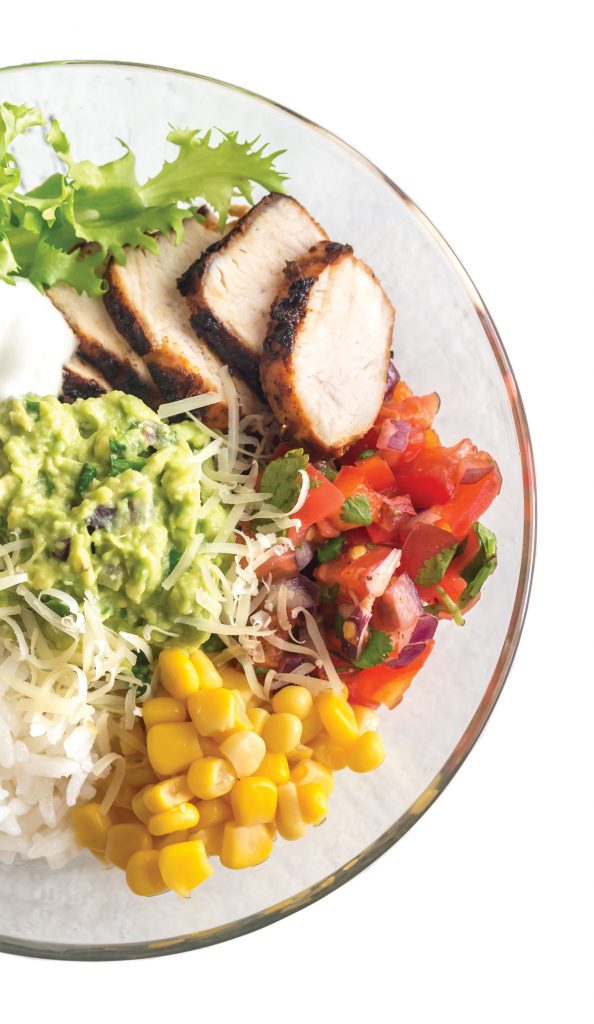 Lunch
THE STANDBY: one chicken breast, chopped and cooked in a pan with ¼ red onion, a full bell pepper and roughly ¼ cup tikka masala sauce. Pour the mixture over half a cup of white rice.
THE STANDBY WITH A TWIST: one baked sweet potato cut in half with chicken, onion and tikka masala sauce over the top.
TRY TOAST: two slices of whole wheat toast with avocado and bacon on top.
OUT AND ABOUT: Chipotle bowl with chicken, white rice, black beans, corn salsa and guacamole.
YOU KNEW THERE'D BE GREENS: kale salad with ground beef, onions sautéed in red wine vinegar, kalamata olives and avocado.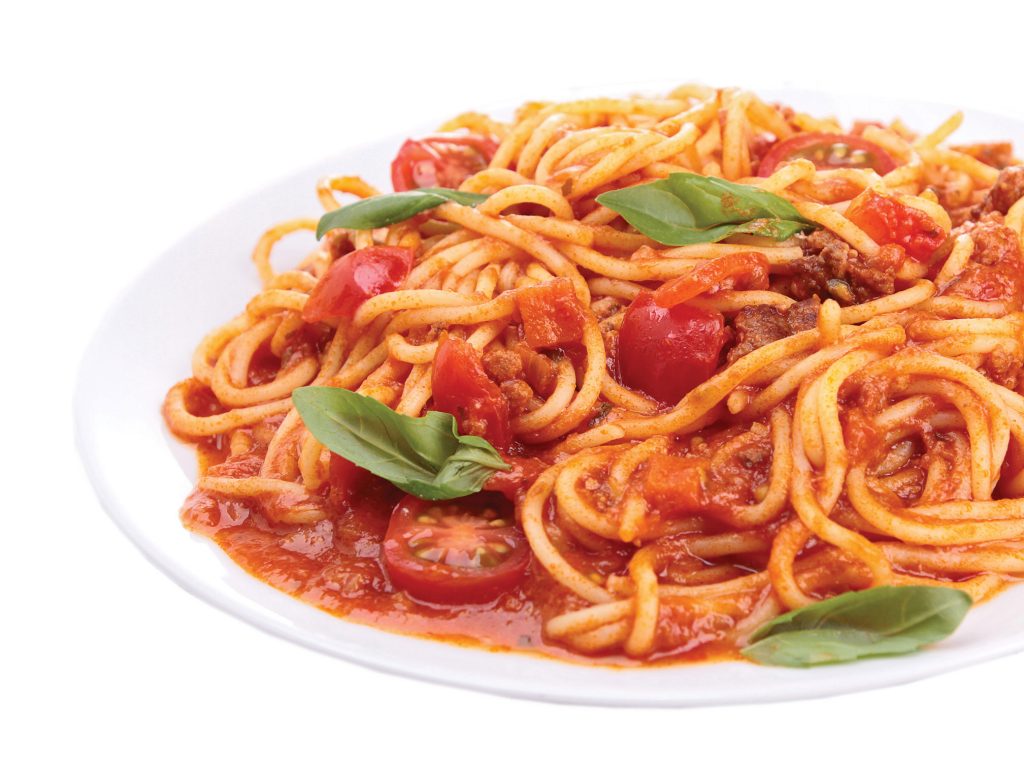 DINNER
THE STANDBY: one chicken breast, broccoli, Brussels sprouts, fruit (grapes and berries), cashews and a spinach salad with avocado and Primal Kitchen salad dressing.
NOW WITH RED MEAT: the same spinach salad, broccoli and Brussel sprouts with pork chops and no cashews or fruit.
AND SHELLFISH: shrimp, broccoli, Brussels sprouts, the spinach salad and a side of grapes and berries.
LITTLE BIT OF ITALY: spaghetti with meat sauce, broccoli, Brussels sprouts and the spinach salad.
SALAD, ROUND TWO: mixed greens salad with rotisserie chicken, cherry tomatoes, cucumbers, almonds and a balsamic vinaigrette.
SIMPLE AND SWEET: one chicken breast, sweet potatoes and Brussels sprouts.
GREEN'S TIKKA MASALA SAUCE
Makes 3-4 servings
INGREDIENTS
3 tablespoons tomato paste
1 15-ounce can tomato sauce
1 cup chicken stock
½ medium red onion, diced
3 cloves minced garlic
1 ½ teaspoons chili powder
1 ½ teaspoons ground turmeric
Salt and pepper
½ cup heavy cream
METHOD
In a large pan on medium heat, add tomato paste, tomato sauce, chicken stock, onion, garlic, chili powder and turmeric. Add salt and pepper to taste and bring to a boil. Reduce heat and let sauce come to a simmer, stirring occasionally until it thickens (about 10 minutes). Then stir in the heavy cream until heated through.
ABOUT PROTEIN POWDER: "I drink protein powder because I do a lot of weight training during the week. A protein shake is a great way to get fast-absorbing protein after a workout to help with muscle repair. So, my first question for anyone considering protein powder is: Are you currently doing weight training? If so, it's great for post-workout recovery.
"The other reason someone might consider drinking protein powder is because they might not be able to eat enough in their diet alone. The daily recommended amount of protein (at a minimum) is about 0.4 grams per pound of body weight. For easy math, if you weigh 100 pounds, you would need at least 40 grams of protein per day. And if you're more active, the amount needed will increase.
"As far as quality goes, the fewest ingredients in protein powder, the better! You can use a third-party website like labdoor.com to see where certain brands rank on the list of quality supplements."