By Heather Shoning
Photography by M.G. Photography

A young family gets a time-honored style punctuated with natural elements and family memories in their CHERRY HILLS VILLAGE FOREVER HOME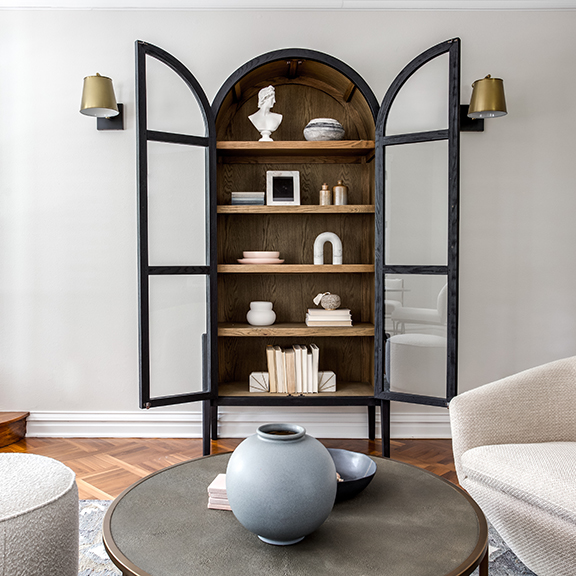 A.I. INTERIORS has completed hundreds of design projects throughout Colorado since its inception in 2005, and throughout that time designer Angela Ireland has seen design trends come and go. Some more quickly than others. But what never goes out of style is incorporating the essence of a family into the design. However, it can be tricky when blending a very casual, organic style into home with traditional bones. With a recent renovation in Cherry Hills Village, she—along with team members Emma Spencer and Megan Burelli—was tasked with keeping but modernizing the traditional architectural details and creating a casual, organic vibe. Jon and Dr. CJ Bathgate wanted their forever home to reflect their family's past while making room for them to build their future.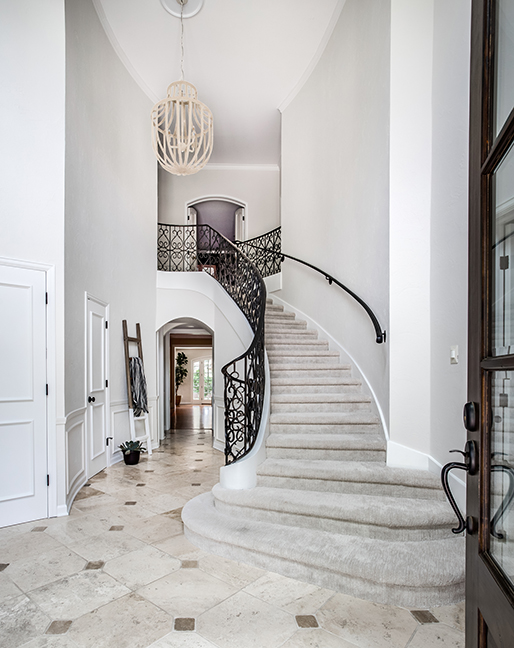 The home has many hallmarks of a traditional Georgian-style home—a grand entrance, a curved staircase with an ornate iron railing, traditional millwork, arched doorways and mullioned windows and doors—which the Bathgates loved, and Ireland aimed to lighten and brighten with a fresh coat of white paint on the woodwork. Then she used lighting, artwork and decor as a way to bring in the organic elements the client wanted. In addition, the homeowners wanted a place that was casual and comfortable for visitors, and because the family includes two young boys, the furnishings and finishes needed to be durable. But most important was to incorporate "stories" and precious reminders of the young family's life together.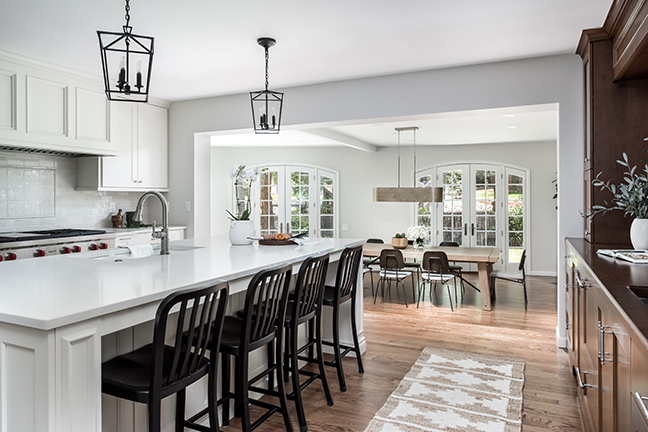 The previous owners had completed a remodel of the kitchen, so Ireland selected a new paint color for the walls and modern black farmhouse-style barstools that align with the black metal pendant light fixtures. It's the other rooms in which she made a huge design impact—especially the flex space which serves as a game room, den and office, and it was Ireland's favorite space to design. "There were challenges, for sure," Ireland says. "I get so excited about the creative exploration through that. It was a very formal living space, and it didn't fit the vibe with what we were trying to achieve."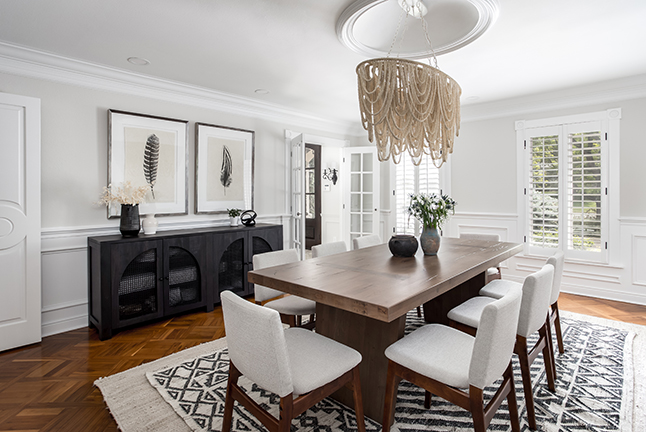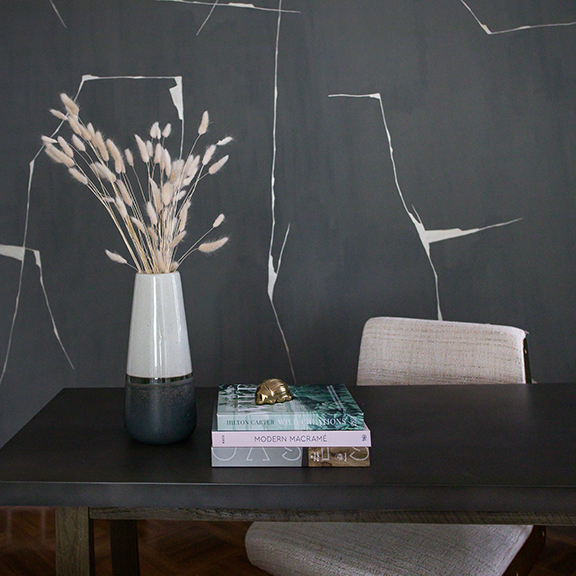 To create a space for the homeowner to work and have a pleasant Zoom background, Ireland selected a small, sleek desk with a comfortable upholstered chair, but the focal point is the stunning backdrop wall. Ireland selected a hand-painted wallcovering on rice paper with dark charcoal and metallic hues from Porter Teleo, a woman-owned business. For Dr. Bathgate, a therapist, this was an especially important reminder for the work she does. The design is based on the Japanese art of Kintsugi, where artisans repair cracked or broken pottery often with gold as opposed to a material that would hide the cracks. The tradition says: Breakages and repairs are part of the history of an object, and that they must be shown instead of hidden. "When we're able to add a story into the design, it just makes it that much better," Ireland says. In other areas of the space, she incorporated curved elements such as the curved-back chairs, round ottomans and coffee tables, curved-top cabinet and the round game table to align with the arches in the home's architecture.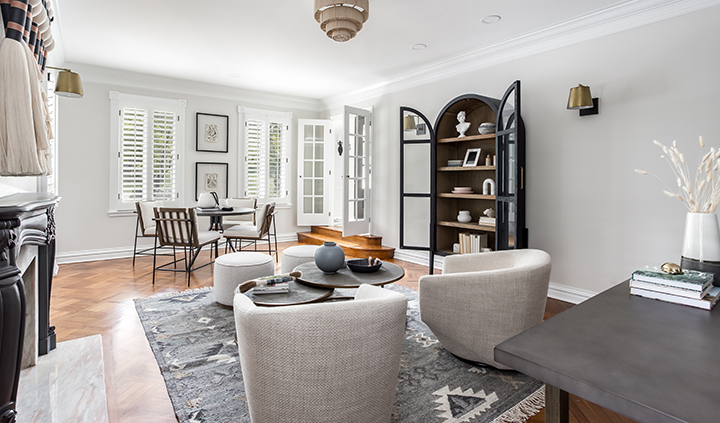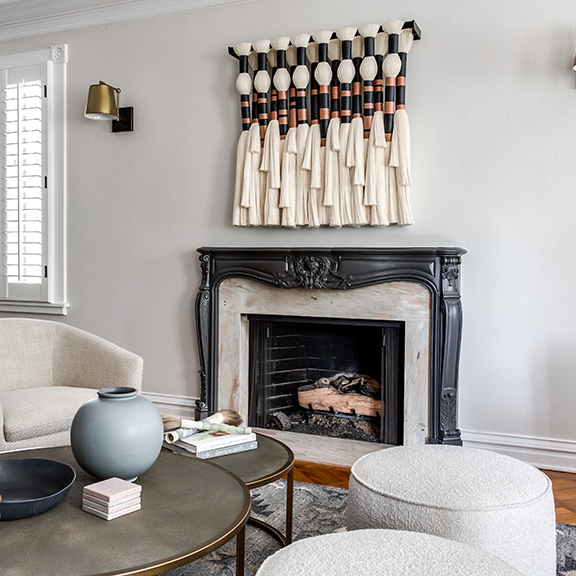 Although the homeowner originally wanted to tear it out, the fireplace held a happy surprise: The tile surround and hearth were made of stone slabs with blush pink veining. "Anytime I have the opportunity to work with a blush or a pink, I am going for it," Ireland says. "I fell in love with this." She had the mantel painted black to match other black elements throughout the home, and then brought an organic feel into the space through a custom wall decor made handmade in Mexico. "They sent us samples of the strings that they wrap around it, that are charcoal and blush," Ireland says. "I had to make sure that it worked perfectly with that blush tone that we had in the fireplace, so it all tied together."
Other decidedly organic elements include wooden beaded light fixtures, textural rugs and various artwork and decor items throughout the home. Ireland introduced the curved elements in other spaces as well including a mirror in the sunroom, the breakfast area light fixture and curved-back barstools in the lower-level kids craft area.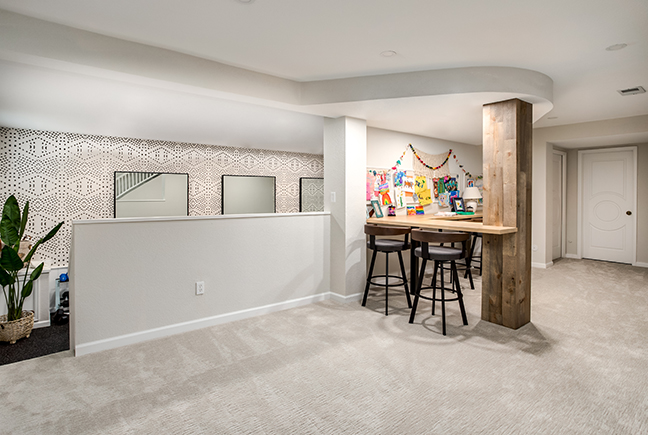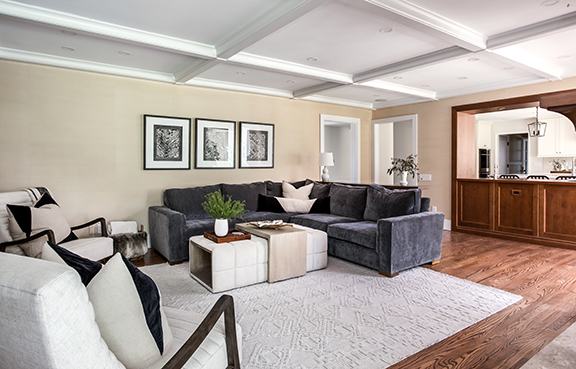 When the couple knew they needed a home more suited to their growing family, they were excited to move, but leaving their first home was hard for Dr. Bathgate. It was the first home they bought together, and it's where they brought both of their children home to from the hospital. So, when she grabbed one last item out of the basement before they closed the door to that home forever, it turned out to be a beautiful addition to the new home. "I saw this scroll tucked away, and while I wasn't sure what it was, I didn't want to leave anything behind," Bathgate says. She opened it with Ireland to discover the original blueprints of the couple's first home. Ireland transformed the drawings into art—another family story to add to the new home. "It's so meaningful hanging up in my husband's office and it definitely fits his aesthetic," Bathgate says. "We want people to have an emotional experience in our house. And even if they don't, we want to have that emotional experience."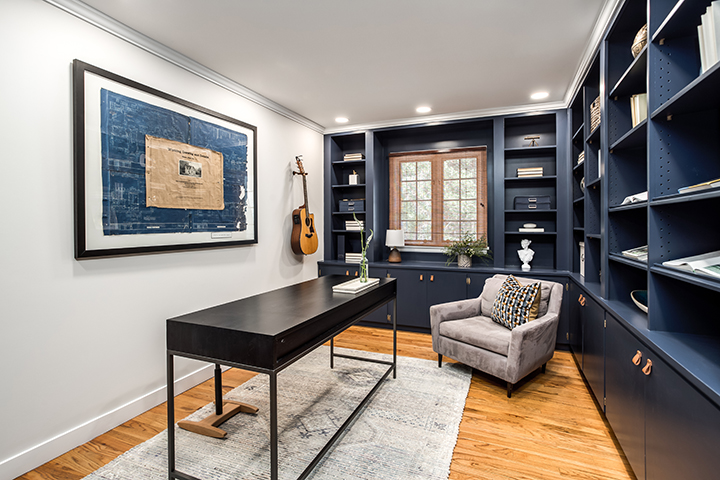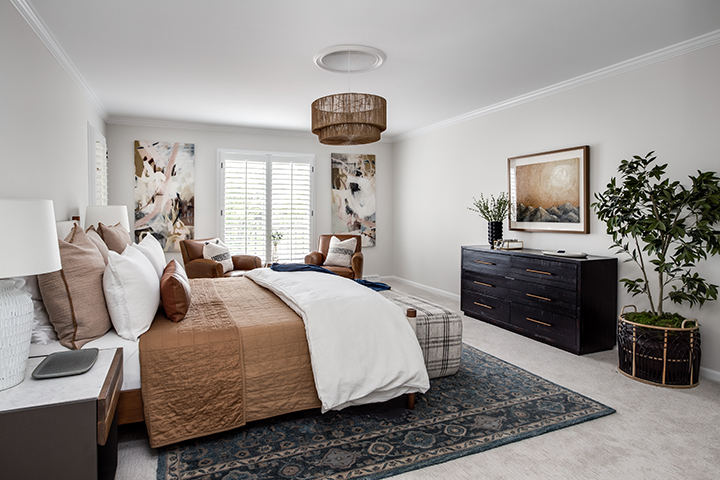 Turning this new forever home into their own timeless interpretation of their life is what's most important to Dr. Bathgate. "And it's just general reminders of the things that you value that are just so much more than material. That's an old architectural blueprint. But the fact that we raised our kids in that home, and we were the ones to discover the drawings and decide to do something with them—that's incredible."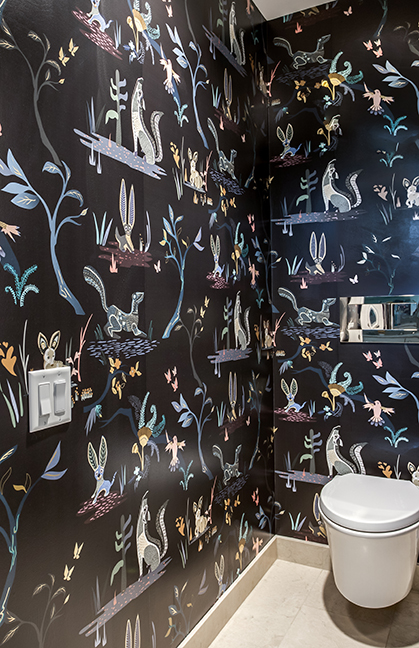 Early in the couple's relationship, Dr. Bathgate had to move to Arizona for a residency. In a fun way to add a nod to that era in their life, Ireland selected a quirky, colorful, desert-themed wallpaper for the primary bathroom water closet. "We spent a large chunk of our engagement in different states when I moved to complete my residency," Dr. Bathgate says. "Whenever we see it, we smile because
it's a nod to my time in Arizona."

A.I. INTERIORS
970.402.7788
aiinteriors.com