In Colorado, we get to wake up every day and witness our impressive landscape shining back at us, but there is nothing quite like rising with the sun and having it surround you from every angle while camping. From the impressive Rocky Mountain peaks to the beautiful arrangement of Aspens to the roaring rapids of the Colorado River, we have a diverse painted canvas of nature's majesty in our backyards, which makes camping feel less like a mandatory weekend and more like a right of passage. If you aren't already well-versed in appreciating the great outdoors on loop, the Centennial State gives you every reason to try with a temperate summer season and a plethora of gorgeous, day trip destinations that can convert even the most comfortable patio seekers into certified mountain dwellers.
All you have to do now is decide what goodies to pack. We compiled a resourceful, elevated list of tried-and-true camping recipes using products from artisan grocer Leevers Locavore to create the ultimate over-the-open-fire menu featuring true local flavors. Now, if you haven't been, run, don't walk to this unique shop. "We're all about sourcing quality local producers," says Sarah Reynolds, store director of Leevers Locavore. "Offering Colorado foods and beverages makes our community stronger and allows us to highlight some of what makes our home so great."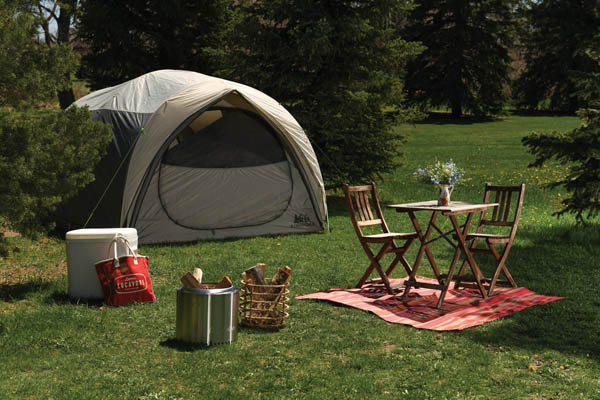 For Starters
A simple appetizer can be ready in minutes – or better yet, let everyone serve themselves. 34 Degree Crackers are the perfect base for Christo's Food sundried tomato spread and cheese. We chose feta but goat, fontina or cream cheese would be fab too.  These little bites pack a lot of gourmet goodness with their savory yet smooth flavor profile. 
Simplicity At Its Finest
As rewarding as catching and cooking your own food can be, there is something functional and straight-up simple about making some good old-fashioned noodles in the woods. Since cooking on the go can also be a tad bit intimidating, we reference hiking and camping eats resource MONTyBOCA, which "inspires folks to cook amazing meals outdoors, rather than having them be an afterthought."
"We provide fast, tasty meal plans and pocket-sized cookbooks," says MONTyBOCA founder and chef Steve Corso. "We also feel using fresh real ingredients is key."
To put an exotic twist on boiling up a pot of pasta, try this light Peanut Noodle recipe courtesy of chef Corso, who says it "clocks in at only a few ounces per portion but packs a lot of flavor and texture."
Fire It Up
When camping, cooking a hunk of red meat over an open fire will help channel your inner mountain (wo)man, especially when it's a melt-in-your-mouth delicious skirt steak from River Bear American Meats. "Our beef is raised sustainably by the Peterson Family in Pierce, Colorado," explains Jeff Prah, general manager of River Bear American Meats. "The Petersons believe in stewardship, animal husbandry and environmental responsibility. The low stress and diet is a big reason that our beef tastes so good."
Marinate it with Moose Head Ranch "Sunday Cookout Marinade" a day ahead of time or while you're heading to your campsite to up your gourmet glamping experience.
Camp Cocktail
To really get the full camping experience, gather around the fire, look up at the stars and sip on some local hooch. Better yet, combine the best of both worlds, with equal parts a childlike appreciation for s'mores and a recognition for some legendary good rye from Locke + Co. Distilling.
The Aspen Aged Rye pairs perfectly with toasted marshmallows and late night banter. These distillers started their whiskey journey around the campfire by placing a charred aspen into a mason jar of their rye just to see what would happen. The rest is history.
"We believe there is no wrong way to drink whiskey," says Owen Locke, co-founder of Locke + Co. "but the best way to drink it, especially around a campfire, is with friends, and try not to run out!"
Who Wants S'more?
There are some foodie experiences that we never seem to tire of, since our early days playing tag in the neighborhood or skipping rope. Maybe you still relish in a bowl of Fruity Pebbles while watching cartoons. Or can never get sick of a simple hot dog that reminds you of the first big game but, one classic dessert carves out a defined space from toddlerhood to today—s'mores. If you're out camping, or simply find yourself anywhere a fire is crackling, this sweet, stacked sandwich is a lifelong, well-loved staple.
To give this family favorite a culinary facelift that will make anyone from nine to 90 crack a crumb-covered, chocolate-coated grin, take it up a notch with the jammy, earthy addition of Rancho Meladuco Dates and your favorite nut butter. Now these dates are not your "grampa's dried fruit." They should really be in their own category — they're sweet, soft, smooth and highly addictive. Your s'mores will be the highlight of your culinary campsite with these delightful dates. 
Finally, the only big decision left — how charred do you like your marshmallows?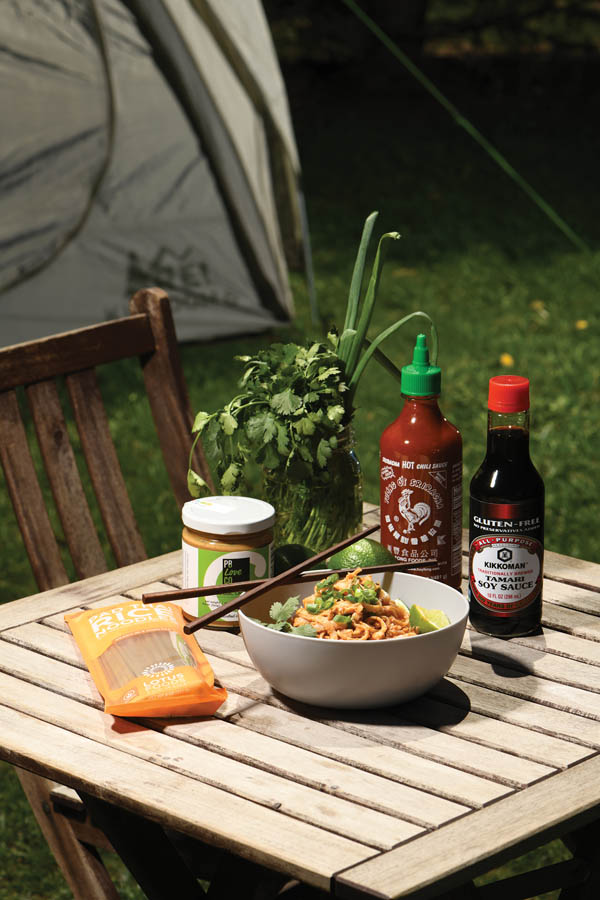 Peanut Noodles
"This recipe uses fresh, packable ingredients to create a complete dish and a fresh pop that is lacking from many backpacker meals," says Corso. "Packaged meals are the standard but I wanted to match Asian flavor while creating a fast and easy recipe. It's also fun to eat noodles outdoors!"
Makes 2 servings
Ingredients
4 cups water
7 oz flat rice noodles
1 tsp fish sauce or salt
½ cup peanut butter
½ cup coconut milk or coconut milk powder
1-2 Tbsp Sriracha
2 Tbsp rice wine vinegar
½ bunch green onions, finely chopped
cilantro
peanuts, finely chopped
lime wedges
Method
Fill a medium pot with water and bring to boil over medium-high heat. Add noodles and cook until al dente (3-5 minutes).
While pasta is cooking, in a medium bowl whisk peanut butter, fish sauce, coconut milk, Sriracha and rice wine vinegar until well combined and set aside.
When pasta is cooked as desired, drain, reserving one cup of pasta water. Add cooked pasta to the bowl with the sauce and toss until pasta is coated. If the sauce seems too thick, add a little of the reserved pasta water. Garnish with green onions, cilantro and peanuts. Serve with lime wedges.
NOTES: Feel free to add more veggies such as carrots, snow peas or sugar snap peas. You can add ina protein too such as grilled shrimp, chicken or steak.
The key ingredient to send those noodles over-the-top: stone-ground, small-batch "OG" Creamy Peanut Butter from Colorado's own PB Love Company. Founder Mario Esparza and his team make each batch by hand using traditional methods and top-notch ingredients.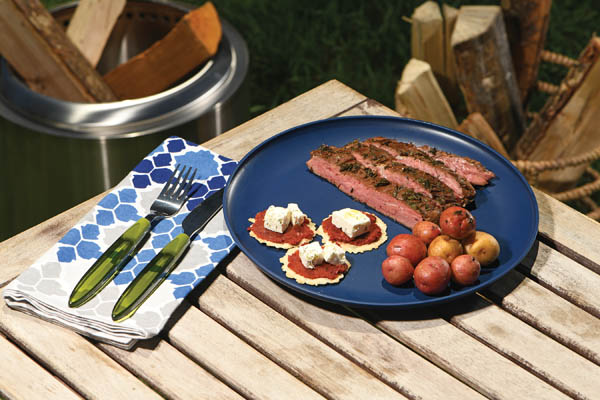 Marinated Skirt Steak
Make 6-8 servings
Ingredients
1 bunch scallions, sliced, including tops
1 cup canola oil
¼ cup dried thyme
¾ cup soy sauce
4 lemons, juiced
fresh ground black pepper, to taste
2 flank steaks
Method
Combine scallions, oil, thyme, soy sauce, lemon juice and black pepper in a large Ziploc bag along with two flank steaks. Refrigerate for 24 to 48 hours, turning the bag several times.
When ready to cook, remove steaks from the marinade and grill over high heat until desired temperature. For medium-rare, grilling time is approximately 5-7 minutes per side. Let rest for 10 minutes. Once rested, slice steak at an angle, against the grain into thin slices.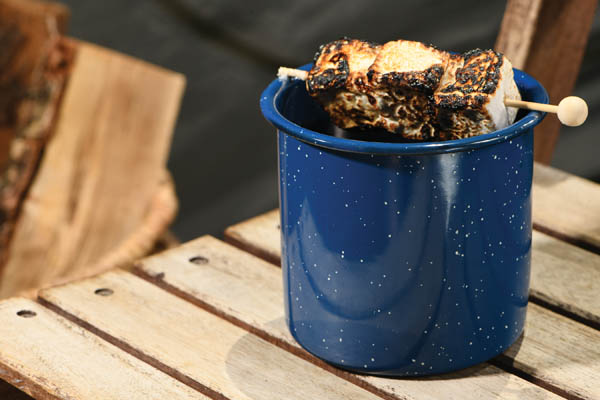 S'mores Old Fashioned
Makes one cocktail
Ingredients
2 oz Locke + Co. Aspen Aged Rye whiskey
0.5 oz vanilla syrup or simple syrup or marshmallow syrup
4 dashes cinnamon bitters or chocolate mole Bitters
Method
Stir everything over ice in a mixing glass and strain over fresh ice in a rocks glass. Garnish with roasted marshmallows or a s'more.
NOTE: For a sweeter treat, dip the rim of an old fashioned glass in melted chocolate or chocolate syrup, then in graham cracker crumbles.
PB&D S'mores
Ingredients
1 box Annie's Organic Graham Crackers
1-2 bars ChocoLove Chocolate Bar
1 or 2 bags Hammond's Marshmallows
1 jar PB Love peanut butter
1 box Rancho Meladuco Dates, chopped
Method
Set up your s'mores building station. Stack graham cracker squares on a serving tray. Add squares of chocolate, marshmallows and chopped dates to the tray. Open the jar of peanut butter and have a knife handy for spreading.
Roast marshmallows to desired crispness.
Now build your s'more: spread peanut butter on one cracker, add chocolate, chopped dates and roasted marshmallow then top with another cracker. Lightly push down top cracker a bit to squish it all together, then devour!
NOTES:  Crackers: Try cinnamon Annie's Graham Crackers for an extra pop of flavor. Brownie bark makes a great cookie base for s'mores as well.

Chocolate: You can't go wrong with any of the flavors offered by local chocolatiers ChocoLove. Stick with the classics such as Milk Chocolate or Dark Chocolate, or boost your flavor with Raspberries in Dark Chocolate or add a little kick with Chillis in Dark Chocolate.
Marshmallows: for a sophisticated taste, select homemade vanilla mallows or mallows rolled in toasted coconut from Hammond's Candies
Peanut Butter: Change it up a bit with Salty Peanut Butter or Cinnamon Almond Butter from The PB Love Company
Topping: Make it even easier with Rancho Meladuco's Taste of Date Syrup.