By Rebecca Toy
See the sun-drenched islands of the Dalmatian coast with a once-in-a-lifetime private yacht tour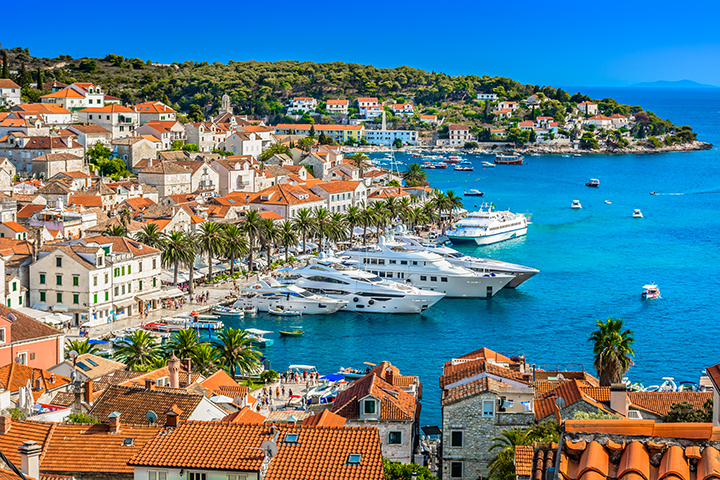 IMAGINE BEING IMMERSED in the luxury of a private yacht while lazily sailing among more than 1,000 islands offering secluded hideaways with pristine privacy or taking in views of ancient cities that were once the playgrounds of Roman emperors. When you and your family embark on a once-in-a-lifetime yachting vacation off the coast of Croatia, you can enjoy this and more.
Croatia is a dream destination for so many reasons. "It's one of the friendliest countries with amazing service," says Sara Haffenden-Hill, a co-founding partner of yacht charter Aquazeal in Denver. Croatia is her personal favorite Mediterranean destination to recommend to clients. "They are family-oriented people with a warm, welcome vibe. You don't see that everywhere in the Mediterranean."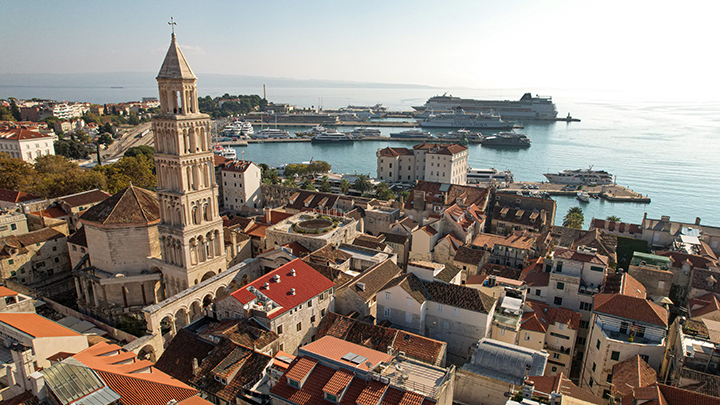 DAZZLING DALMATIA
Whether you want history, culture, beaches, biking, wine tasting or adventure sports, an individualized charter will make it all happen on Croatia's Dalmatian coast.
When it comes to Croatia, most people think of Dubrovnik. While the famous city at the country's southern tip is worth a stop, the centrally located city of Split to the north is a popular departure spot. It's only thirty minutes from the modern international airport to the almost two millennia-old walled city center and port. Stroll the palm-lined Riva promenade, sip Aperol and climb to the top of Roman emperor Diocletian's bell tower at sunset. The views of this Dalmatian jewel tucked between the city and sea are striking.
An hour's sail from Split is the island Brač, whose evergreen trees contrast vividly with the gleaming white port of Bol. A short walk away from its relaxed cafe scene you'll find Zlatni Rat, the Golden Cape. This famous pebble beach juts into the water, shifting with the tides. Next to the dock is the prestigious Stina winery, and trying a glass of their crisp, balanced pošip varietal is a must.
Across the strait, Hvar's hilltop fortress adds drama to the skyline of the port town known for a good party. Villages surrounded by lavender fields await those who go inland while crystal clear waters best reached by ship beckon beach lovers.
To the southeast, red roofs rise above Korčula's white walls, its Venetian-built streets fanning through the city like fishbones. Spend the day wandering through Marco Polo's birthplace and have a cocktail on top of a tower. Or head beyond the walls to Korčula's beaches, century-old olive orchards and vineyards.
Further west, Vis enjoys a reputation among Croatians as their "most authentic" island. A sailors' haven that was off-limits as a military base for forty years, Vis today uniquely blends its history with activity. Adventure tours offer diving among the remains of allied planes from World War II or swimming in the secret tunnels that hid submarines. Abandoned airfields have turned into vineyards for a more relaxed afternoon.
The magic of these private charters lies within the possibilities, and these popular spots are just the start. An expert charter company will gather your interests, needs and limits to create the perfect itinerary for you and your guests.


CHARTERING CROATIA'S 'SUPERYACHTS'
Captains in Croatia own their yachts, competitively upgrading ships over generations and, most recently, adapting luxury small-ship cruising to chartered yachts. In a region already more affordable than the Riviera, these large ships' innovative refits and fresh builds translate to the same standards of luxury with enough room to share the once-in-a-lifetime experience with family and friends.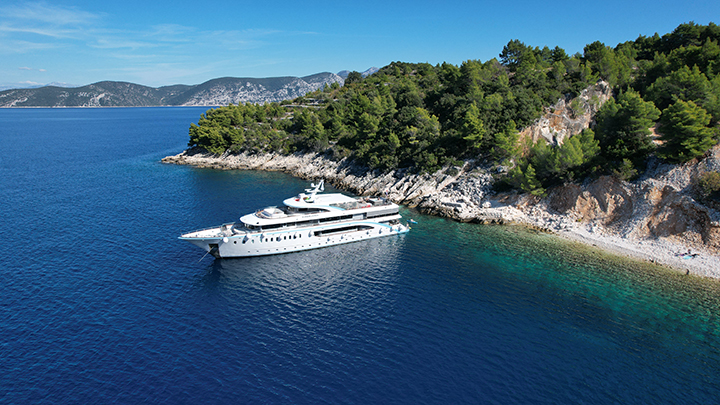 Mitja Mirtič, CEO and co-owner of Goolets, a charter service specializing in Croatia, attributes the region's success to generational family pride. "They put their heart and soul into this," he says. "They build these ships in front of their own homes. From the very beginning, they are invested in every detail of a guest's experience." And the word is out. Some yachts book out as far as two years in advance.
With the stellar service comes all-out opulence. Abundant cabin space often includes stand-alone tubs and walk-in closets. Fitness rooms, entertainment theaters, hot tubs, pools, and even playrooms for the kids keep everyone entertained at sea. Meals can be a casual alfresco feast or five courses with white-gloved service. Yet the real luxury comes from having your every desire accommodated.
"We don't wait for you to tell us what you want before we give it to you," Mitrič says. "We ask ourselves how we can give you the things you haven't even thought to ask for yet."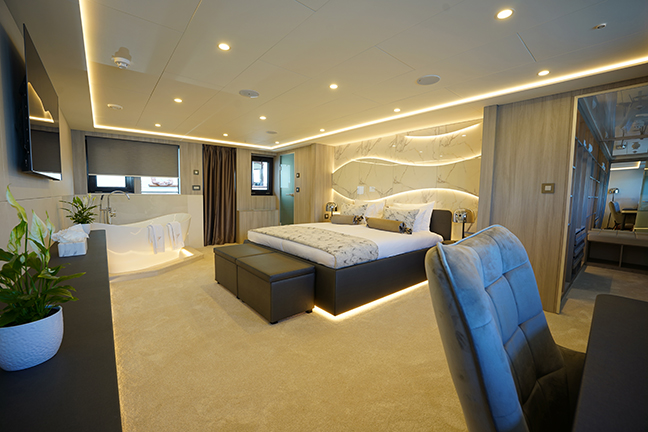 AQUAZEAL
720.316.6385
aquazealcharter.com
GOOLETS
646.381.2043
goolets.net