By Jessica Hughes
Photography Courtesy of Lehrer's Fireplace & Patio
Whether indoors or outdoors, A FIREPLACE warms you and your home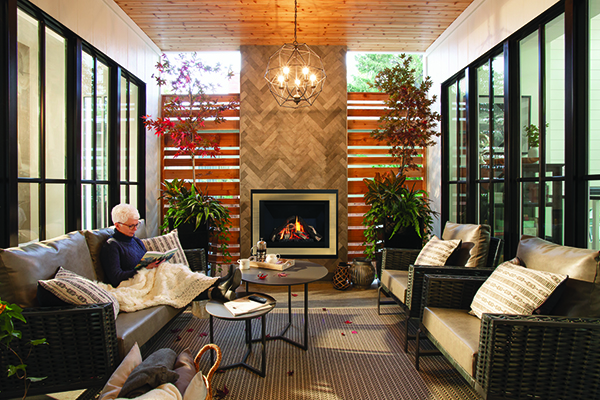 Just like art and furniture add to the aesthetic of a space, the right fireplace can also set the mood and create that perfect cozy corner in your home. "A fireplace adds luxury and ambiance to any room—indoors or out—and makes any gathering spot special," says Lesley Short, advertising and sales manager of Lehrer Fireplace & Patio.
A family-owned and operated business, Lehrer has been serving Front Range customers since 1954. "My grandfather started the company as a metal shop, and it has transformed over the years into a successful business of selling and installing fireplaces, grills, patio furniture and more," Short says. In authentic family business style, Short's grandfather sold to her uncles Keith and Ken Lehrer in the late '80s, and they still own the company today.
For Short, fireplaces do more than just heat a space; they are a place to gather with family and friends. "Nothing brings people together like a cozy, stylish fireplace," she says. A fire's soft, flickering glow creates a warm and cozy ambiance that is hard to replicate with other lighting sources. This inviting atmosphere can make a room more comfortable and welcoming—the same applies to an
outdoor space centered around a beautiful fireplace. It becomes a natural focal point, drawing attention and creating a sense of symmetry and balance. It can complement the home's overall design, whether it's traditional, modern, rustic or contemporary.
Fireplaces evoke a connection to nature and the elements, bringing a touch of the outdoors into the indoor environment. The dancing flames and crackling sound add an organic and soothing visual element to a home's interior, creating a sense of harmony and grounding.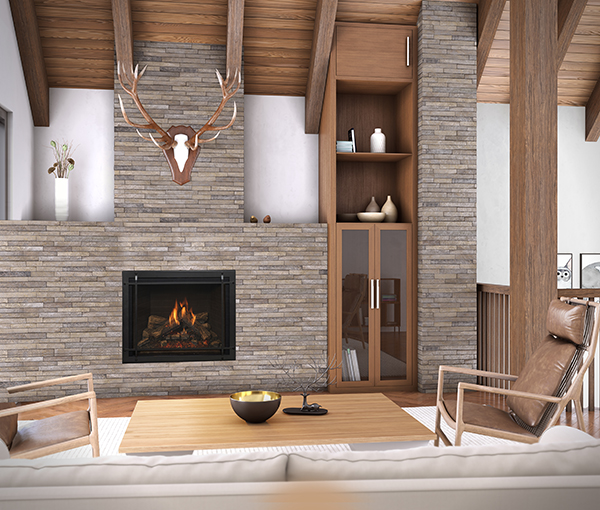 "While I'm not healing therapy patients full-time as originally planned, I like to think I'm bringing happiness into homes in an entirely different—yet still meaningful—way," he says. "When I deliver a piece and see the joy on customers' faces, it is deeply fulfilling for me. I consider it a lucky bonus that I'm able to support myself doing it."
In addition, a well-designed and functional fireplace can add to the resale value of your home. Many homebuyers consider them desirable features that can influence their decision-making process. When purchasing a fireplace, there are several things to consider, including whether you want it for heat or simply aesthetics. If it's for heat, you need to know the size of the space to be heated, the level of efficiency you desire and additional features you may want.
With two locations in Highlands Ranch and one in Arvada, Lehrer specializes in style and luxury, carrying high-end fireplaces in a variety of aesthetics. But if you are looking for something truly unique for your home, Lehrer can design and build the fireplace of your dreams.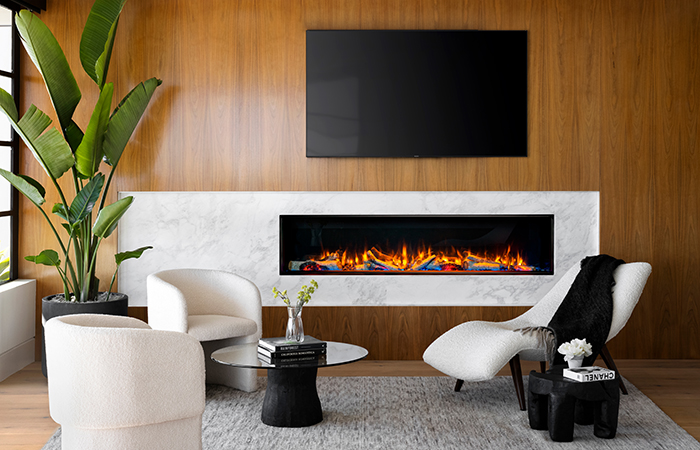 Lehrer Fireplace & Patio
5751 County Line Pl.
Highlands Ranch
303.795.2507
lehrerfireplacepatio.com