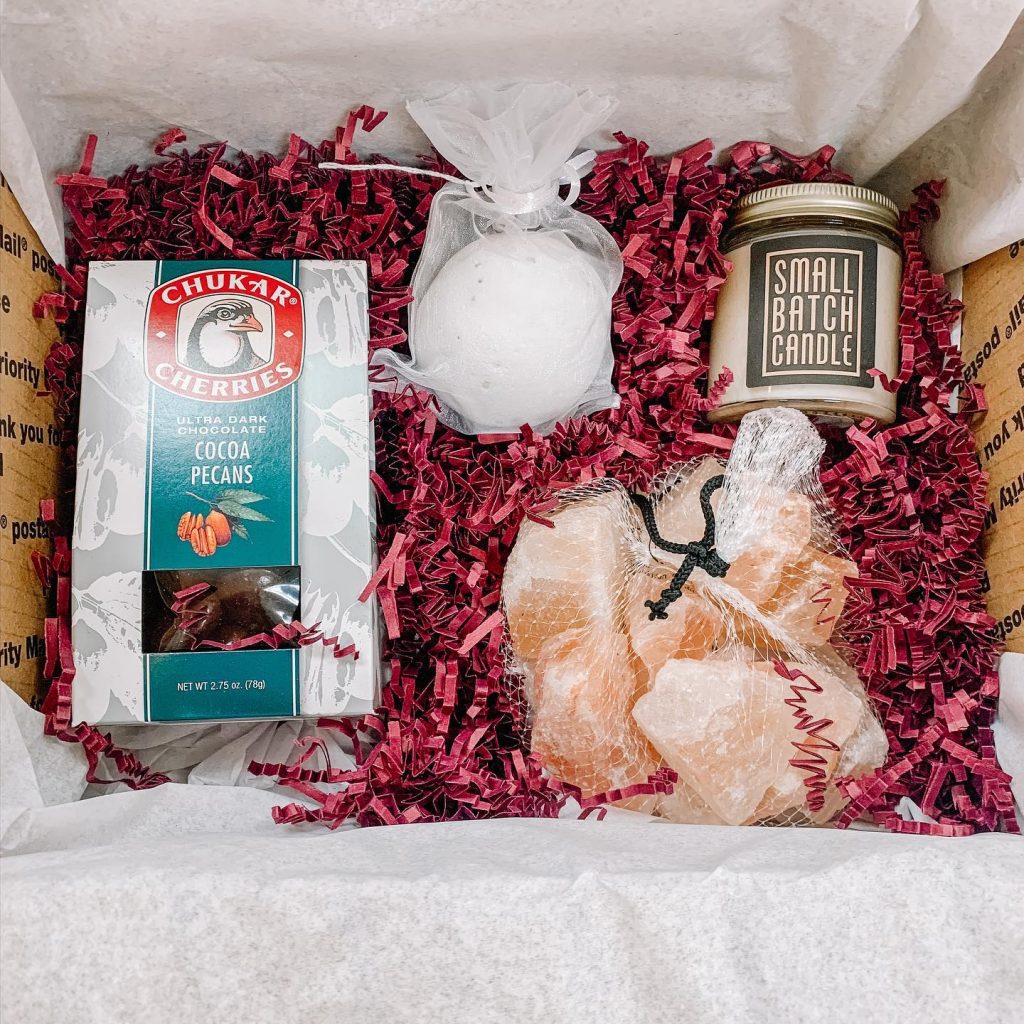 Like all businesses across the state, March brought a set of unanticipated challenges for Curate: A Local Mercantile, the Centennial-based market that sells a bevy of local artisan and boutique goods. When the store was closed on March 16—via the executive order from Colorado Gov. Jared Polis surrounding the coronavirus—the store's owner, Karli Millspaugh, quickly leapt into action to keep her business afloat.
"We have three brick-and-mortar stores: one in Park Meadows, one in Southwest Plaza mall and Curate Mercantile, a standalone shop located at University and County Line," Millspaugh says. (You know the two shopping-center stores, which Millspaugh acquired in January, as Maker's Markets.)
"When we had to shut down, I woke up and I just had this idea," she says.
Millspaugh wanted to try and sell 30 custom "care packages" out of her standalone shop, Curate Mercantile, using products from all three locations—gift boxes filled with a compilation of items from the stores' 150-plus local makers. Now, as of mid-May, Curate Mercantile has delivered more than 850 of these uplifting bundles. "I've been overwhelmed and so humbled by the response, but there's a part of me deep down that always knew our community and the people who supported small businesses would rally behind us if we started something like this," Millspaugh says.
The unique, do-what-you-can nature of the gift boxes certainly seemed to help build that support. The boutique offers four different care packages: a $20, $30, $60 and "name-your-price" box. (The $20 box ships for $8 and the $30 and $60 boxes ship for $12.) Once interested shoppers fill out an online order form, which includes a space to tell the boutique about the recipient, Millspaugh and her team of personal shoppers hand-select items from store shelves to create a completely unique care package per order—nothing is preselected.
The final products have been sent across the U.S., and have varied from heartfelt packages for those negatively impacted by the pandemic to lighthearted boons sent to bring a smile to someone's face.
Not only have the gifts brought in revenue for the business and kept Millspaugh's vendors restocking products, but it meant that she could bring some of her employees back to work: "It's putting people back to work, and it's putting money back into all these small businesses' pockets so we can all stay alive."
Prior to this unprecedented time, Curate Mercantile was like most small boutiques in that it only offered an in-store shopping experience. But buoyed by the success of these care packages and humbled by the challenge of adapting to COVID-19 circumstances, Millspaugh says the store will not only forever offer care packages, but they are working to launch an online sales site this month. "This has literally changed the trajectory of our stores and what we can be to our shoppers for the future," she says.
While Curate Mercantile reopened on May 9 with social distancing, sanitizing and mask protocols in place, the interior mall stores are still closed under state mandates.