From fantasy to reality, how Willis Wood and the creative team at RiNo Sign Works brought the immersive world of Meow Wolf Denver | Convergence Station to life.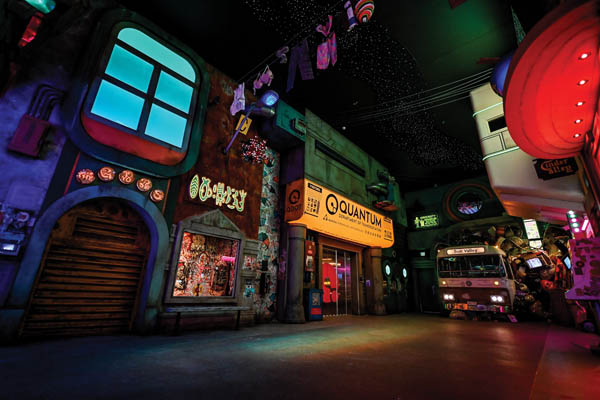 Since Meow Wolf first opened in Santa Fe, New Mexico, in 2016, it's been an art world sensation. Creating fully immersive universes by a collaboration of artists, they transport visitors into fantastical stories through interactive experiences.
When Willis Wood, co-owner of RiNo Sign Works in Lakewood, visited the Santa Fe location in 2017, little did he know he would soon be a part of a new endeavor. "I heard Meow Wolf wanted to do a Denver experience. I loved the Santa Fe one so much, I thought it would be a really cool opportunity to work with them. So I geeked out and sent them an email inviting them to visit our shop," he says enthusiastically.
His dream became a reality when Meow Wolf accepted his invitation and sent a team down, eventually leading to a design proposal.
Wood said Meow Wolf artists created designs for signage but didn't know how to turn artistic drawings into actual signs. It was up to Wood's team to make it real. His industrial-design staff looked at the renderings, which of course, were in Meow Wolf's adventurous style, and they were able to create a plan for how to build it, and what kind of lights and materials to use.
When they started the fabrication process, they encountered an unexpected challenge. "Traditionally, we use a polycarbonate fabric for our signs, but we learned Meow Wolf is considered an amusement park, so they had to adhere to rigorous fire ratings," says Wood. "We had to take the fabric and send it to a testing facility to get the Class A rating to get the city to give the OK."
Another surprise came when Meow Wolf wanted the signage to look aged and distressed because they were going in the fourth-floor C Street area. This is where the Meow Wolf experience starts and where visitors "crash land" into this other world. It's meant to look like seedy backstreets. "Usually, our clients want something shiny and new!" says Wood. "But Meow Wolf wanted them rusted and banged up."
He said his heart sank slightly when he saw their new signs "refinished" by the Meow Wolf team. "We delivered a very clean sign, then Meow Wolf dirtied it all up. On the one hand, we felt they're destroying our brand new signs!" he exclaims. "But at the same time, we knew that was what we were getting into."
RiNo Sign Works also did some problem solving when Meow Wolf initially requested a lot of neon signs. "Neon is great, but it's really fragile because it's made of glass, and it's really temperamental." So RiNo Sign Works proposed a faux-neon, push-through design instead. "We take a sign face and cut where the neon would go and push polycarbonate through with a translucent vinyl on the back to produce a color. It's great because it will never break or give them any trouble," says Wood.
Along with the C Street signage, RiNo Sign Works also made signs for the first floor, some of the small rooms and the Convergence Station entry sign—86 signs in total, which took about a year to create and install. Wood said it was the longest project they've ever been a part of, and there were definitely moments when they wondered how they would get it done. "We knew working with Meow Wolf would be cool and weird, but I had no idea the extreme they wanted to push it," he laughs.
Since Wood started the company with partner Brian Dudzinski in 2013, they've become known for signs that push the envelope, including the milk carton sign at Milk Market, The 3D jewel sign for Sarah O. Jewelry and the living wall sign for The Green Solution.
Wood said the Meow Wolf project solidified RiNo Sign Works' reputation as a cutting-edge design team that isn't afraid to go outside the box of the conventional sign world. "People can throw stuff
at us and nothing scares us anymore."
RiNo Sign Works
303.289.8547
rinosignworks.com
Meow Wolf Denver | Convergence Station