Photos by Chad Chisholm
Iconic blue-chip artworks adorn art collections the world over; the expositions where these compendium pieces are culled, however, are a little less well-known. Locally, fine art connoisseurs have made a keen habit of going to Lance Vigil for that insight. As Cherry Hills Village and Denver Tech Center residents already know, the art consultant's decades-long career in architecture and fine art makes him an expert in the field. Under his brand, Vigil Fine Arts, he also curates works for enthusiasts in Aspen and the greater Denver metro area, and manages the installation of pieces in global destinations as far away as Qatar's Hamad International Airport. 
In February, Vigil turned his calibrated fine-art eye to Frieze Los Angeles, a leading industry event centered around new-to-market, museum-ready pieces. At a time when past in-person art experiences have become even more treasured, we offer an insider's view of Vigil's time at Frieze L.A.
Editor's note: Chad Chisholm and Lance Vigil had a working relationship prior to this experience. Vigil sells Chisholm's fine-art photography through Vigil Fine Arts and Chisholm takes product photos for Vigil Fine Arts.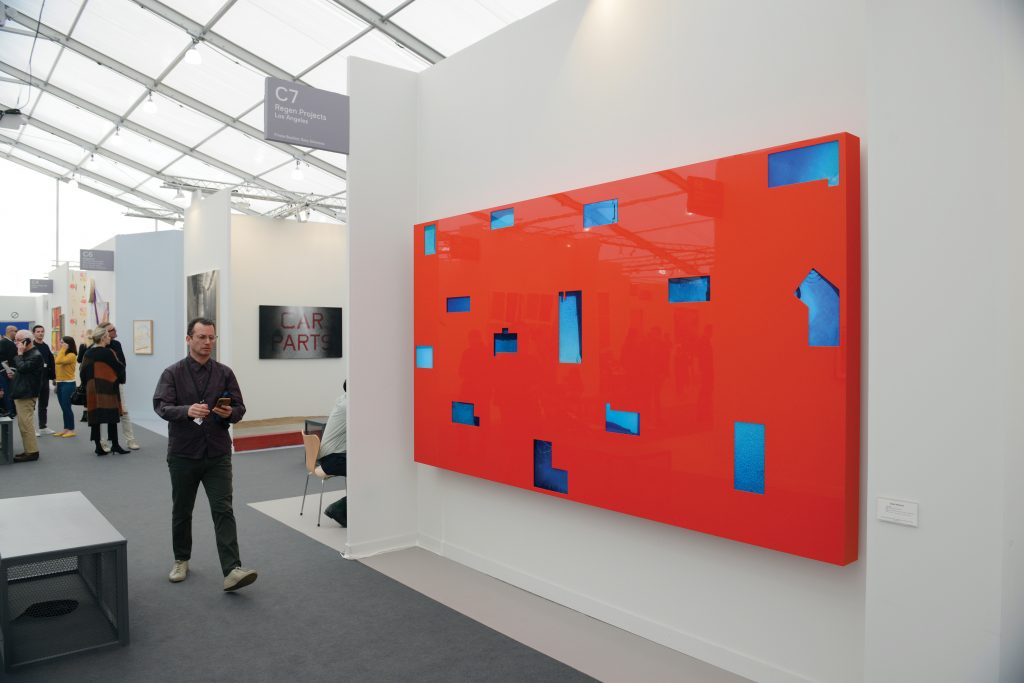 The Frieze brand is known as the world's leading platform for modern and contemporary art. The Los Angeles fair came to the city in 2019, but Frieze as a company was founded in 1991 with the launch of frieze magazine. In addition to growing to three publications—frieze, Frieze Masters Magazine and Frieze Week— it hosts four international art fairs: Frieze London, Frieze Masters (celebrating works from the ancient era to the late 20th century; also in London), Frieze New York and Frieze Los Angeles. The Los Angeles show takes place at Paramount Pictures Studios. "Although Frieze Los Angeles' main tent is smaller in square footage than the London or New York shows, the galleries represented were of the same caliber in art and artists," says Vigil, who has also visited the London and New York events.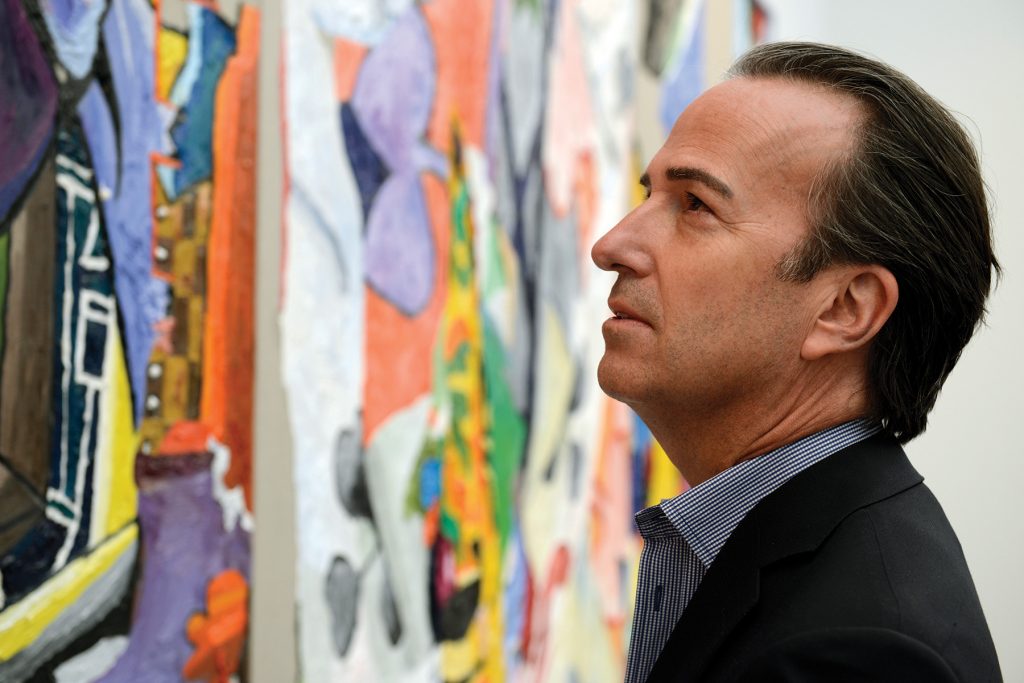 Vigil was introduced to fine art when he was "quite young. As a child, my father, Dr. Abel L. Vigil, took me to work with him when he was the art director/administrator for KRMA-TV Channel 6 from the mid-1960s to the mid-1970s," he remembers. "Concurrently, he was a prolific artist himself. His honors and awards are numerous: He had juried for many national art competitions, lectured at the Denver Art Museum and other institutions, and his works can be viewed on permanent display around Denver, such as the sculpture in Governor's Park and the ceramic murals in the lobby of St. Joseph's Hospital on 19th Avenue. From 1975 onwards, he was the supervisor of art administration for the entire Denver Public School system, retiring in the late 1990s."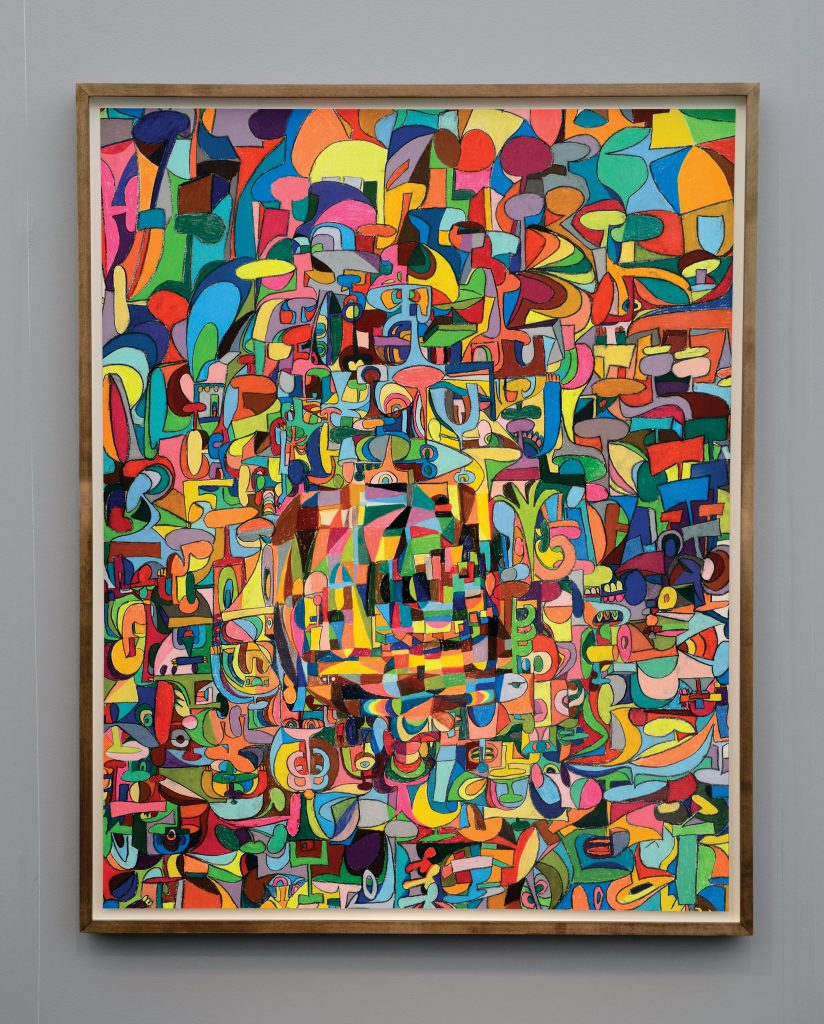 Some of the show's art will be purchased and displayed privately, which means it won't be seen publicly again, and some will be installed in museums, behind barriers or encased in acrylic. New York artist George Condo is credited with coining the term "artificial realism." His piece here, called Interconnection, is a realistic representation of that which is artificial. Works by Condo's contemporaries, the late Keith Haring and Jean-Michel Basquiat, that helped shape American pop art in the '80s, are also on display at the Frieze L.A. exhibit. Vigil included some of Haring's pieces in the Hamad International Airport premium lounges.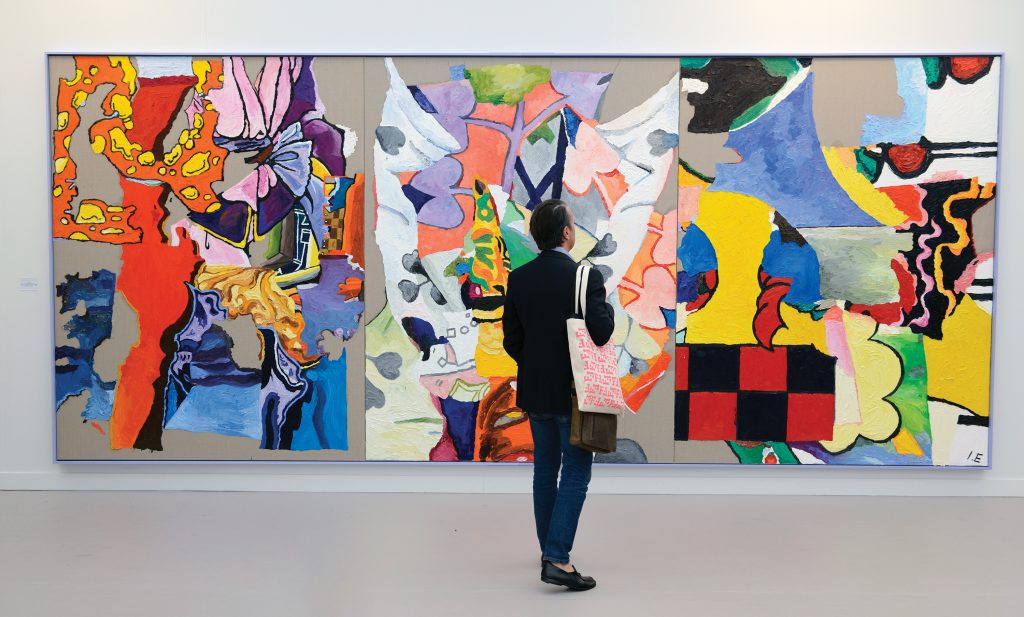 Here, Vigil admires Norwegian artist Ida Ekblad's A ball of Malt and Madame Butterfly, a painting that shows how varied and diverse the modern and contemporary art world can be.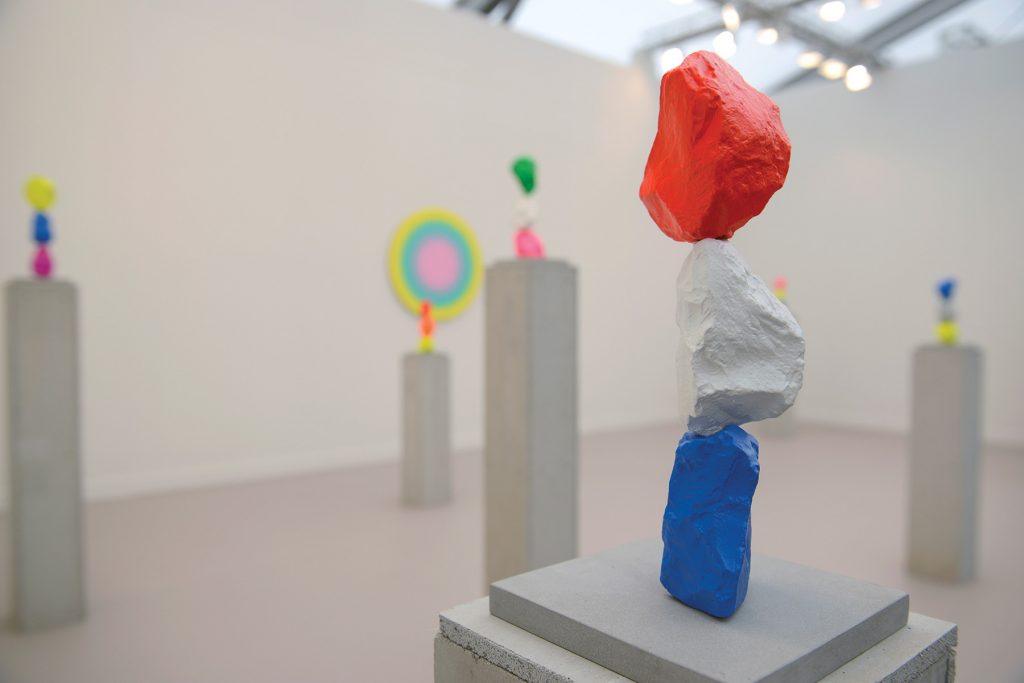 Oil and acrylic paintings, multimedia on canvas and sculptures create a smorgasbord for contemporary art enthusiasts. "Like a diarist, I record the living universe—this season, this day, this hour, this wind, this kind of grass … this kind of snow, this sound in the grass, this silence," Ugo Rondinone writes of this piece, Ten Mountains + One Sun.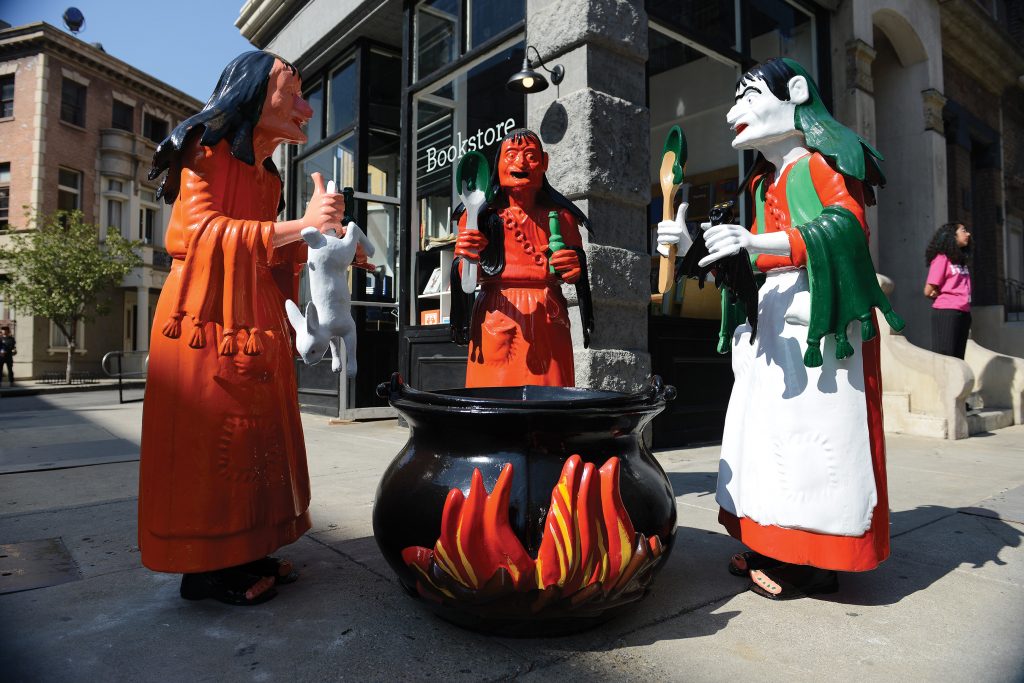 From Will Boone's bronze sculpture, The Three Fates (pictured), to movie screenings of short films with the Paramount water tower in the background, Frieze became part of the famed L.A. film studio. Work was installed on street corners and as neon signage affixed to walls, and pieces were constructed during the fair itself, only to be disassembled at the event's conclusion. "Los Angeles is just starting to define itself as a major player in the art world," Vigil says. "The backlot was a wonderful ancillary venue that was just as enticing as the main event. This is a really important fair to become familiar with in the art world."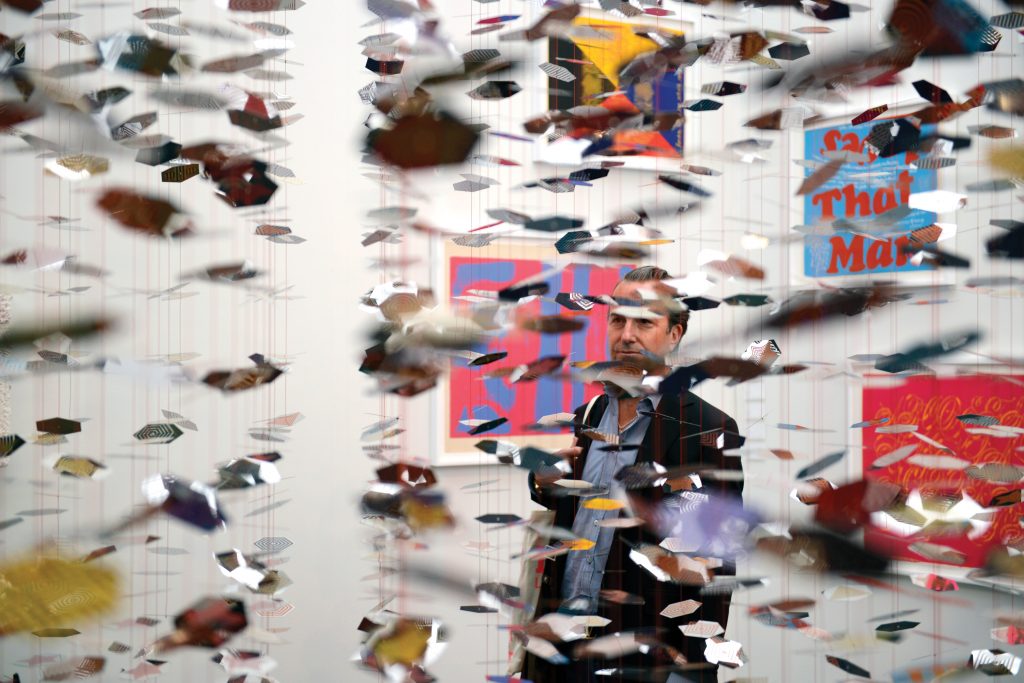 "Art fairs are incredibly exciting to me because they consolidate what is happening in the art world right now from the gallerist's perspective, as well as buyers, critics and aficionados, collectively," explains Vigil. Half Magic by Pae White was a favorite at the fair. The massive installation uses 2,743 silk-screened and electroplated steel discs and 163 threads that suspend the discs and create a large orb. "Art is so subjective," Vigil muses. "Some works speak to individuals, some to the masses and some to spaces."
GO TO THE PRO
Vigil Fine Arts
LoDo
720.341.7949