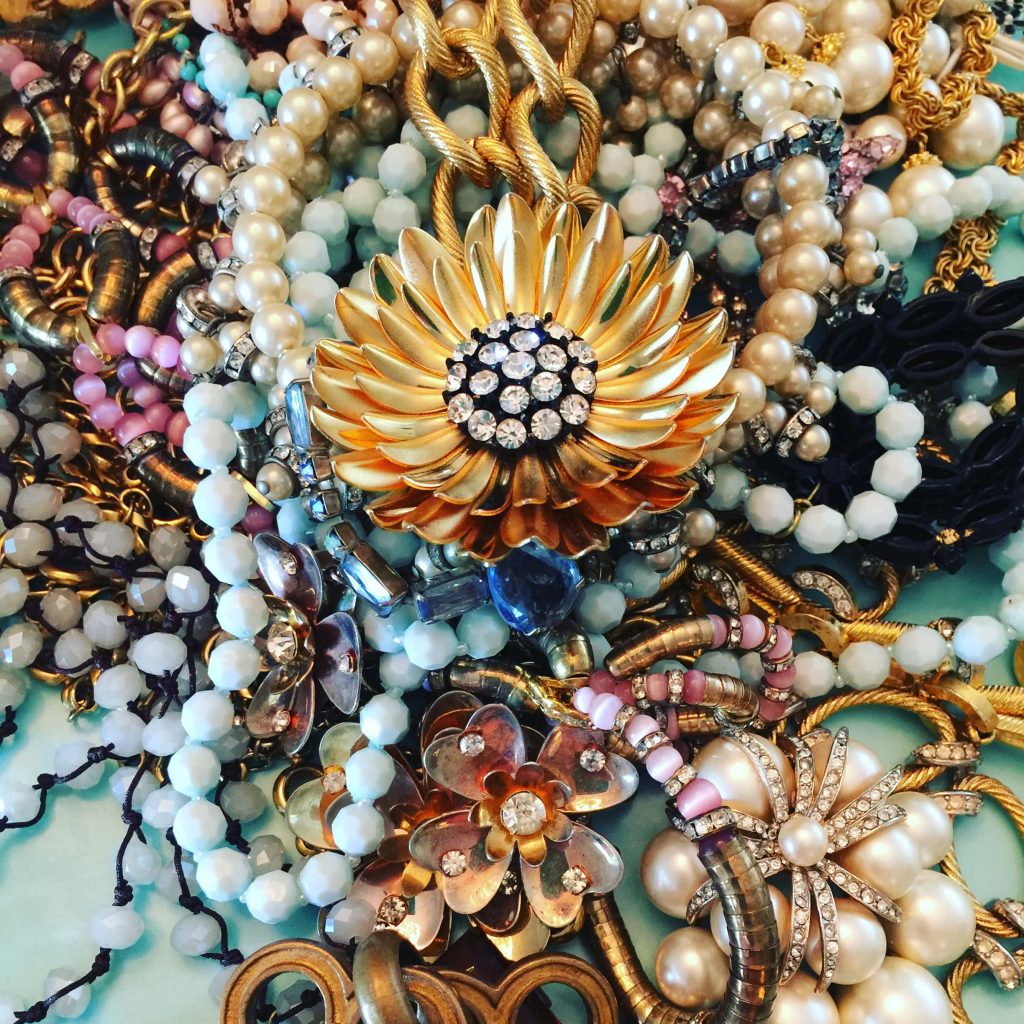 Twenty years ago, Coco Blaisdell Smith didn't have plans to be a jewelry designer. She had no dreams of seeing her name on Bergdorf Goodman shelves and certainly didn't imagine that anything she'd do would end up in the pages of Vogue or be worn by a leading actress in a Hollywood film. She was preparing, rather, for a career in the finance industry.
After studying at the Leeds School of Business at the University of Colorado Boulder with her twin sister, Taylor, Coco (whose full name is Courtney) moved to San Francisco to work in the world of money. But on her days off, Coco found herself returning to a childhood habit: Browsing antique shops and flea markets for vintage jewelry that she would then take home to refashion into striking new pieces.
Coco has felt the allure of colorful, sparkly jewelry all her life. Growing up, she and Taylor loved borrowing their great aunt Bettye's baubles. "She had fabulous jewelry," Coco recalls.
In San Francisco, people began noticing her and her sister's hobby, asking to buy jewelry they were wearing right off of their ears, necks and arms. That's when the twins knew they were on to something. They named their jewelry business Cocotay Jewelry, an amalgam of their childhood nicknames derived from "Courtney" and "Taylor," and Coco said goodbye to finance.
Since 2002, Coco has been growing the cult following behind Cocotay and crafting the brand's splashy earrings, cuff bracelets, necklaces and rings by hand. (In 2006, she bought out Taylor, whose passion really is finance.)
The brand began in San Francisco before mov- ing to New York City, but recently made an ex- citing transition. Cocotay's new headquarters: Cherry Hills Village. Scattered around Coco's home studio, where she can design and also care for her children, ages 5 and 2, are trays filled with colorful trinkets. Some are dedicated to specific clients whose needs Coco knows; others are works in progress for anyone who might shop her stock.
Never far from hand are needle-nosed pliers and a stash of wire rings used to join stones and other details together. "I often have to put things down and walk away. I can't rush the process," says the effervescent blonde, who continually tries on and removes various pieces of jewelry as she works.
One could call each piece she finishes a work of art—Coco only uses each design once, making everything truly one-of-a-kind.
Cocotay jewelry is edgy, but always chic—Coco combines vintage elements, like a round bead- ed clip earring from the 1950s, with something fresh or unexpected, such as a silk tassel, colorful acrylic hoop or a crystal. The design- er credits her sense of style to her mother, an impeccable dresser "who is the type of woman who wears white on an airplane." From her dad, who ran the family's lumber business in New Jersey, she learned to work with her hands.
Watch for what's available at Cocotay on Instagram, which has become a major market- place for the company. And rest assured that anything you see comes from a true place of inspiration. "I learned very early on that I couldn't let other designers influence me," Coco says. "I will always stay true to my own design aesthetic."
HOW TO WEAR STATEMENT JEWELRY
Or how to get the Cocotay look.
Keep the clothes simple and let your jewelry be the center of attention. Add drama to your favorite black dress, for example, with a bold necklace, earrings or cuff bracelet.
A great look for summer: Wear all white and accessorize with colorful vintage bangles and earrings.
Not all vintage pieces need to be redesigned to look great; just take the original in a different style direction. An example: Top jeans and a T-shirt with your grandmother's pearls.
Women used to wear sets of matching brooches, earrings and rings. Today, it's more fun to mix it up. Try mismatched earrings if you're really daring.
Pile on a stack of bracelets. "I like to wear three or five at a time," Coco says.
Finally, the designer says, "I always keep a pair of vintage clip-on earrings in my car. If I want to meet someone for a glass of wine, I always have a spare pair to throw on!"
LET'S GO SHOPPING
Cocotay Jewelry
Instagram: @cocotayjewelry