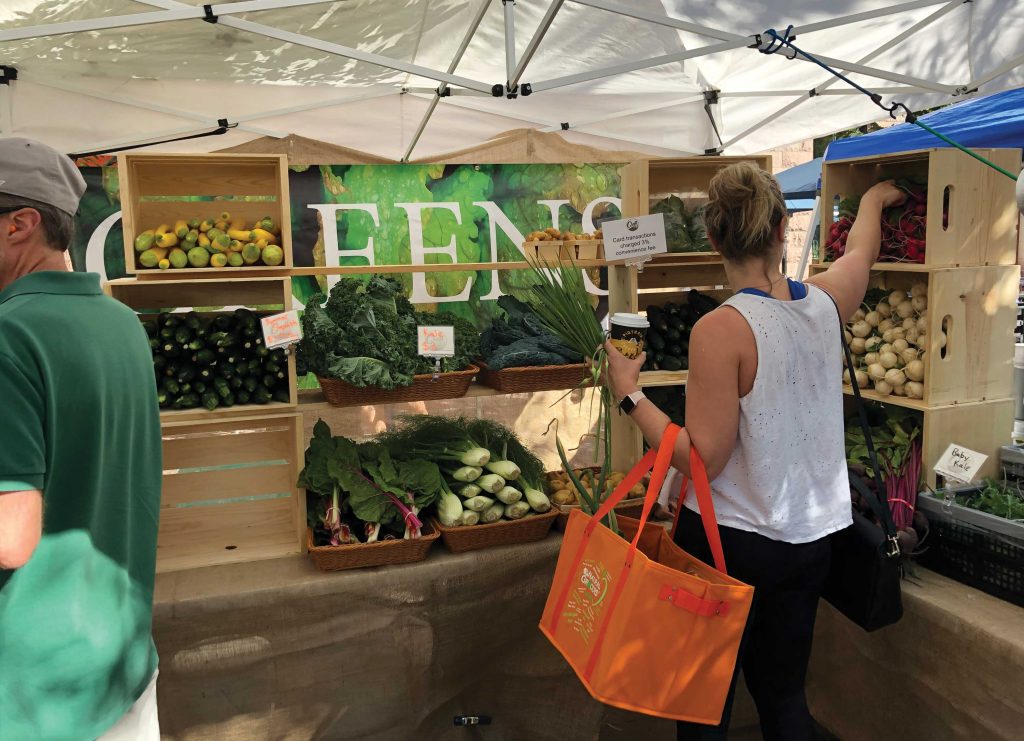 I've died and gone to farm-to-table heaven. That's the thought running through my mind, at least, as I sit at the chef's counter at Citizen Rail inside downtown Denver's Kimpton Hotel Born overlooking the restaurant's open kitchen—regularly reserved seats, but today, set aside just for our hoard.
My husband and I and the others in our group are about to be served another portion of our multi-course lunch and are intently watching Executive Chef Christian Graves create our plates.
We have more stock in the dishes than usual. That morning, the four of us shopped with Graves at the Union Station Farmer's Market and decided together on the ingredients (and resulting dishes) that would make the meal. It's all part of Hotel Born's "Shopping with Chef" package, a stay available for the first weekend of every month through October. The details: Stay the night at the hotel on Friday; meet Graves on Saturday morning, shop and then see him transform those ingredients into lunch.
There's more to be enjoyed in this temporary paradise.
Courtesy Citizen Rail

Courtesy Citizen Rail

Photo by Cris Molina
REDISCOVER DOWNTOWN DENVER
Hotel Born is a stone's throw away from Union Station, making it really easy to explore what's new in the city on Friday night.
LAZE IN A DEEP SOAKING TUB
The Corner King Spa and the Alpine Corner King Spa guest rooms both have roomy and welcoming deep soaking tubs.
HONE YOUR FARMER'S MARKET STRATEGY
Graves will take all questions while shopping, from the best way to browse a market (look at everything, noting produce you are most excited about, and then go back and buy) to how to pick top products (don't overlook the "not so pretty" tomatoes, for instance) to what veggies should be refrigerated (not tomatoes).
THE FOOD, CLEARLY
We dined on a veggie "charcuterie board"; salad with fresh ricotta; halibut with an heirloom tomato salad; and pound cake with fresh and grilled strawberries. Two dishes were paired with cocktails; two with wine.
GRAVES' CHEF TRICKS
As he cooked, Graves shared tips, like how to create a complex vinaigrette using only one citrus fruit: Mix zest with a small amount of sugar and a dash of salt. Then, suprême your citrus (cut between the rinds to get only fruit segments), chop (leaving some small citrus chunks), combine with zest and sugar, add oil and serve.
PLAN YOUR STAY
Kimpton Hotel Born
Denver
Hotel: 303.323.0024
Reservations: 800.368.2544