Cherry Creek North is Denver's top holiday season destination!
Photography Courtesy of Cherry Creek North

Make WINTER WONDERLAND your new holiday tradition!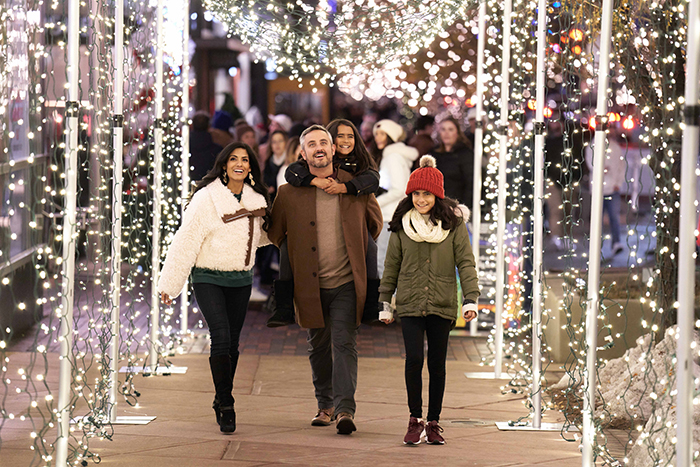 Cherry Creek North, Denver's most vibrant and walkable neighborhood, kicks-off its Winter Wanderland experience on Thursday, November 16th for the 2023 holiday season. The season kicks off at 6pm with the Million Light Plug-in event that illuminates the entire 16 block area and the opening of the Holiday Market on Fillmore Plaza, complete with the first ever Cherry Creek North pop-up holiday bar—the Mistletoe Lounge. Also new this year is a partnership with Giving Machines—vending machines that raise money for five local charities and two international charities. Returning favorites include Small Business Weekend and Saturday Night Lights. Each of these holiday celebrations aim to support the local community and bring the holiday spirit to life in Cherry Creek North.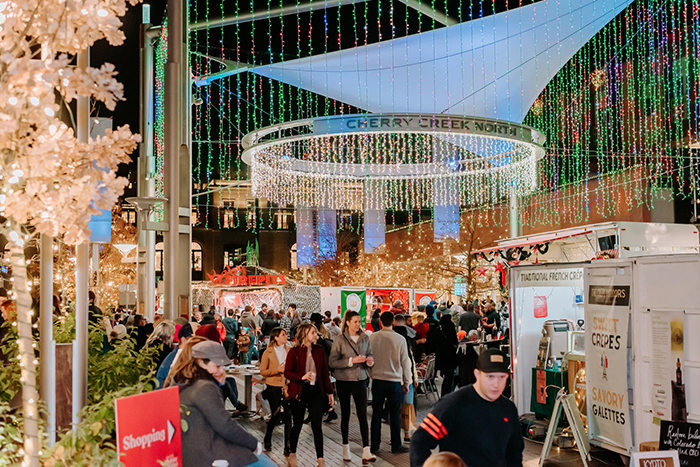 With more than 300 merchants, Cherry Creek North also holds the largest collection of independent retailers in the greater Denver area—making it a one-stop destination for a full and festive holiday experience that embraces the spirit of the season. Whether it's supporting local boutiques or vendors at the holiday market, donating at the Giving Machines or strolling the beautifully lit up streets, Cherry Creek North a special place all season.
THURSDAY, NOVEMBER 16 – SUNDAY, DECEMBER 24 | Open daily
The fourth annual Cherry Creek Holiday Market is open for 36 days of holiday shopping, entertainment and festive cheer between November 16 and December 24. Featuring more than 40 vendors and a wide array of gift options from area artisans and local brands, the market is Denver's premier holiday shopping experience. New this year, the Mistletoe Lounge offers market goers a highly decorated and cozy community gathering space with a full bar, live music from local acts, and interactive holiday crafts and activities.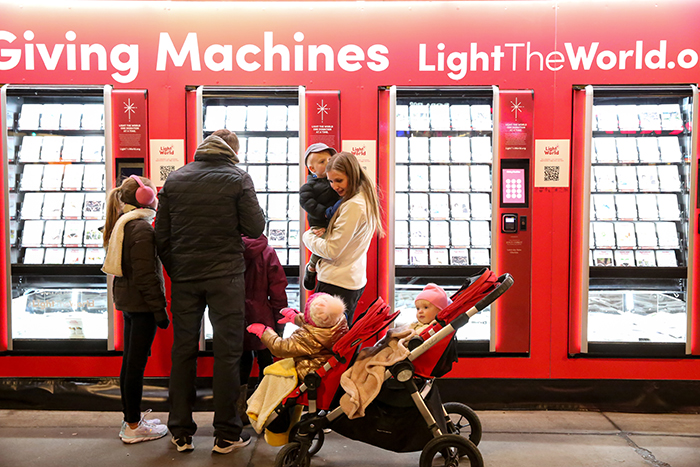 THURSDAY, NOVEMBER 16 – SUNDAY, DECEMBER 24 | Open 24/7
New to Winter Wanderland this season, Giving Machines add to the holiday feeling by giving visitors a chance to give to others. These specialized vending machines make helping someone as simple as buying a snack or drink. 100% of donations go directly to the charities. To date, Giving Machines have raised $22 million worldwide.
SATURDAY DECEMBER 2, 10, & 16 | 5:00pm-7:00pm
Cherry Creek North comes alive with the sights and sounds of the season. Enjoy a cup of complimentary hot chocolate and tasty treats while wandering beneath 600 illuminated trees throughout Cherry Creek North. Stilt walkers, LED ballerinas, and performers add to the festive atmosphere. Dance on a light-up dance floor to a live DJ's set, stroll through a tunnel of lights, and pose for a free photo booth keepsake — creating new memories for the whole family.
FRIDAY, NOVEMBER 24 — SUNDAY NOVEMBER 26
This three-day Small Business Weekend celebration includes deals from participating businesses. Support local Colorado businesses!
About Cherry Creek North 
A vibrant Denver neighborhood located at 1stAve. and University Blvd., Cherry Creek North is a walkable open-air shopping and lifestyle district. Located minutes from downtown, Cherry Creek North is home to boutique hotels, more than 55 restaurants, home furnishing stores and galleries, clothing and accessory retailers, as well as numerous wellness spas, salons, gyms and specialized personal health services. For more, visit cherrycreeknorth.com, or follow on Instagram or Facebook.
Experience the joy of the season with Winter Wanderland, a collection of free outdoor events for all. A must-see holiday destination featuring a million twinkling lights, illuminating the entire neighborhood!