Surrounding yourself with art brings a new perspective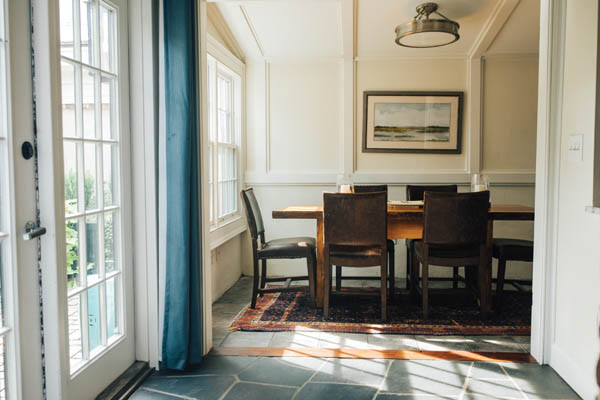 Artwork evokes emotion. It can bring joy, make us cry, conjure a memory. Surrounding yourself with it is a form of well-being and brings a variety of benefits into your life and the lives of others. "Art has the power to inspire, challenge and enrich our lives," says Krista Lauer, curatorial associate and Octopus Initiative (an art-lending program) administrator at MCA Denver. "It can transcend pure aesthetics and connect to something deep within ourselves."
Here are some ways art can bring a new perspective to your home and your life.
Demonstrate Personality
When you choose art that speaks to you—even if you can't describe why—it likely reflects something about your personality. "Think about how you respond to color or form, think about the emotion you feel when experiencing nature," says Laura Phelps Rogers, artist, curator and creative director at fooLPRoof Contemporary Art in Denver's RINO district. Buy what speaks to you, what you love. There will always be a place for it.
Conversation Starters
Lauer encourages residents to create a connection with local artists whose work they like by approaching them at a showing to ask about the work and gain a deeper understanding of it. "If an in-person meeting sounds a bit overwhelming, I suggest you start by following them on social media. Many artists share insights on their feed, and you will begin to feel like you know them on a deeper level, which will lead to a deeper connection between you and the artist," she says. Once you have a better understanding of the art or know more about the artist, you can share the stories with your guests who see the artwork.
Boost Your Outlook
Even work that someone might consider dark or heavy, has the power to move someone else in a positive way. It's all about how the piece makes you feel. Choose what lifts you up. "Showcasing extensions of our potential, connecting to things we love and that interest us are critical components of well-being," says Phelps Rogers. "Collecting should include imagery, color, textures and sounds that refresh us, inspire us, empower and push us."
Support Your Local Arts Community
Whether you learn about local artists through the Octopus Initiative or by diving in at a local gallery, when you choose works created by local artists, you not only support that artist, but you support your local art community. These perspectives were the impetus for forming the Octopus Initiative, an MCA program that allows Denver residents the ability to borrow a work of art to hang in their homes for up to 10 months, free of charge.
Making Your First Significant Purchase
But what if you're not sure how to add artwork to your home—what looks good together, is appropriately sized, and suits your taste and home decor? There are two easy ways to approach this: Sample artwork to discover what you love or seek the help of a professional curator. This works for adding just one piece to your home or creating an entire collection.
"I like to think that the act of placing a work of art in someone's home for an extended period of time allows them to explore its meaning and impact in a way different from experiencing a work displayed in a museum or gallery," Lauer says. The key is to live with artwork you love.
Phelps Rogers says, "Building a collection or working with a gallerist or curator to create a meaningful environment you are truly connected to can elevate your lifestyle and well-being."
Octopus Initiative MCA Denver
fooLPRoof Contemporary Art