Jing is a lesson in contrasts, and these balanced contrasts create a dining experience you'll not soon forget. There is the light and the dark, the relaxed and refined, the yin and the yang. When Charlie Huang, a dishwasher in the Big Apple, moved to Colorado in the early '90s, he had a clear vision for a group of restaurants, including the Jing trio (Aspen, Las Vegas and Denver) and Little Ollie's and OBar. With partners Michael Ditchfield and Lawrence Yee, Jing Denver has been riding the wave of success for 15 years. "The vision that we have is to continue to grow in a very saturated market of restaurants," Ditchfield says. "But put in quality enterprise with good service, good food and good management—that doesn't get old."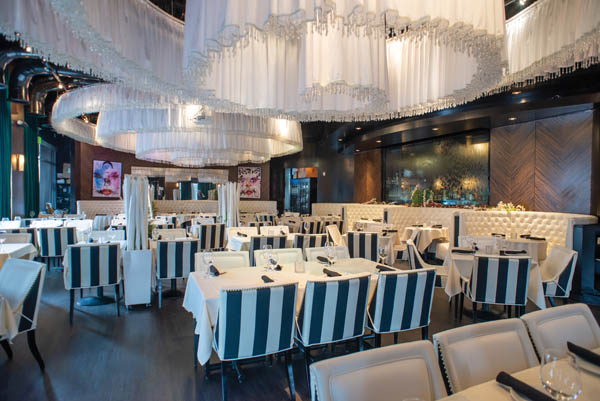 A-List Atmosphere
From the moment you walk in the door, you know you're in for a unique experience. Architect Ann Motokane of Emiko Design and Heather Hassen, who was with Leopold Design when she worked on this project, led the design team, and Denver-based Jordy Construction built the space. The dark and relaxed area here is the lounge, where you can choose from all the same food and drinks, but you experience it in a warm, casual space where you can enjoy happy hour specials in a swanky lounge atmosphere. The area glows with low ambient lighting. A high-back, emerald green upholstered bench lines one wall. In front of it, round tables also have comfortable barrel-style chairs with dark upholstery and nailhead detailing. At the same time, the center of the room features long family-style tables with leopard-print bar chairs.
"And many people who want that energy of a happy hour, they enjoy the lounge, and we have one of the best happy hours," says Jing partner Michael Ditchfield. "The dark leather and the lighting are very conclusive to that lounge bar feeling, while the energy on the other side is the white booths, the lighter flow, the ceiling, it's geared to a more polished dining than a lot of other restaurants."
The dining room side features crisp white linens, white half-round booths and white leather upholstered chairs with rich emerald stripes to create a connection between the two seating area options. Huang's vision for the restaurant included fire, water and earth as represented by the fireplaces, throughout the lounge area the waterfall wall dividing the dining area and lounge and the lighted, white bamboo shoots.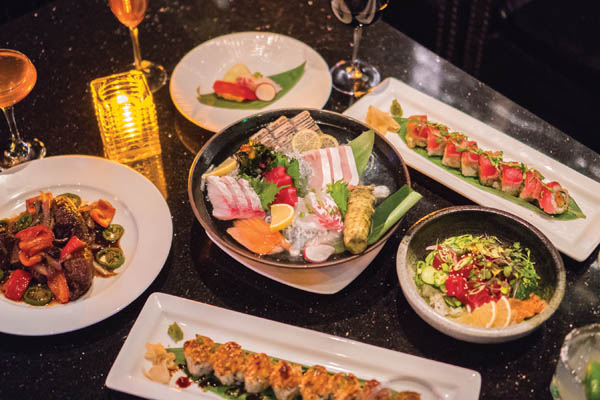 Divinely Different Menu
Both sides of the restaurant are polished, and they cater to the same clientele," says Ditchfield. "Sometimes they prefer the lounge area, while other times, they'll come in for a sit-down dinner in a beautiful environment." The menu is the same on both sides, but you can enjoy happy hour in the lounge and on the patio.
The top menu items in the dining room include the Peking duck, which Ditchfield says is the finest around, followed closely by the sea bass. In the lounge area, Kobe sliders take top billing. He attributes the top-notch sushi to the chef's collaboration between Denver the Las Vegas Jing. In addition to fantastic food, Jing offers extensive wine and sake lists and creative craft cocktails. "It's a menu for everybody, Ditchfield says. "And Jing's slogan, 'where taste meets elegance,' describes taste in both in the food and the decor."
JING, Greenwood Village
303.779.6888; jingrestaurant.com