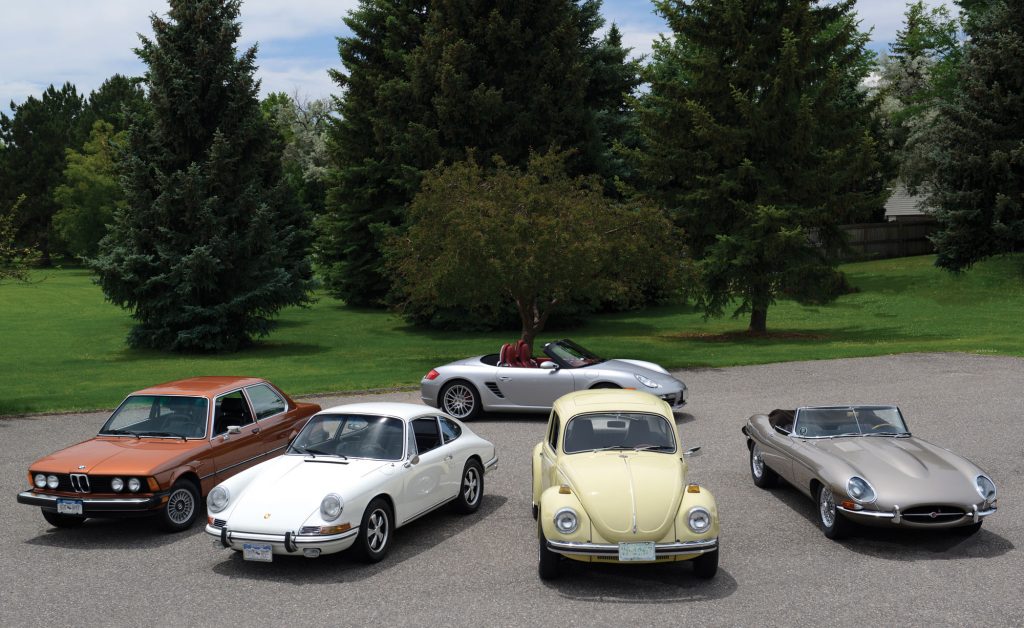 On a recent Sunday morning, Bob Ottewill's 1967 Jaguar E-Type convertible (above, right) sits with an air of regality on the lawn of Arapahoe Community College. Its gorgeous, resplendent exterior hue, called Champagne, glows in the sunlight.
"Goldie"—the Jag's nickname—draws a swarm of admirers.
On the dashboard is a coveted red ribbon. Goldie has just won second place in the Colorado Concours d'Elegance and Exotic Sports Car Show. "I never thought I'd place, much less win a ribbon," muses Ottewill, who spent more than 200 hours readying the car for the competition and later joked that he really should have won first place (a designation that went to a black Porsche).
A native of Kansas City, Kan. who now calls the south metro area home, Ottewill prefers the term "accumulator" to car collector. And while some car hoarders go big, Ottewill favors quality over quantity, capping his collection at a mere five cars. "Even if I had more money to spend, I'd probably limit the collection to five. I want to drive each one regularly, and since I do all the detail work on each car and some maintenance, time becomes a factor," he explains. Still, to anyone with a modicum of knowledge about automotive history, Ottewill's stock stands out.
His light ivory 1967 Porsche 911 coupe (below), gifted to him by his late father and restored to original specifications 30 years ago, won a blue ribbon in 2002 and again in 2017 at the Colorado Concours car show. Ottewill's 1978 BMW 320i coupe, its topaz exterior and black interior a sumptuous color combination, strutted away with a "Best of Show" award at the 2018 Concours showcase.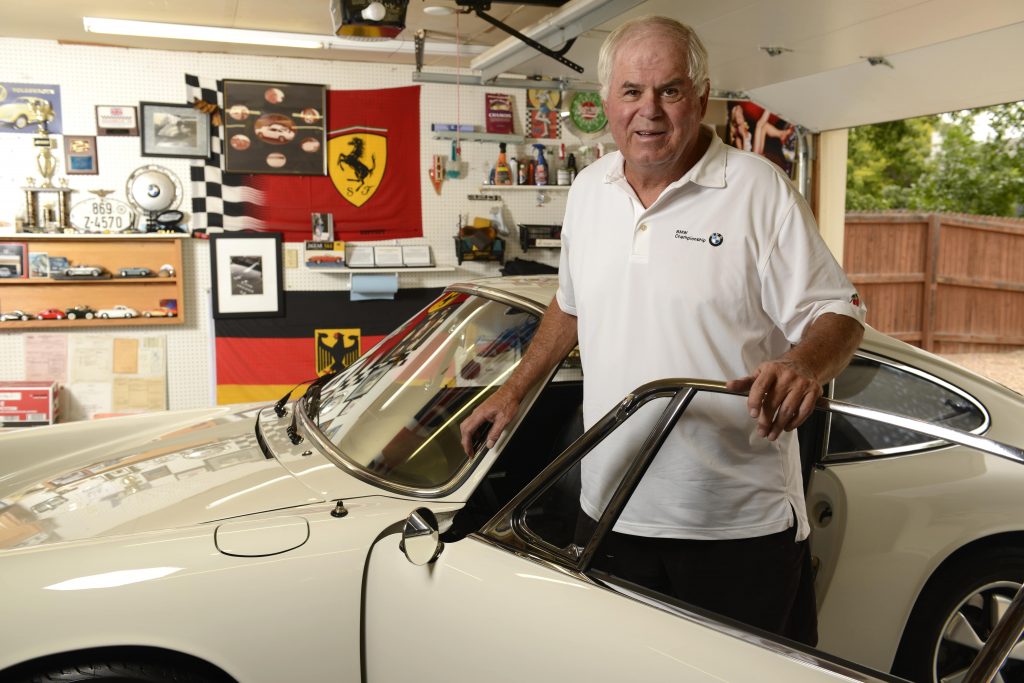 His 2008 silver and boudoir-red Porsche Limited Edition Boxster RS 60 Spyder—the only car in Ottewill's caboodle with electric windows and air conditioning—would stop the paparazzi in its tracks. It was also decorated with a red ribbon at the 2018 Colorado Concours show.
The last of his throng is a pristinely restored lemon-yellow and black 1971 Volkswagen Beetle, affectionately known as "The Machine." With more than 230,000 miles on its odometer, it holds a special distinction: Ottewill's son, Doug, and daughter, Marianne, both learned to drive behind its wheel.
Doug, who also has an affinity for cars, will eventually acquire his father's bundle. "He'll sell what he isn't interested in keeping, splitting the money with his sister," says Ottewill.
A former junior high school English teacher and columnist for Mile High Sports magazine, Ottewill admits that he wasn't particularly mechanical as a kid. "I was more interested in sports than cars," he says, crediting his late father for his automobile obsession. "My dad was an airline mechanic with an affinity for Porsches, so much so that he bought a new one every year."
But under his dad's watch, Ottewill wasn't allowed to drive them. So, he did what most teenagers do when the adults take a leave of absence: take the Porsches out for a spin. "Finally getting to drive and appreciate those Porsches was the major impetus for my interest in automobiles," says Ottewill, noting that with the exception of his father's 911 coupe, his other rides are "just cars I liked, could afford and would enjoy driving."
Is he interested in selling any of them? No. "I love them all," stresses Ottewill, who estimates that his collection is worth somewhere in the ball- park of $330,000. All of his cars are kept under lock-and-key in his home garages. "I'm not a good mechanic, but I tinker with them all the time— even in the winter—and I drive them year-round; nothing good happens when they just sit there gathering dust."
IN THE MARKET TO PURCHASE A CLASSIC, VINTAGE OR RARE VEHICLE?
Here's where Ottewill finds his.
"One of the best places to view what's available is in Keith Martin's Sports Car Market, a great monthly magazine that tells you about auctions all over the world," says Ottewill. The magazine, which labels itself "The Insider's Guide to Collecting, Investing, Values and Trends," profiles cars in several different categories, including "Affordable Classics" and "English." There are also classified ads and car-related columns.
Attend local car shows, including the Colorado Concours d'Elegance and Exotic Sports Car Show, to scope out your dream ride, ask questions and compare models.
Contact—and become a member of—local car clubs, which include Jaguar, Porsche and BMW. "There are a lot of benefits to joining a car club," says Ottewill, most notably connecting with people who have technical expertise.