By Paula M. Bodah
Design pros show how to keep your most functional spaces beautifully organized.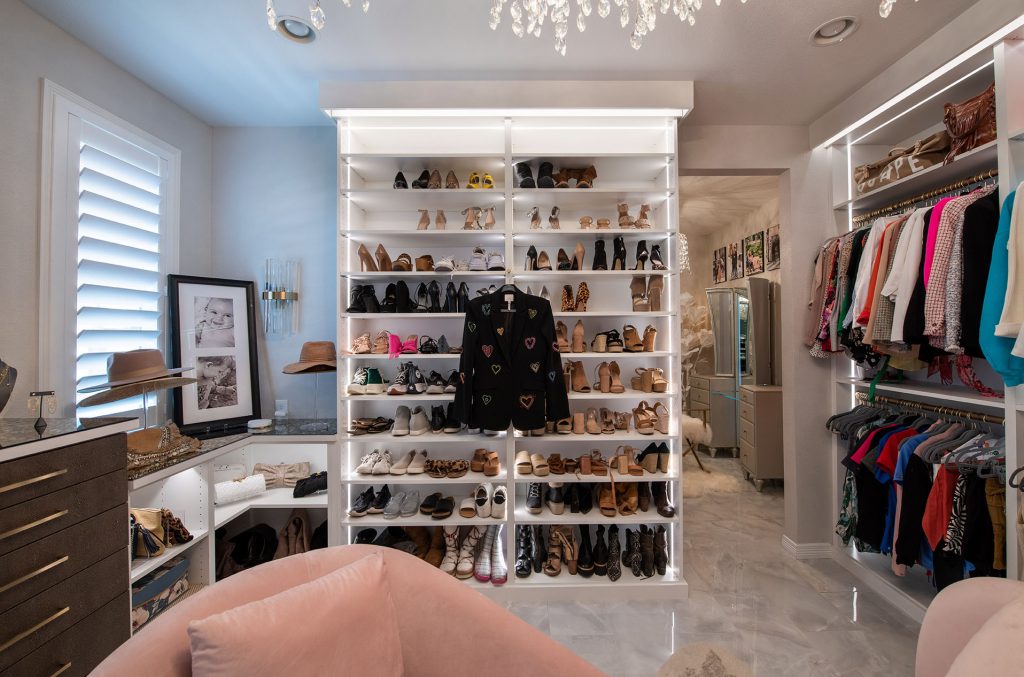 SOME SPACES ARE THE WORKHORSES of the home, rooms where function is all-important. But beauty hardly needs to take a backseat in the mudroom or laundry room, pantry or home office. Even a closet can be attractive as well as organized. We turned to the experts for advice on creating spaces with a perfect mix of utility and good looks. 

WARDROBE CHANGE 
Whether you have a spacious dressing room or a single closet, a custom-designed storage system can go a long way in keeping you and your clothing organized, says Doug Lestikow, vice president of the Denver-area Closet Factory. No matter the size of a space, it all comes down to maximizing what you have. "The number one rule is that simple is a good starting point," he says. "We take a good inventory of what people have and how they use it, then design a system that works for them."

CHAOS CONTROL TIP 
Start with making space for hanging clothes, then incorporate shelves, cubbyholes or drawers for folded items. To find pieces easily, divide your space into sections and keep similar items together. 


-The wood-grained melamine in this handsome closet in a Denver-area condo is good-looking and durable. Because storage space can be hard to come by in a condo, Lestikow included closed cabinets above the open shelves and closets.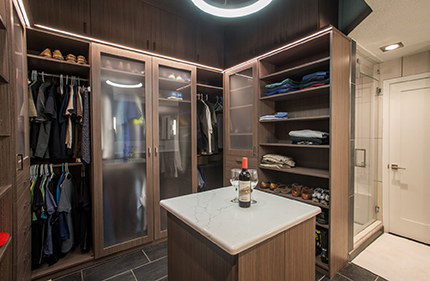 -A dual closet mixes open storage for quick access with closed storage for protecting less frequently used clothes. One side also has an open cabinet that holds eight shelves of shoes. The island at the center has drawers on each side for folded clothes.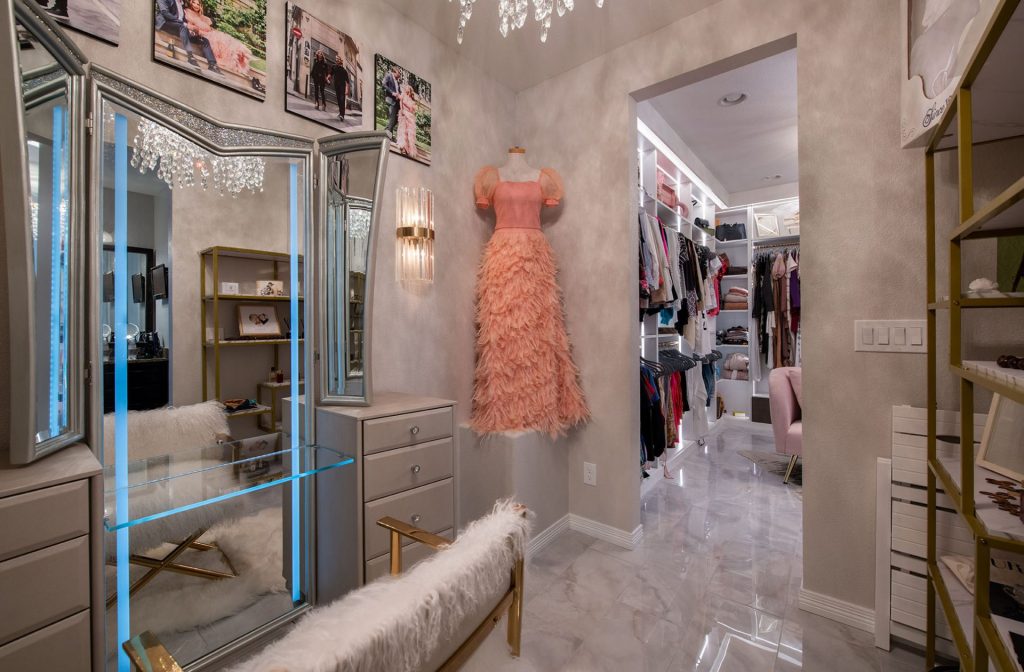 PROJECT DETAILS DESIGN: Closet Factory 303.690.6901, closetfactory.com
_________________________________________________________________________________________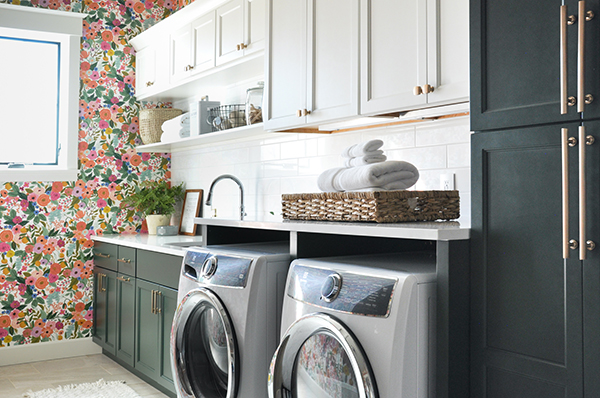 -There's no such thing as too much cabinet space. Here, the larger cabinets hold extra bed linens and towels.
-Under-counter bins make it easy to sort darks, lights and colors before washing.

EVERYTHING IN ITS PLACE
To help a busy family of four (plus a dog) stay organized, designer Jackie Newell of Basil + Tate focused on efficiency in the mudroom and laundry room. In the former, everyone has an open nook and cubbies for coats and other accoutrements. "Doors would just have been another obstacle for the mom in getting her kids to hang their stuff up," Newell says. In the latter, Newell tucked the washer and dryer under the countertop, perfect for folding clothes. Under-counter hampers make presorting the laundry easy.
CHAOS CONTROL TIP
Incorporate both closed and open storage options, counsels Newell. "Bins and baskets are lifesavers," she says. A sink in the laundry room is a must, too, if space allows. "It comes in handy for stain removal as well as for clean up after art projects," Newell says.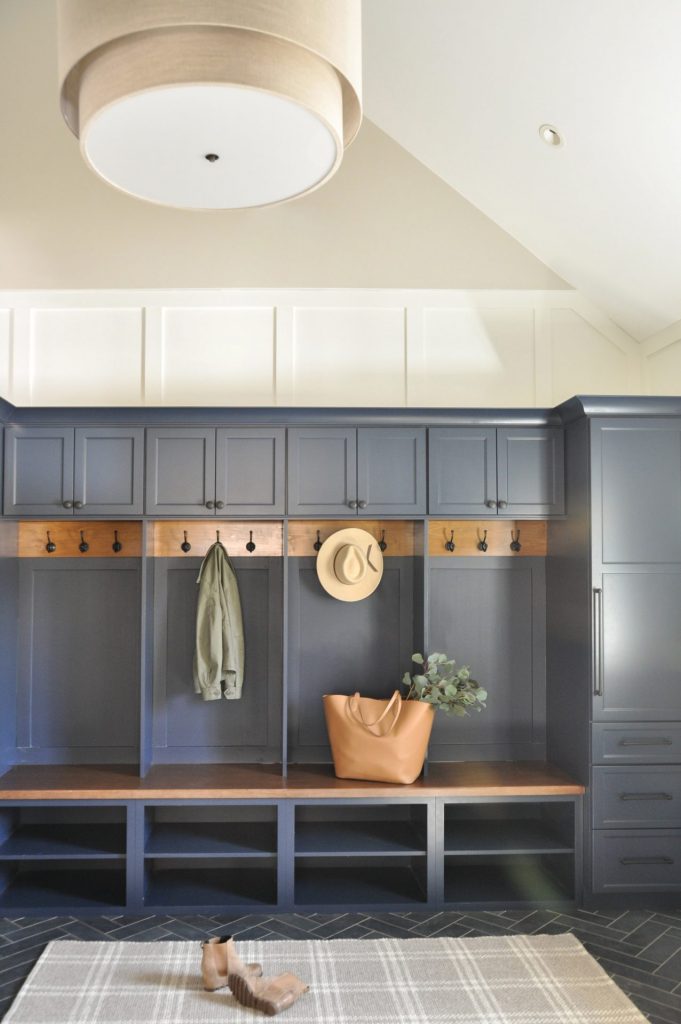 -Each family member has a nook in the mudroom. Closed cabinets hold the family's sports gear.
-A bench in the mudroom comes in handy as a perch for taking off snow boots or hiking shoes.
PROJECT DETAILS
DESIGN: Basil + Tate
303.842.2663, basilandtate.com
WALLPAPER: Rifle Paper Co.
APPLIANCES: Electrolux
CABINETRY: Classic Cabinets and Design
_________________________________________________________________________________________

AT YOUR SERVICE
Katie Schroeder of Atelier Interior Design turned a passageway near the kitchen into a handsome serving pantry and bar. Tall cabinets offer plenty of space for the chinaware, serving platters and other special pieces that come out for entertaining. Lower cabinets disguise drawers for easy access.
CHAOS CONTROL TIP
Glass-front cabinets can be attractive, Schroeder says, but only if what's behind them looks good. "You don't want to see plastic cups in with the glassware," she cautions. "If it's on display, it really should be a pretty set of proper glassware."
-The more cabinets, the better, for holding everything from canned goods to less-often-used dishware.
_______________________________________________________________________________________________________________

GENIUS AT WORK
This home office proves that a space can be both functional and stylish. Schroeder kept clutter to a minimum with lots of drawers, freeing up the shelves to bring in the personality. "Style your shelves rather than just cramming a bunch of stuff there," she advises.
CHAOS CONTROL TIP
"Be honest with yourself," Schroeder says. "Really take an assessment of what you need and build the proper spaces for those items." In this space, that means plenty of drawers to keep paperwork out of sight.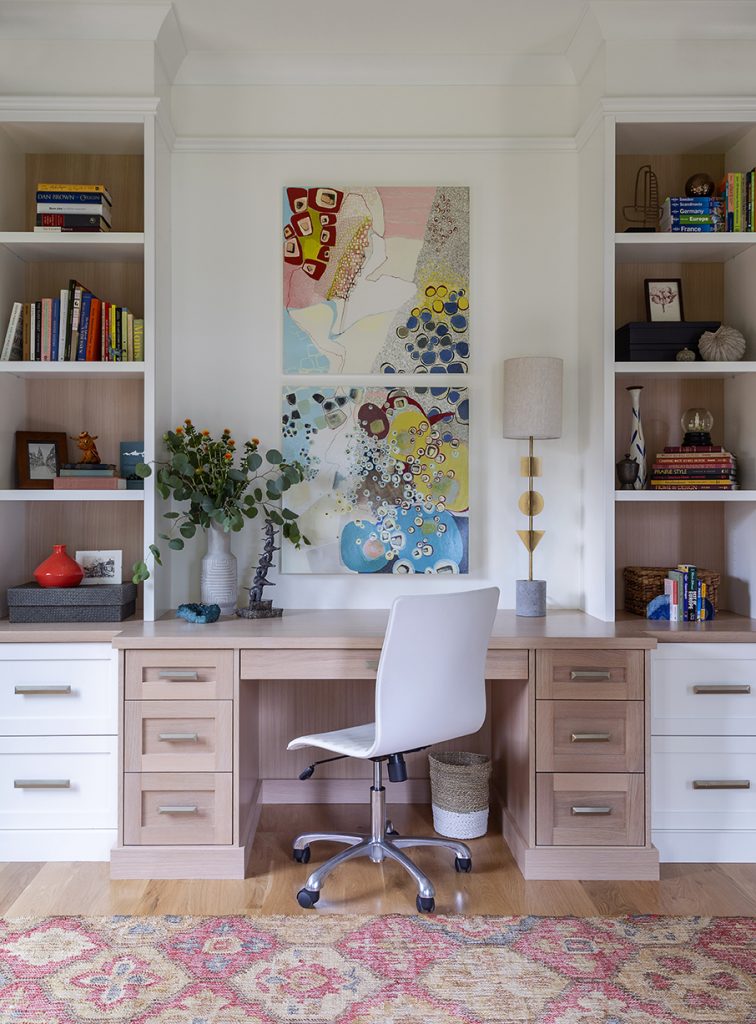 PROJECT DETAILS
DESIGN: Atelier Interior Design
303.455.1644, atelierid.com
________________________________________________________________________________________
COUNTER PRODUCTIVE
It's time to retire the parade of small appliances and utensils that clutter most kitchen counters, says designer Eileen Saunders of Thurston Kitchen + Bath. "It's nice to find a place for all those items so you can actually use your counters," she says. "And it makes cleaning much easier, too." In updating this kitchen, Saunders kept things clean and uncluttered by using drawers and specialty cabinets to keep cooking tools out of sight but close at hand.
CHAOS CONTROL TIP
Saunders suggests grouping items according to the zones in which they'll be used. Store pots and pans near the stove, mixer and baking pans near the oven, cutting boards and knives near the prep area, dishware close to the dining area, and everything for cleanup near the sink and dishwasher. "This makes how you work in the kitchen so much more efficient," she says.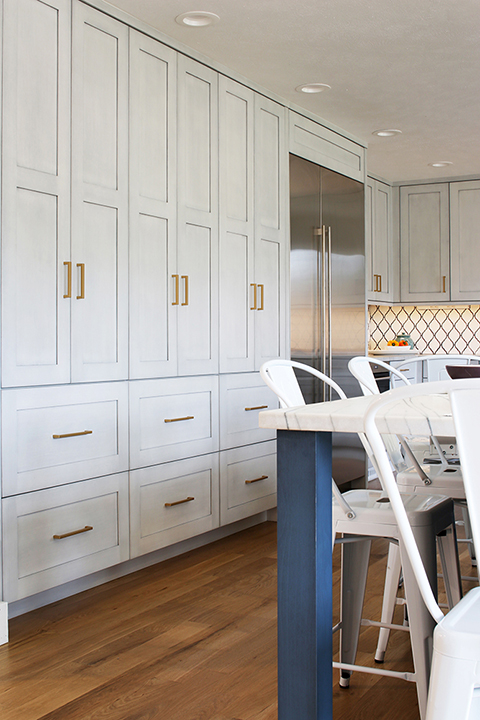 -Tall cabinets and deep drawers provide ample storage for canned and boxed goods, as well as small appliances. Saunders recommends installing pull-out shelves for easy access.
-A new take on the old-fashioned lazy Susan, a smart-looking chrome swing-out shelf system makes getting pots, pans or small appliances out of a deep corner cabinet easy.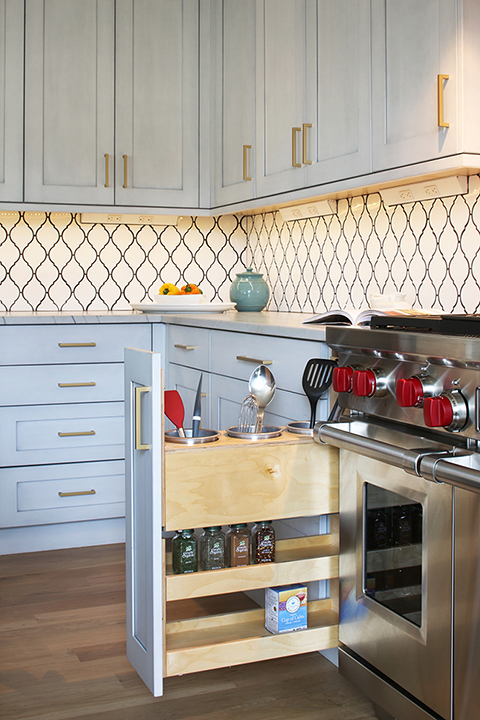 -A pull-out drawer cleverly disguised as a cabinet keeps utensils, spices and other necessities for cooking off the counter but at the ready.

PROJECT DETAILS
DESIGN: Thurston Kitchen + Bath 303.399.5464, thurstonkb.com
RENOVATE DENVER
303.885.9240, renovatedenver.com
CABINETRY: Fina Cabinets
HARDWARE: Schwinn Hardware, matte gold finish
APPLIANCES: Sub-Zero refrigerator, Wolf range