By Heather Shoning

These HOPPIN' MOUNTAIN TOWNS retain their smalltown charm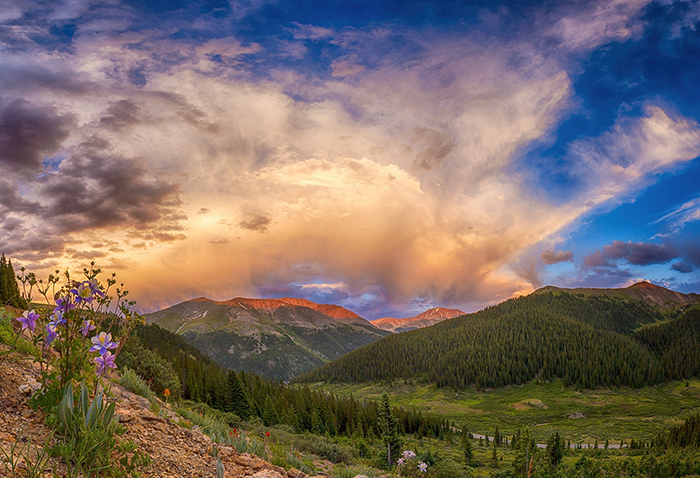 Photo by Digital Art CO
In the shadow of the Collegiate Peaks, two mining towns shine for their outdoor recreation, unique shops and boutiques, and piquant places to dine or quench your thirst: Buena Vista and Salida. (When you visit, talk like a townie. See the info box on the next page for how to pronounce the names!)
This area of the Arkansas River Valley was once home to Native American tribes, including the Ute, Apache and Arapaho. It became popular for prospectors thanks to its abundance of silver and gold deposits. Buena Vista was officially founded in 1879. With Salida following suit the next year, coinciding with the arrival of the Denver and Rio Grande Western Railroad. In addition to mining, agriculture, ranching and timber industries fueled the valley's growth.
Over the years, these Chaffee County towns became hubs for tourists and outdoor enthusiasts, with excellent opportunities for hiking, camping, fishing, whitewater rafting, mountain biking, skiing at nearby Monarch Mountain and more. Another draw for the area is an abundance of natural hot springs.
While both towns are known for outdoor recreation, Salida has evolved into a cultural hub with a vibrant arts community including numerous galleries, theaters and art festivals. Both towns have worked hard to retain their historic buildings and picturesque character. Downtown Salida has many well-preserved Victorian-era buildings and is now designated as a National Historic District.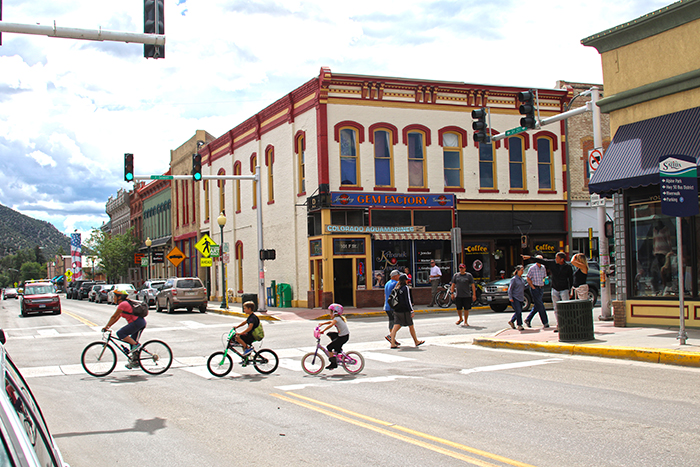 Mysteries and Lore
Both early-settlement towns have interesting stories and legends that have added to the area's intriguing character.
One of the most famous stories is that of the Salida "ghost train." According to the legend, a train carrying gold and silver derailed and crashed in the mountains outside of town in the late 1800s. The train was never found, and some say that the ghostly image of the train can still be seen and heard passing through the area on quiet nights.
The "Lost Lemon Mine" legend says that somewhere in the mountains around Salida is a lost mine filled with gold, making it particularly interesting to treasure hunters over the years. However, no one has ever located the mine, and some say that it is cursed or protected by supernatural forces.
The San Luis Valley south of Salida has a reputation as a hot spot for UFO sightings, and some people believe that there may be an underground base or portal in the area that attracts extraterrestrial visitors. In 1978, a group of Buena Vista residents reported seeing a strange, glowing object in the sky. The object reportedly hovered above the town for several minutes before disappearing.
In Buena Vista, the historic Surf Hotel is said to be haunted by the ghost of a young girl who died in one of the rooms. Many visitors have reported strange occurrences, including unexplained noises, moving objects and sightings of a ghostly figure.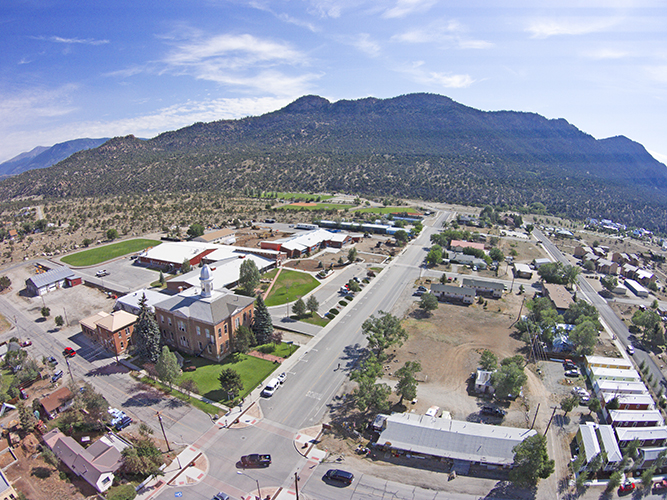 Photo by Scott Peterson
Over the years, there have been numerous reports of Bigfoot sightings in the forests surrounding Buena Vista. While no one has provided any concrete evidence, when you sit belly-up in a local watering hole, you're sure to find a townie who will tell you about that one time when he was camping …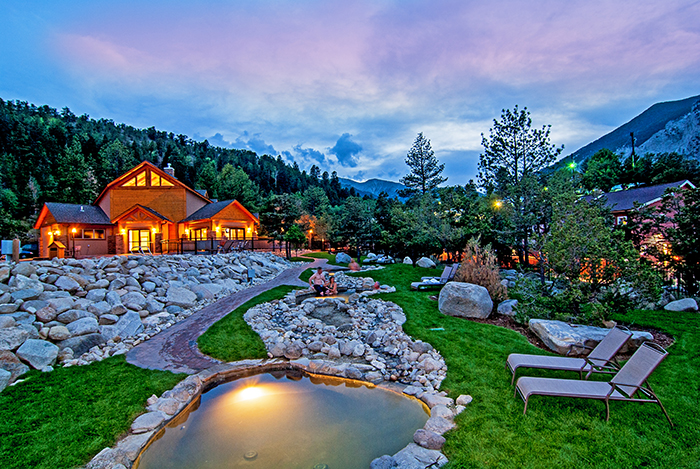 Don't get taken for a tourist! These town names are not pronounced like the Spanish words, as you
might think.
Locals say:
Buena Vista BYOO-nuh Vista, not BWEH-nuh
Salida Suh-LIE-duh, not suh-LEE-dah
What to Do
Hit the hot springs after a day of rafting, rock climbing, fishing, mountain biking or hiking. Cottonwood Hot Springs in the canyon west of Buena Vista provides a peaceful setting
for communing with nature, while Mount Princeton Hot Springs in Nathrop, between Buena Vista and Salida, offers a family-friendly experience with a waterslide for kids of all ages. In town, Salida Hot Springs is indoors with a rec center vibe. Joyful Journeys Hot Springs, south of Poncha Springs in Moffat, offers spa treatments, and nearby Valley View Hot Springs provides a clothing-optional choice for adults.
There's always something going in these hoppin' little towns. On any given evening, you can catch live music in a variety of bars and restaurants. There are dozens of art galleries to explore, plus public art, and on the second Saturday of each month in Salida there is a mini version of ArtWalk, each featuring a different theme and artist receptions.
Ongoing on Saturdays
Salida Farmers Market
9 a.m.–12 p.m.  Alpine Park, Salida
Ongoing on Sundays
Buena Vista Farmers Market
9 a.m.–1 p.m.
143 North Railroad Street, Buena Vista
July 4
Fourth of July Festival, 8:00 a.m.–5:00 p.m.
The parade starts at 10 a.m. East Main Street, Buena Vista
July 7–8
Colorado Brewers Rendezvous, Salida
Pre-Vous Friday at 6 p.m. at the Steamplant
Saturday 1 p.m. at Riverside Park
Featuring 70 Colorado craft breweries next to breathtaking views of the Collegiate Peaks and the Arkansas River.
July 15–16
Salida Arts Festival 
Saturday 10 a.m.–6 p.m. and Sunday
10 a.m.–4 p.m.
Riverside Park, Salida
Many have called this "The Best Art Event" in the Valley. It's a small "boutique" style show with only 80 artists.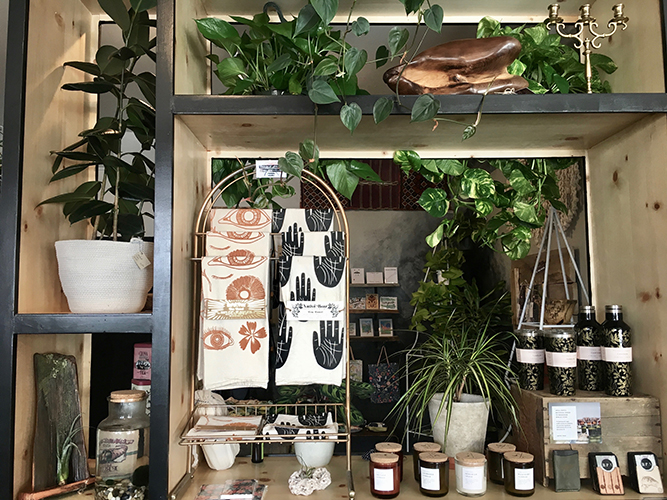 Shopping
Buena Vista
Hi-Lonesome Boutique
Fun and funky clothing and accessories, music and travel related items
Intentions Apothecary
Locally crafted wellness products
Rock Paper Scissors
Local art plus home decor items, sewn goods, rare plants, succulents and cacti
Sundance and Friends
Unique, handcrafted items including jewelry, pottery, clothing, artwork and home decor
The Trailhead
High-quality outdoor clothing, footwear and gear from Patagonia, The North Face,
Black Diamond and more
Salida
Colorado Sports Recycler
Used outdoor gear for all sports
Drift & Amble
In-house designed and hand-printed clothing plus gifts and accessories
Fat-Tees
Co-themed shirts, hats, hoodies and more
Howl Mercantile & Coffee
Small-batch artisanal home goods, jewelry, woman's apparel and ceramics plus a
coffee shop
Salida Mountain Sports
Outdoor gear and clothing including hiking boots, skis and camping equipment
Tribal Rugs
Historic and contemporary weavings from Native American and world traditions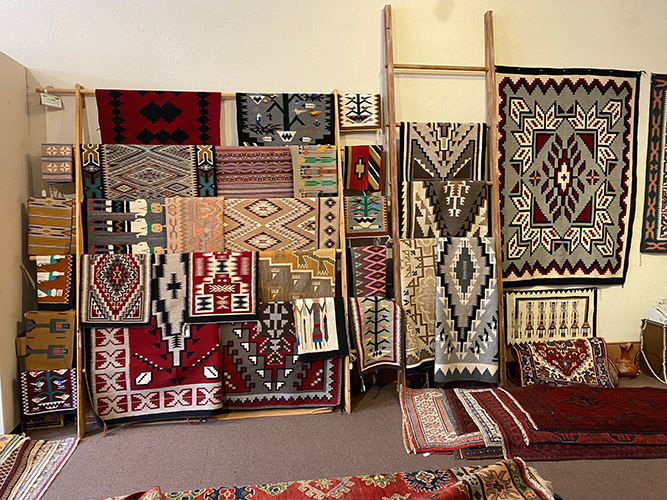 Photo courtesy of tribal rugs
Dining
Buena Vista
Deerhammer Distillery
Creative burgers such as the Bourbon Bacon BBQ burger plus wings, Rocky Mountain
oysters plus a range of whiskeys and other distilled goodies
Eddyline Restaurant | South Main
Craft beer and delicious American cuisine
House Rock Kitchen
Farm-to-table restaurant featuring fresh,
seasonal ingredients and an eclectic menu
The Lariat
Homemade soups, sandwiches and burgers with live music
Midland Stop Café
A classic diner serving breakfast and lunch with a western flair
Simple Eatery (Inside The Trailhead)
Casual dining offering tasty sandwiches, salads and wraps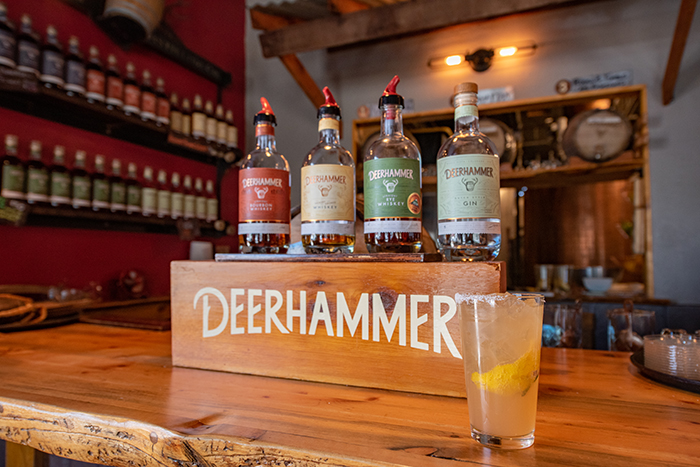 Salida
216 Ferraro's
Seafood and familiar Italian dishes, including house-made pasta
Amicas Pizza Microbrew & More
Salads, paninis, calzones and wood-fired pizza
The Boathouse Cantina
Mexican restaurant for tacos, burritos, fajitas, enchiladas and more
Elevation Beer Company (Poncha Springs)
Food trucks, summer seltzers and collabbeers
The Fritz
Gastropub dishing out burgers, sandwiches, salads and appetizers plus
craft beers and wines
The Little Red Hen Bakery
Bread, bagels, pastries and cookies plus seasonal pies
Mo Burrito
Burritos, bowls, tacos and salads plus breakfast burritos
Osake Steak and Sushi Grill
All your favorite rolls, stir-frys, noodles, curries and more
Quincy's
Classic American comfort food with a twist