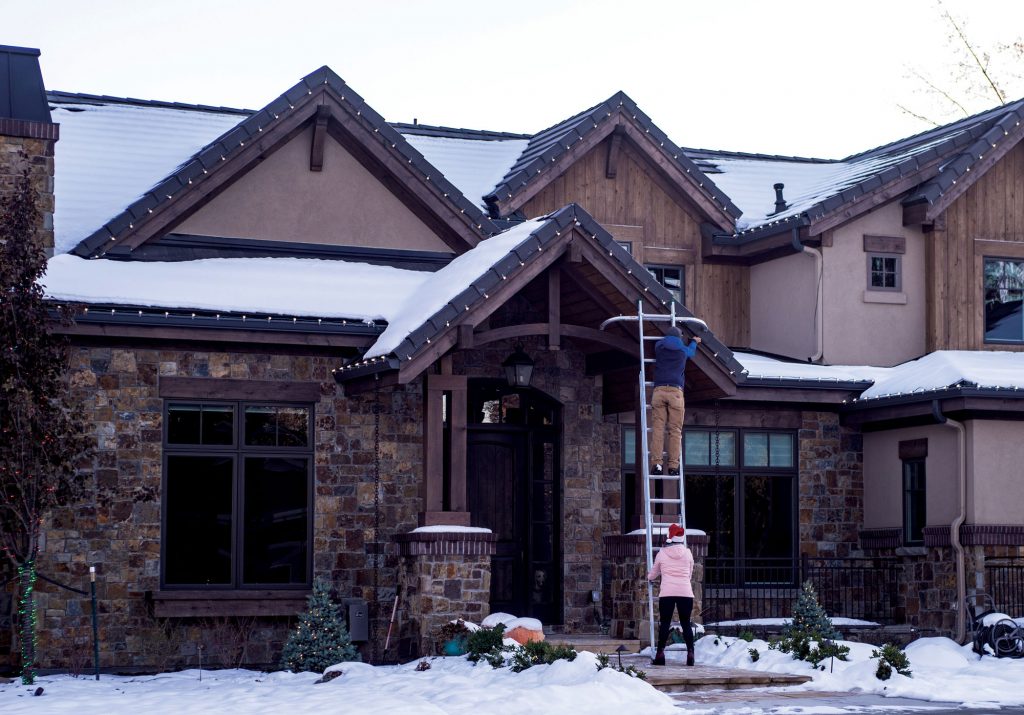 Daisy Johannes and her business partner, Parker Mitchell-Smith, knew they had a special way of bringing the holiday spirit to life when, on a clear December afternoon, their lighting crew was unintentionally pit against their biggest competitor—a tree service and lawn-care company.
The rivals were lighting an adjacent house for the holidays as Johannes walked up to her client's front door. "I knocked, afraid to bring attention to the other guys. But when the man answered, he didn't even look in their direction," she remembers. "They lit the roofline of their client's home using a big crew and a truck running on diesel. We lit our client's roofline, too, only we did it with a smaller, quiet team while he worked inside."
It's the best time of the year to take a moonlit stroll. All along the area's festive neighborhood streets, rooflines and icicled trees are spangled with the kind of twinkling light displays that dreams (and, let's not forget, the best holiday cards) are made of.
Johannes and Mitchell-Smith, for one, hope to never wake up.
Above All Holiday Lighting—their Greenwood Village-based company that illuminates the roofs, doors, windows, pine trees and shrubs that dot Greenwood Village, Cherry Hills Village and Colorado Golf Club—are relatively new to the neighborhoods, creating custom wonderlands since 2017. But nearly 100 homes, ranging from ranches to sprawling mansions, are already privy to their expert eye: Mitchell-Smith, owner of Above All and a mountaineering guide, knows his way up and down a ladder and can summit a rooftop in a single leap. And Johannes, partner at Above All, has a background in design and account management, which makes her a natural when it comes to planning.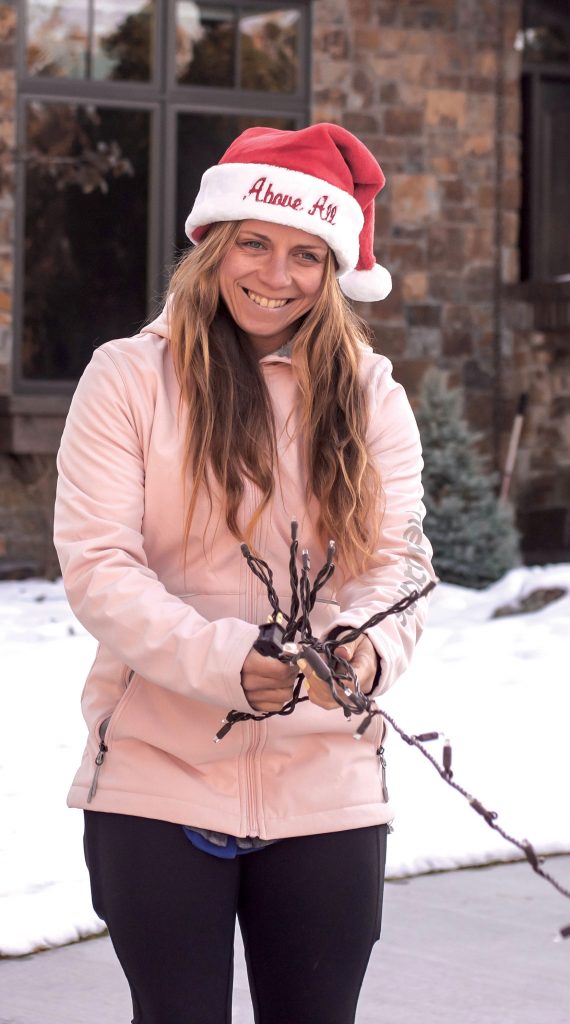 Mitchell-Smith first took his love of lights professional five years ago, tackling Clark W. Griswold-esque projects with a fellow professional in Parker and Colorado Springs before meeting Johannes. "Parker and I love decorating, and we're the ones that always put up Christmas lights for our extended families," Johannes says. "We knew that with our combined backgrounds, we could take away the difficulty and stress of holiday lighting." Difficulties, for example, like untangling jumbled piles of unwieldy Christmas lights.
The duo also knew those hobbyist experiences would give their displays a little extra magic: "We take into consideration things like where the family is going to spend the most time and which windows the kids are most likely to peek out of," Johannes says. "We do everything from taking photos and measurements to designing and installing lights, running wires to power sources and maintaining and removing lights, plus we make custom wreaths, banister wraps, garland and bows." The Above All team can also light outdoor trees that are up to 30 feet tall.
"We do straight, uniform lines of lights, which look more modern and on-trend," Johannes says. That's not to say that Johannes and Mitchell-Smith are purists. "We love creating displays with polka dot, spiral and quilt shapes and designs," she continues. "And while the most popular roofline color is warm white lights, a candy cane design—a swirl of red and white lights—is beautiful, too, as are blue accent colors, which really draw the eye."
Consider asking Johannes and Mitchell-Smith about bulbs if you see them on the street (they continue to check on lights they've hung throughout the season). LED lights surpass incandescent glass bulbs every time, Johannes explains: "LED lights don't get hot or break, so they fare much better in Colorado's harsh winter weather."
And do take the family to Johannes' favorite display: "There's a home on Monaco Street in Greenwood Village, between Orchard Road and East Belleview Avenue, that's gorgeously adorned with multicolored lights. You can see Christmas coming from a mile away." Use the visual estimate to determine just how long to heat your travel mug of cocoa.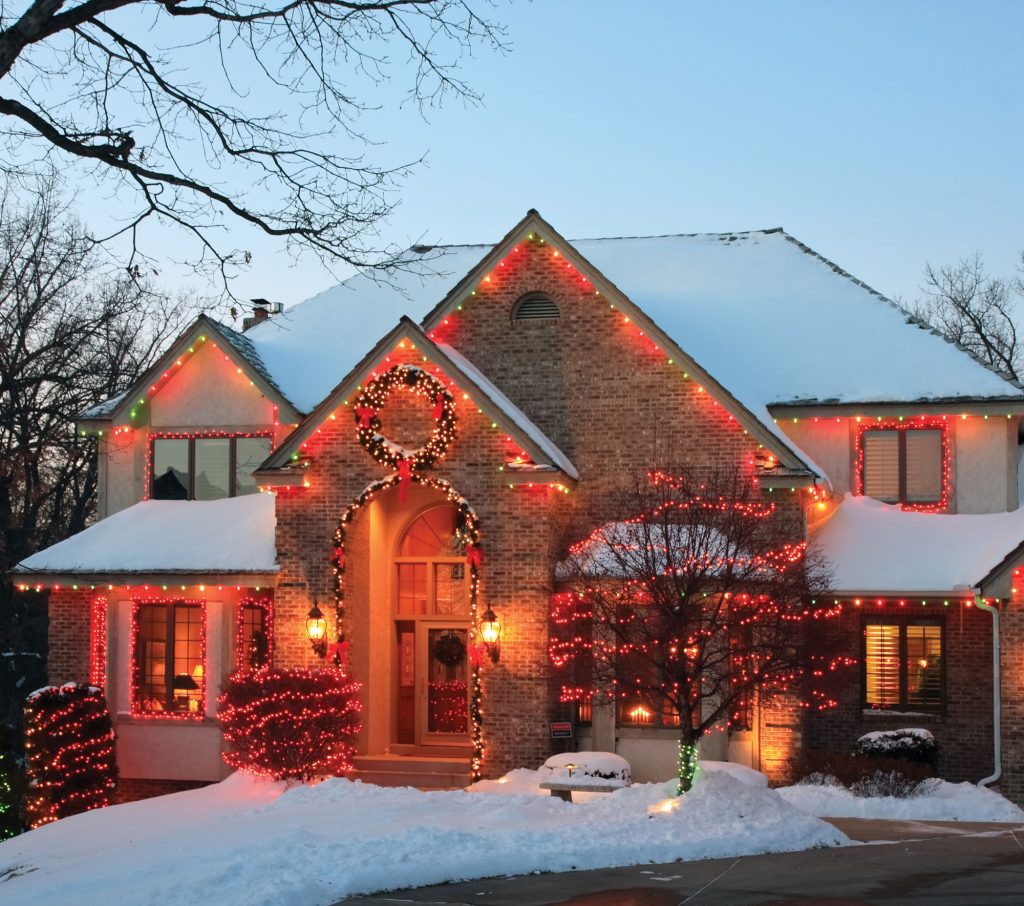 WAYS TO KEEP DECORATING
Johannes gave us the green light.
THINK OUTSIDE the colors of the typical holiday box. Sure, red and green hues are nostalgic and classic, but if you have kids, try something whimsical, says Johannes, who loves the playful combination of green, blue and purple. "For a touch of class, stick with metallics, creams and whites, faux snow and matching silver or rose-gold ornaments for the tree," she advises.
USE PRESENTS as decorations. You're one step ahead of the elves when you don't leave your gift shopping until the last minute. Wrap gifts and, instead of piling them under the tree or in a closet, make them a design focus. Look for display areas, including on top of chests or the mantle, to add a little something extra. Create vignettes with smaller gifts and stack larger gifts in baskets with twinkling lights or greenery.
EMBELLISH your outdoor planters. So many front-porch planters are left bare for the holidays, which is a travesty, Johannes says. She suggests buying a desk-size tree if you don't already own one, and pruning the bottom branches off to leave a long stem. Plant the tree when the potting soil is dry and add a little water the night before a big freeze to stiffen it up. "Adorn it with ribbons, ornaments, pine cones, ornamental twigs or aspen branches, wrapped boxes that mimic presents, foliage from a flower shop or a few items gathered from a nature walk," she says.
THINKING AHEAD: Wash your garland and wreaths next fall. Artificial greenery is often shunned from New Year's Day through Thanksgiving, offhandedly relegated to the closet where it's left to gather dust. "Pull those suckers out in September or October and lay them on the driveway, lawn or a tarp. Give them a good hosing down and let them dry in the sun," says Johannes.
LIGHTBULB MOMENT
Four things Johannes and Mitchell-Smith have learned that the "light hanger" at home will understand too.
DON'T put a photocell timer in the dark.
RECOGNIZE where water will pool and fall when snow melts.
TEST everything before you get on the roof or climb a ladder.
RECONSIDER those icicle lights. Icicle lights can be beautiful if they fit evenly, but they come in fixed lengths and can't easily conform to custom runs or tricky shapes, Johannes says.
ABOVE ALL HOLIDAY LIGHTING
Greenwood Village
303.578.8177