Troy Guard brings his chef-designed bowls to the new GRANGE HALL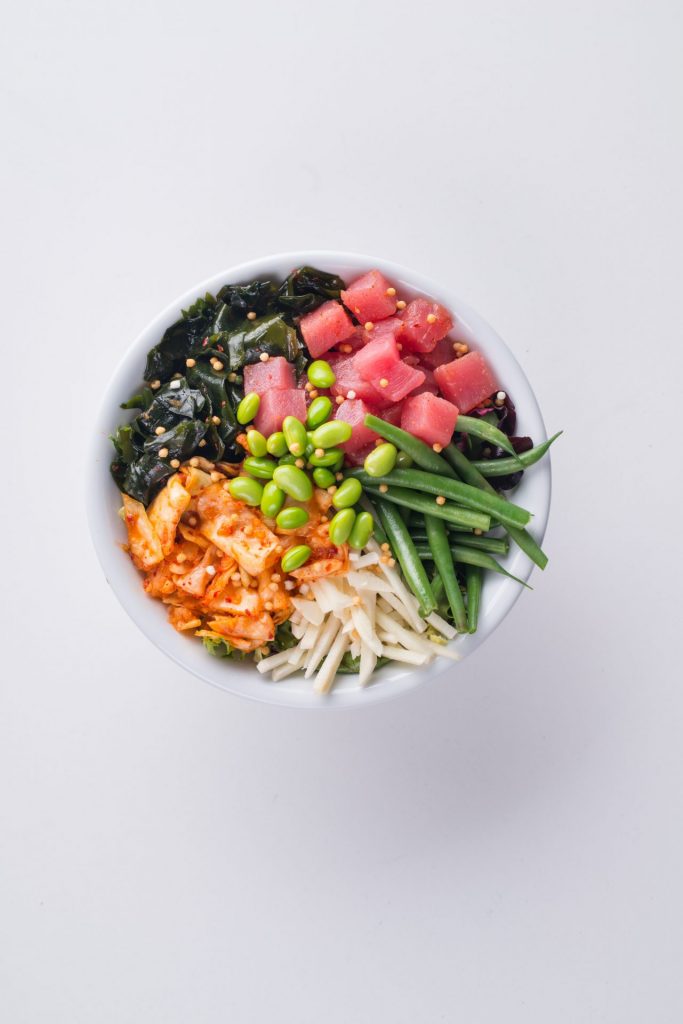 AS FIRST-TIME DINERS check out the lunch possibilities at the recently opened Grange Hall in Greenwood Village, their eyes seem to light up when they see the flavor possibilities at Bubu.
For instance, the Aloha Poke Bowl is a substantial pleasure. Steamed rice is crowned with marinated tuna, haricots vert, hearts of palm, edamame, wakame seaweed, zesty kimchi and a balanced soy onion dressing on the side. It's a vibrant mouthful of different textures, flavors and spices that bounce around the taste buds.
With three other Denver-area locations, Bubu is the inspiration of award-winning chef Troy Guard, known for such destination restaurants as Los Chingones, FNG and Guard and Grace.
The first Bubu opened in 2013 in Larimer Square. "The name came from bubu arare, these tiny savory Japanese rice crackers I loved growing up in Hawaii," Guard says. "This was before places like True Food and Flower Child and other fresh concepts had opened. I thought we needed a place where you could get a quick, tasty meal in a bowl that travelled well," he says.
As a chef, Guard says he insisted on the freshest ingredients and scratch-made "everything" as he designed the first three Bubu bowls— the OG Colorado, Thai and Mexican remain customers' favorite composed bowls on the menu. The OG Colorado includes roasted carrots, quinoa, green chilies, avocado and pumpkin seeds. Flavor-wise, the Thai bowl is powered by green papaya slaw and the Mexican is topped with roasted corn, jicama and black beans.
Bubu's protein choices range from sushi-grade salmon and tuna to marinated tofu and grilled tiger shrimp, steak and chicken. Many diners clearly prefer building their own starting with a choice of steamed brown or white rice, chilled rice noodles or salad mix. Besides a protein choice, diners add five ingredients from an inspired roster that includes charred broccolini, crispy shallots, jalapeño, radishes and dried apricots.
The house-made dressings include sweet carrot mustard, chipotle-spiked Mexican, Thai and chia seed lime. The menu also features Bubu's famous gluten free chocolate chunk cookie with chia and flax.
"Bubu isn't advertised as vegetarian, vegan or gluten free, but 90 percent of the menu can be ordered that way if you like. There's something here whether you are a carnivore, vegan or a fish lover," Guard says.
The Grange Hall, located in a former C.B. & Potts, is also home to Troy Guard's other original concepts—Rado Burger and Crazy Love Pizza, plus Uptown & Humboldt, Little Dry Creek Brewery and the breakfast-y Crack Shack.
BUBU
Grange Hall, Greenwood Village
720.760.8247; bubu-denver.com