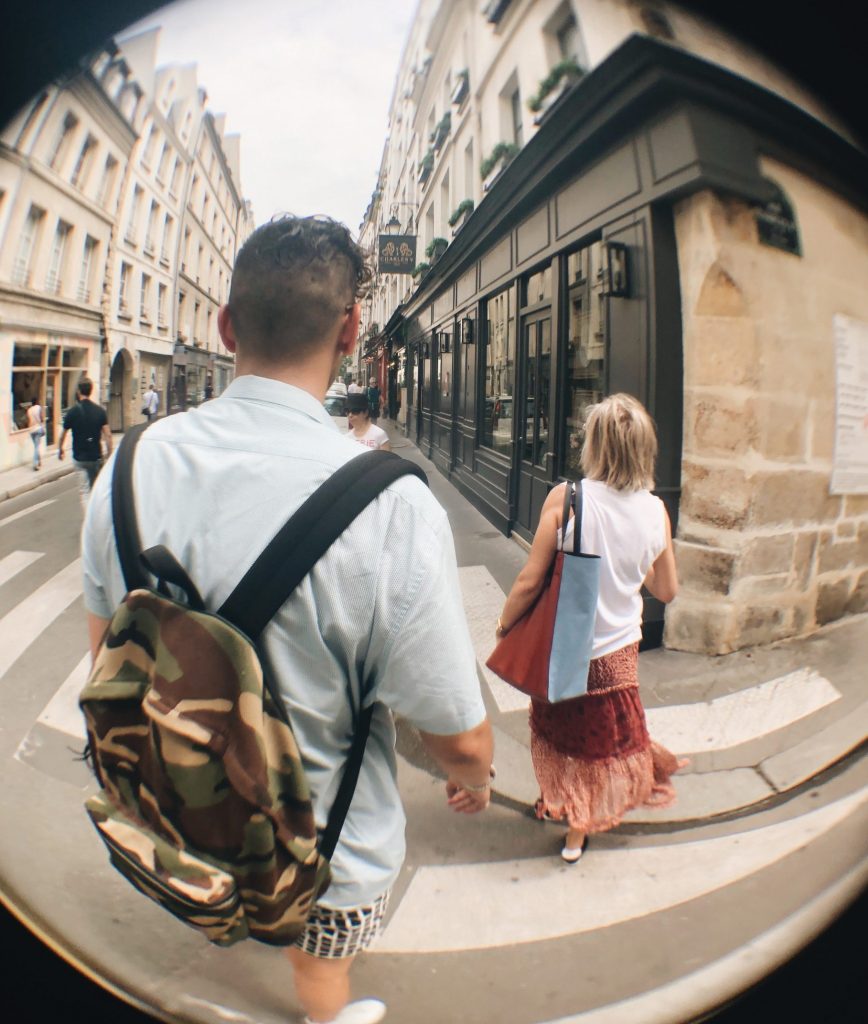 Caleb Tillapaugh can tell you where every item you've purchased at A Line Boutique hails from—because the buyer for A Line's four locations spends approximately nine weeks a year shopping designer showrooms, and the sites around them, in some of the best fashion capitals in the world. Most recently, he schlepped a spring haul from Paris. Is a Parisian buying escapade as fun as it sounds? Let's find out. 
WHAT DO YOU DO AT MARKET?
"A majority of my job is planning out the logistics of getting luxury European brands to each shop," Tillapaugh says. "I'm constantly traveling to Paris, Milan, New York City and Los Angeles to look for intriguing new pieces. Normally, I have between five to eight appointments per day—it's kind of like power shopping, with top designers."
WHAT DO YOU LOOK FOR?
"When I'm in Paris and Milan, I look for those really fun, one-of-a-kind pieces you can't get anywhere else. Recently, I brought in a few beautiful cashmere cardigans from Alanui that are handmade in Italy. It takes about 12 hours to make those cardigans—I'm only ever able to get one or two because they're that unique."
WHAT DO YOU DO IN PARIS WHEN YOU'RE NOT SHOPPING?
"Most of the things I love in Paris have to do with food and fashion. When I'm not at market, I like to eat and network with other buyers. We do a little thing called 'inspiration shopping,' where we go to local shops to see what they're doing. My favorite places to shop in Paris are Le Bon Marché, a Parisian department store, and The Broken Arm, an amazing little avant-garde shop with a café inside." Tillapaugh also likes to eat whatever Chef Enzo recommends (though he loves the sweetbread) at Vava, a cozy bistro, and stay at Hôtel Costes, where it's not uncommon to see celebrities and models during fashion week.
WHAT'S TRENDING IN PARIS?
"Green and red are very in for spring and summer, and floral prints are making a huge comeback. Parisian style typically incorporates lots of stripes and exotic patterns to create this distinctly disheveled-but-polished look, which I adore. Some of my favorite French brands are Chloé and Casablanca, an emerging Parisian brand that fits in perfectly with the Denver fashion scene."
WHAT SHOULD EVERY TRAVELER DO IN PARIS? 
"If there is one piece of advice I have for someone traveling to Paris, it's to walk as much as you can. It's a great way to fully experience the city, and it'd be a shame to waste it by taking an Uber everywhere. Walking is how you're going to discover all the amazing cafés, bars and shops—you'll also meet lots of amazing people who are excited to show you around. Also, try not to overbook yourself." 
LET'S GO SHOPPING
A Line Boutique
Belleview Station
Castle Rock
Cherry Creek
Union Station
303.773.8200